September 16, 2009
Rep. Jerrold Nadler discusses the Respect for Marriage Act on Air America
Posted in: Uncategorized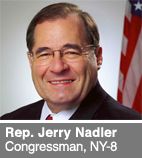 H/T Blender Shelley.
Jack Rice interviewed Rep. Jerrold Nadler (D-NY) on Tuesday about the just-filed Respect for Marriage Act (H.R.3567) that would repeal the discriminatory Defense of Marriage Act. The interview does a great job covering the basics.
I can't figure out how to embed the audio file, but you can listen here. A full transcript is below the fold.
Related: Filed: The Respect for Families Act DOMA repeal bill

Jack Rice

: One of the co-sponsors of this bill is Representative Jerrold Nadler, Democrat out of New York. Congressman, thank you for joining me.

Jerrold Nadler: Pleasure.

Rice: This has been introduced today by you and a group of others. First of all lets talk about what DOMA is, what the Defense of Marriage Act actually talks about in terms of the willingness not to recognize gay marriage, but beyond that. Talk to me about that.

Nadler: Well Defense of Marriage Act essentially says two things. One, it says that one state need not recognize the gay marriage entered into in another state, and secondly and frankly more importantly at this stage of the game, it says that the federal government – it says that for federal purposes, a marriage consists of only the union of a man and a woman, and the federal government will not recognize and give any of the federal benefits of marriage to anyone other than a man and a woman, even if you're legally married. So if you;re legally married, if a gay couple is legally married in Massachusetts, for example, the federal government won't let them file joint taxes, or have joint Social Security or anything else.

Rice: So we have two sides. We have the acknowledgment side and we have the right side. With the repeal…

Nadler: We have the more very practical side. In other words, it's not just theoretical. If you're a gay couple and you're married legally in Massachusetts or eh, the federal government will not permit you to do many many things. It will not permit you to jointly file income taxes. It will not permit you to have your Social Security go to your partner should you die, and disability – all kinds of things. And couples are harmed bu this every day.

Rice: I have friends of mine who were married in Massachusetts, a same-sex couples, who've had this very same problem right now on a nationwide bases. So we have the two sides. We have the sort of acknowledgment side, and then the right side of this. With the repeal of this, what is it you're trying to accomplish, both?

Nadler: Well, what we're trying to accomplish basically, is that if you're married legally, the federal… Well first of all let me just say that historically the federal government never defined marriage. The federal government said that if Massachusetts or New York says you're married, you're married as far as we're concerned. And we just want to restore that. So tho say that if you get legally married in any state, then for federal purposes you're married, you get all the benefits of it.

Rice: No matter where you are.

Nadler: No matter where you are, that's right. There's one provision. Besides simply repealing DOMA, we don't want a situation where you get married in Massachusetts, you're legally married there. Your company transfers you to Nebraska, so the federal government doesn't recognize you as legally married because Nebraska doesn't recognize it. Then you go to New York and you're married again, then you go to New Jersey and you're not. That doesn't make any sense.

Rice: So all of a sudden move to Nebraska and I look at my wife and I'm saying "Sorry Baby, I'm sorry I'm a single man…"

Nadler: Well for federal purposes, so what my bill says, the Respect For Marriage Act says is that the federal government will recognize you as married if your marriage was valid in the state or foreign country or wherever where it was entered into.

Rice: Now as I understand it, President Obama has said he is not for gay marriage. However, he is for at least that second part of the repealing of DOMA.

Nadler: He is for repealing DOMA period. He has had he's for repealing DOMA in its entirety.

Rice: Then why isn't everybody else lining up behind this? I mean that I understand that Barney Frank isn't…

Nadler: Well, we have a tremendous number lining up. Every gay rights and human rights group in creation is lined up behind this bill – every civil rights group basically. We've got over 90 co-sponsors in I think 3 or 4 days, so I think we have very very broad support at this point.

Rice: Do you feel like this is something that can actually happen? I've been talking to republicans who I know who feel like, ooh this is a state, that's the first argument that I hear from them. And that this is an example of the gays chipping away, you know what I mean.

Nadler: Well what this bill does is take the federal government out of it. All this bill does is say look traditionally, the federal government never defined marriage, never said who could get married or not, but for purposes of the federal law can you file joint income taxes, can you get Social Security if your spouse should die or whatever, um, who's yous spouse? The federal government said that's up to the state, and that's all we're doing again. All this bill does is restores the old standard.

Rice: What's interesting about this again is I was in California during the whole Proposition 8 fight, and what I heard from some of the conservatives out there was, we're trying to protect marriage, we don't wanna deny gay people rights. It would seem to me that they would stand behind what you're saying too, wouldn't they?

Nadler: Well they should logically, but logic doesn't often enter into this.

Rice: Amen.

Nadler: The very title of the old Defense of Marriage Act, DOMA, which we're trying to repeal, then defend marriage against what?

Rice: Congressman, it's like the PATRIOT Act.

Nadler: Now, when DOMA was passed there were no legally-married gay couples in the United States. And it was, em, opponents could demonize gay couples and say that gay marriage would threaten straight marriage in some unspecified way. But now we've had years of experience, tens of thousands of gay couples are legally married in various states. The sky has not fallen, as other people said it would. In fact, nothing has happened, nothing at all, to marriage. In fact the divorce rate has gone down in states where there's gay marriage. Not because of that, but it shows that anyone who says that this threatens marriage is in some way is wrong.

Rice: If I'm not mistaken I think there were 48,000 married couples that continue to be married out in California. As I've said many many times, if anyone wants to weaken my marriage, it's usually me by my insensitivity and my unwillingness to pick up my own underwear. I've never quite understood this idea that gay marriage is going to weaken it.

What's the expectation, what's the timeline on your introduction of this?

Nadler: Well there is no timeline. There are a number of bills that have been, that are well down the legislative process, and we hope to complete them in this Congress. The Employment Nondiscrimination Act, perhaps Don't Ask Dont' Tell, the Hate Crimes act, Tammy Baldwin's bill on domestic partnership rights for married, you know for federal employees. Those are well down the road and will probably be finished first. This bill is brand new just as of today, we have a lot of work to do, a lot of education to do, and I have no doubt it will pass eventually. Our task is to make it as soon as possible, but I can't give you any timelines yet. We're about 4 hours into a marathon at this point.

Rice: Yeah I know a lot of people have been looking at and talking about this. Representative Barney Frank has said he will not sign on as a co-sponsor. Can you explain the logic behind that for me?

Nadler: No, I do not understand the logic, and you really have to ask Barney.

Rice: For you, what's the expectation on the other side of the isle? Obviously you will get the majority in the House. On the Senate side, have you heard anything on the Senate side what will happen?

Nadler: Well we're having conversations with a number of senators. I'm not at liberty to reveal them. We do expect that the bill will be introduced into the Senate within a reasonable time.

Rice: Have you heard anything from President Obama when it comes to this. As you've said and he said it before that he would move to repeal this. He's had problems with the gay community. They've felt that he's been lukewarm at best, They said he said he was the best friend that they had, and since that time they have been lukewarm.

Nadler: Well he recently said, and I'll quote him, I stand by my longstanding commitment to work with Congress to repeal the so-called Defense of Marriage Act. It's discriminatory, it intereferes with states' rights and it's time we overturned it. Unquote. And the bill we introduced today, the Respect for Marriage Act, really honors the president's pledge, and we look forward to working with the administration on the bill.

I must say that while we were at the press conference, we received a statement in support from President Clinton, former President Clinton.

Rice: Would you like to see something specifically regarding this bill from President Obama?

Nadler: Well he already has given us…

Rice: But is there something he could do now to help push this forward. Obviously we;re, everybody's been focusing on the health care question, but we have other problems…

Nadler: Well he's going to continue to focus on the health care question. Look, we're starting a campaign that's going to last a while for the bill. The administration said they support this, we look forward to them showing that support over time. Um, and that's really all we can say at this point. We have to start, we started of with 90, 91 cosponsors in a couple days, we'll get more. We'll get the bill introduced in the Senate, and we'll go on from there.

Rice: Congressman, thank you very much for joining me.

Nadler: You're quite welcome.
---
Return to: Rep. Jerrold Nadler discusses the Respect for Marriage Act on Air America