Same-sex couples began joyfully marrying in Washington state six months ago this week. The couples, some having waited decades for the opportunity, many with children and extended families in tow, celebrated their love as a welcoming community cheered them on. Re-live the moment through some of the thousands of #MEDayWA tweets marking the occasion, and see through these first-hand accounts how profoundly meaningful the freedom to marry is for the couples, their families, friends and supporters.
December 6 – First Marriage Licenses Issued
After decades of issuing marriage licenses to other couples, Clark County's manager of marriage licensing Paul Harris (right) and his partner of 40 years James Griener are finally issued a marriage license of their own.

Jane Lighty (77) and Pete-e Petersen (85), together 35 years, receive the first marriage license in King County.
Col. Margarethe Cammermeyer (70), a pioneer in the struggle to allow open service for LGBT soldiers, and her partner of 24 years Diane Divelbess (77) were among the first to receive a marriage licenses in Island County.
December 9 – Marriages Commence!
Here's one reason why those Kleenex were needed. Video by Florangela Davila


Judge Mary Yu and her very proud staff conducted 13 weddings on that first night. "We should all make it our goal to be that devoted to love and work that hard for equality," bailiff Takao Yamada (left) tweeted.
More Kleenex needed if you view Matt Stopera's photo essay 18 Joyful Declarations Of Love From Newlyweds In Seattle.
"Yay Gay Cupcakes"

The community joined in the celebration in a big way.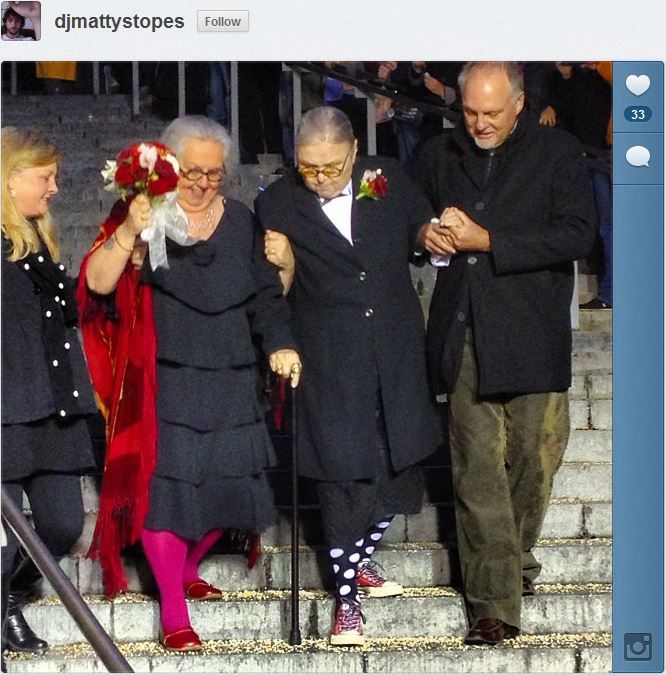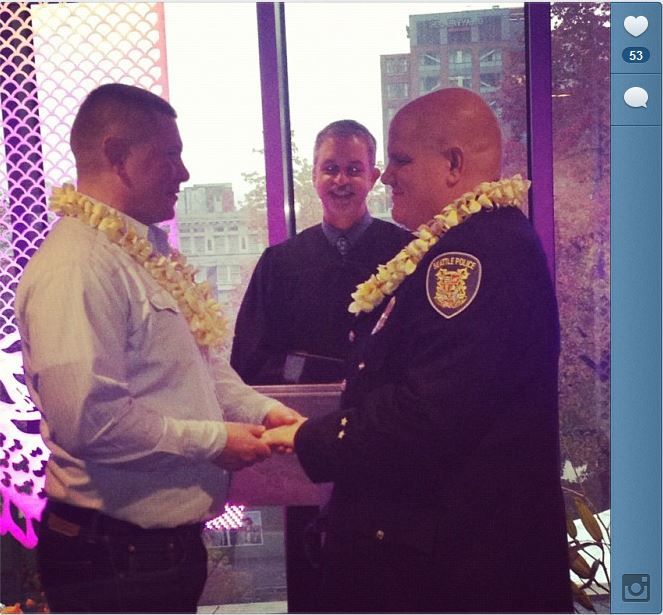 The Seattle Gay Men's and Women's Choruses paused their concert so that chorus members Jane Lighty and Pete-e Petersen could marry, and chorus member Neil Hoyt could marry his partner of 24 years, Donald Jenny.