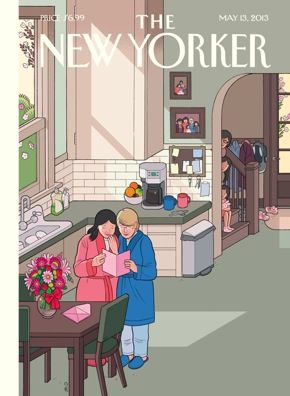 With the list of marriage equality states doubling in the last six months and New York Sen. Kirsten Gillibrand's introduction this week of the Every Child Deserves a Family Act which would remove barriers to same-sex couples who wish to foster or adopt children, it is fitting that The New Yorker honors mothers this year with a Happy Mothers' Day cover.
(Note the placement of the apostrophe in Mothers' Day)
A little bit more about the Every Child Deserves a Family Act from Family Equality Council:
The Every Child Deserves a Family Act focuses attention on the best interests of children in the foster care system. By eliminating state laws, policies, practices and procedures that exclude potential adoptive and foster parents because of their marital status, sexual orientation or gender identity, this bill will dramatically increase access to permanent, loving homes for foster care children.
One in four children in this country is being raised by a single parent.  Six million Americans have a parent who is lesbian, gay, bisexual, or transgender. We all recognize there is no single type of family in America anymore.