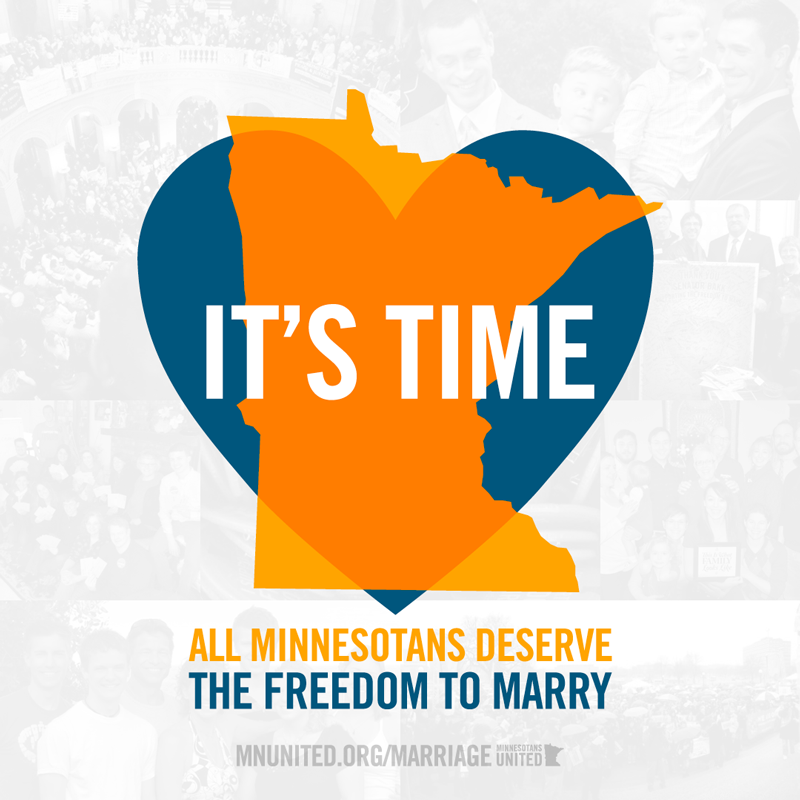 Today the Minnesota state House passed the marriage equality bill (HF 1054) with a bipartisan 75 to 59 vote.  The bill now moves to the Senate, where a vote is expected on Monday, May 13.
"In Minnesota, we don't turn our backs on our families," Representative Karen Clark (DFL-Minneapolis) said in her introductory remarks on the bill, presaging the vote.
Gov. Mark Dayton, who has promised to sign the bill, said yesterday that the House and Senate votes on the marriage bill represent a "society-changing, breakthrough moment" for Minnesota, according to CBS 4.
If the marriage equality bill becomes law next week, Minnesota will become the twelfth marriage equality state and same-sex couples can begin marrying there on August 1.
Minnesota voters went to the polls last November and rejected a constitutional amendment that would have banned same-sex marriage, the first electorate in the nation to do so.
In years past, Republicans placed anti-gay amendments on the ballot as a means of motivating their voters, but that tactic backfired in Minnesota in 2012.  Not only was the Republican-backed amendment rejected 52.6% to 47.4%, but voters returned control of the state legislature to the DFL, Minnesota's Democratic party.
The marriage equality movement in the United States has enjoyed some stunning victories this year, with Rhode Island passing a marriage equality law late last week and Delaware doing the same just two days ago.  A marriage equality bill currently awaits final action in the Illinois state House.
National Organization for Marriage has been heavily invested in the effort to keep the marriage laws discriminatory in Minnesota.  With NOM's failure last November to pass the anti-gay constitutional amendment in Minnesota; its failure last November to prevent voters in Washington, Maine and Maryland from approving marriage equality laws at the ballot box; and its failures this year in blocking passage of marriage equality laws in France, Rhode Island and Delaware, observers question whether the organization can remain viable if it also loses the current debate in Minnesota, a state it has invested in more heavily than in most.
Same-sex marriage is currently legal in eleven states (Massachusetts, Connecticut, Iowa, Vermont, New Hampshire, New York, Washington, Maryland, Maine, Rhode Island and Delaware) as well as in the District of Columbia and 3 tribal jurisdictions.