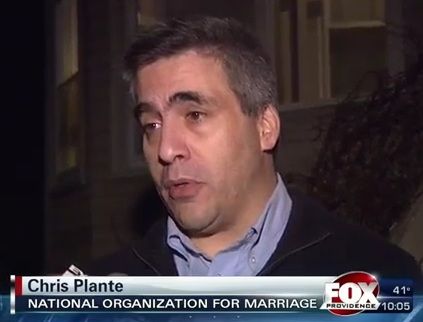 Apparently the joke is on anyone who gave time or treasure to National Organization for Marriage in Rhode Island, the group that has spent the past five years trying to block passage of Rhode Island's new marriage equality law.  Here's what NOM-RI's executive director Chris Plante told New York Times after Gov. Lincoln Chafee signed the bill into law on Thursday evening:
I don't see momentum for redefining marriage.  Rhode Island is not that big a deal.  It's a deep blue state and one of the least religious in the union, despite its high Catholic population.
Besides being a slap in the face to NOM-RI's supporters (the word 'chump' comes to mind), it is an especially astonishing comment considering that Rhode Island is the only state in which NOM established a regional office.
NOM said that it had "a unique investment in Rhode Island" and had great plans for activism in the state, according to the 2009 NOM planning document "National Strategy for Winning the Marriage Battle" that came to light as a result of an investigation by the State of Maine into NOM's suspicious campaign finance activities.  From the report:
In addition to opposing legislative attacks on marriage and family during 2010, NOM Rhode Island expects to be positive and proactive in at least two ways.  First, we will introduce and support legislation to authorize a Constitutional Amendment to define marriage as between one man and one woman.  Second, NOM Rhode Island hopes to introduce divorce reform legislation in an effort to strengthen Rhode Island's marriage and families.
Although Sen. Frank A. Ciccone III (D-Providence) introduced anti-gay constitutional amendments for NOM-RI in 2011 and 2013, both bills died in committee without ever coming to a vote.  Clearly either NOM or NOM-RI had severely miscalculated the Rhode Island legislature's willingness to pass discriminatory, animus-driven legislation.
NOM was so invested in Rhode Island that according to the Board of Elections it registered a political action committee in the state in 2008.  In 2009 Chris Plante was named as the PAC's president and NOM's president Brian Brown became its treasurer.
It wasn't just NOM that was investing heavily in Rhode Island's marriage debate.  By 2009 NOM-RI had Thomas J. Tobin, Roman Catholic Bishop of Providence sitting on its board, and NOM was planning to use its "close relationships with Catholic bishops to equip, energize and moralize Catholic priests on the marriage issue" in Rhode Island by way of its Catholic Clergy Project.
Despite passage of the marriage law in Rhode Island reportedly being no big deal, Chris Plante still felt the need to warn the state legislature earlier this week that "Besides advocating a flawed policy, [the marriage bills] contain a shocking lack of religious liberty protections, potentially ghettoizing people of faith unless they compromise and remain silent in the public square."
But it's not that big a deal.