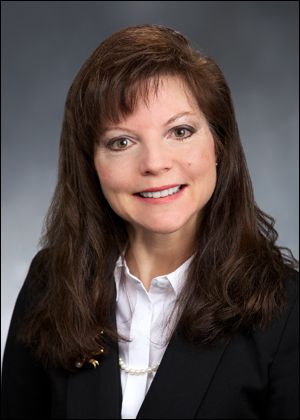 A bill (SB 5927) filed late last week by Washington state Sen. Sharon Brown (R-Kennewick) and nearly half of the state legislature's Republican caucus seeks to roll back part of the state's anti-discrimination law to allow businesses to deny services to customers "if providing those goods or services would be contrary to the individual's or entity owner's sincerely held religious beliefs, philosophical beliefs, or matters of conscience".
"It is discrimination, pure and simple," Josh Friedes, a spokesman for Equal Rights Washington, told Associate Press.  "It undermines our entire approach to ensuring the equality of all Washingtonians in commerce."
The bill was filed in the wake of legal action taken against a florist who broke the state's anti-discrimination law.
On April 9 of this year the Attorney General of Washington state filed a lawsuit against Barronelle Stutzman, the owner of Arlene's Flowers in Richland, Washington.  Stutzman had refused to sell wedding flowers to a same-sex couple, a clear violation of the state's anti-discrimination law.
In the article "Bill Introduced to Protect Arlene's Flowers/Religious Freedom" Joseph Backholm, executive director of Family Policy Institute of Washington, writes that "Yesterday, Sen. Sharon Brown, whose district includes Arlene's Flowers, introduced legislation (SB 5927) that would protect Arlene's Flowers religious liberty and provide protection from liability for declining to provide services in situation like this".
Since its inception in 2007, Family Policy Institute of Washington has been an active participant in efforts to bar LGBT Washingtonians from realizing civil equality.  Last year, for example, FPIW donated Mr. Backholm to serve as chairman of Preserve Marriage Washington, the ballot campaign that failed to repeal the state's new marriage equality law.  FPIW is currently fundraising for Arlene's Flowers.
By way of explaining the supposed need for Sen. Brown's bill, Mr. Backholm goes on to write that "When the legislature passed a bill redefining marriage, they purposefully rejected amendments that would have protected businesses like Arlene's Flowers from lawsuits for not wanting to provide their services for events like these."
Those amendments were rejected for very good reason: Washington voters disapprove of discrimination.  That was made clear in 2006 when the state legislature amended the state's anti-discrimination law to add sexual orientation and gender identity and expression to the list of protected classes, and opponents failed to collect enough signatures to force a referendum on the new law onto the ballot.
After the Anderson-Murray LGBT anti-discrimination law (HB 2661) passed in 2006, anti-gay pastors Ken Hutcherson, Gary Randall, Joe Fuiten and others teamed up with professional referendum hawker Tim Eyman to try to get Referendum 65 on the ballot.  The day after the Senate passed the law, Pastor Joe Fuiten assured The Columbian that R-65 "will hit like a tidal wave in Washington state.  It will become the dominant issue for this year."
But that's not what happened.
Washington voters were in fact so supportive of the new LGBT anti-discrimination law that R-65 backers weren't able to collect enough signatures to make submitting them to the Secretary of State worthwhile.  The official entry in the Secretary of State's register of ballot measures reads:
REFERENDUM MEASURE NO. 65
Engrossed Substitute House Bill 2661. Filed on February 9, 2006 by Tim Eyman, M.J. Fagan, and Leo J. Fagan of Spokane. No signatures were presented for checking.
By introducing the "License To Discriminate" bill, Sen. Brown, the other bill sponsors and Family Policy Institute of Washington show that they are grossly out of step with the Washington electorate.