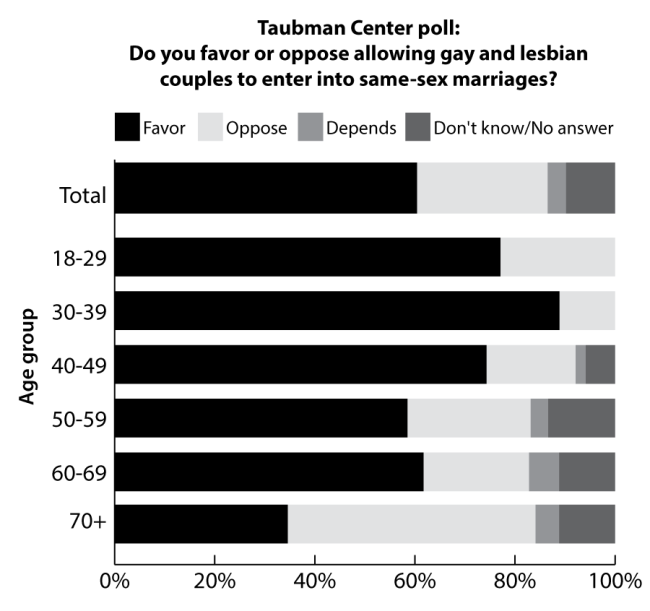 There is only one age group of Rhode Island voters — people over 70 — that doesn't support marriage equality by over 58%, a Brown University survey has determined.
"The poll found generational differences among supporters and opponents of same-sex marriage. The highest level of support for same-sex marriage came from registered voters ages 30 to 39 (88.9 percent favor) and voters ages 18 to 29 (77.1 percent favor). Support for same-sex marriage dropped considerably for those voters who are 70 years or older; 34.6 percent said they favor same-sex marriage," the Taubman Center for Public Policy at Brown University, which conducted the survey, reports.
Overall, support for extending the right to marry to gay and lesbian couples was 60.4%, "a number nearly identical to a survey conducted by Brown in May 2009."
Also of note was the finding that every single voter in the groups showing the highest level of support for marriage equality — the 18-29 and 30-39 age groups — answered the question directly with either "favor" or "oppose".  There was no equivocation or refusal to answer the question.
Voters in these groups know their minds when it comes to marriage equality.  Not surprisingly, the pollster found that "Among those who favor same-sex marriage, 62.1 percent said they were strongly in favor."
Rhode Island voters know what they want, and that's marriage equality.
This solid and enduring show of voter support for marriage equality in Rhode Island, especially by the upcoming generations, should bolster any legislator's wish to do the right thing and vote for the marriage equality bill.  Especially considering the finding by Third Way that 97% of state legislators who voted for marriage equality in 2012 won their reelection bids, as compared to only 90% of incumbent state legislators nationwide.
The Rhode Island state House passed the marriage bill (H 5015) in late January on a vote of 51 to 19.  The bill currently awaits action in the state Senate.