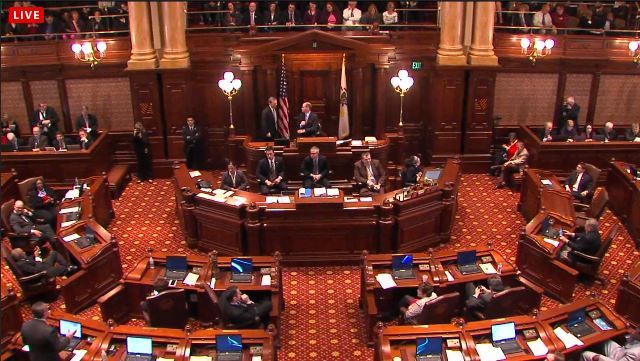 Just moments ago the Illinois Senate passed the Religious Freedom and Marriage Fairness Act (SB 10) on a vote of 34 to 21.
The bill, which now moves on to the House, enjoys wide-ranging support from Illinois voters, President Barack Obama, Gov. Pat Quinn, Illinois GOP Chair Pat Brady and former RNC Chair Ken Mehlman, African American leaders, clergy and faith leaders, and so many others.
If the bill becomes law, Illinois will become the 10th state to allow same-sex couples to marry and Gov. Quinn will become the sixth consecutive Catholic governor to sign marriage equality legislation.
Contact Equality Illinois to see how you can help make it happen.
Earlier this week Windy City Times posted the Q & A "ACLU: What the marriage bill says and does in Illinois".  Below are a few excerpts.  Click over to the article to find out more about what passage of the marriage law may mean for you or your loved ones.
Could a referendum overturn marriage equality in Illinois?
ACLU: Only the legislature can initiate referenda in Illinois to amend the Constitution to deny same-sex couples the freedom to marry. Three such proposed amendments have been filed by Illinois legislators this session. However, similar amendments to write discrimination into the Illinois Constitution have been filed for many years without moving forward, and we are confident that none of these amendments will be successful in achieving the required three-fifths majority in each house.
When would the law take effect?
ACLU: Thirty days after the bill is signed into effect by the Governor."
Will civil union couples automatically be entered into a marriage?
ACLU: Couples with civil unions will have two options. They may have a marriage ceremony to convert their civil union into a marriage. To do so, they will apply for a marriage license, have their marriage solemnized in a religious or civil ceremony and then register the marriage. (The law provides that the fee for the marriage license is to be waived in these circumstances.)
Alternatively, if a couple in a civil union would rather not go through a new ceremony, for one year following the date that the marriage law becomes effective, they can simply have their civil union designated as a marriage—again, at no fee—with the date of the marriage to be recorded as the date of the original civil union.