Like so many Roman Catholic voters, parliamentarians, legislators and governors have done around the world, Britain's Roman Catholic Members of Parliament voted overwhelmingly last week in support of the UK Equal Marriage bill.
"Among the Catholic MPs who cast ballots in the landmark February [5] vote, 47 favored the government's proposal, and only 28 opposed it," CatholicCulture.org reports.
This solid vote of support by Catholic MPs happened despite opposition from the hierarchy so strenuous that the Catholic Church in England and Wales dedicated their main webpage (until Pope Benedict's unexpected resignation) and significant resources to the campaign against the bill.
Before the vote, Catholic Labour MP Michael Dugher wrote that "I will be voting for equal marriage because of my Catholic upbringing, not in spite of it".
On learning that I am in favour of same-sex marriage, one of my local Catholic priests wrote to me recently saying that he would pray for me. Another local priest expressed his disappointment in me by adding that he had hoped that my Catholic background "would have prompted a more thoughtful response and decision".

As someone who still regards themselves as a Catholic, whose children are being educated at Catholic school, I have no objection to being prayed for. Indeed I welcome it. We all need praying for. But I thought the suggestion that my support for equal marriage was somehow contradictory to my Catholic upbringing was rather odd. …

I was always told that Jesus taught us compassion, understanding and to treat others as we wished to be treated ourselves. I am married – so why shouldn't two gay people similarly be allowed to get married? At weddings, we often quote from St Paul's famous first letter to the Corinthians where he told us to abide by three things: faith, hope and love, "but the greatest of these is love". When the Commons votes today, I will be voting in favour of equal marriage because why shouldn't two people, who love each other and who want to make a long-term commitment to one another, be able to get married, regardless of their sexuality? …

I am very proud of my Catholic upbringing. At my Catholic state school, growing up in South Yorkshire in the 1980s, I was given a strong set of values, such as a firm belief in tolerance, about having a compassion for all humanity, about rejecting all forms of bigotry and prejudice. So I will be voting for equal marriage at least in part because of my Catholic upbringing, not in spite of it.
Daniel Kawczynski MP, a Tory and a Catholic, explained his vote by saying:
Jesus says: "Therefore all things whatsoever would that men should do to you, do ye even so to them".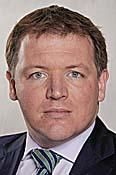 Damian Collins MP, also a Catholic Tory, beautifully articulated the way in which seemingly contradictory religious and political views can be accommodated in a civil society:
I will be supporting the Same Sex Marriage Bill because I believe in a society where people have freedom of religious expression, but also one where outside of religion people are equal in the eyes of the law.
Read more on Terence Weldon's Queering The Church blog.
Related:
* British House of Commons Overwhelmingly Approves Equal Marriage Bill