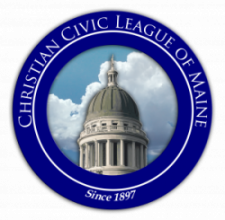 With Maine's marriage equality law taking effect on Saturday, Dec. 29, Carroll Conley and Bob Emrich of the anti-gay Christian Civic League of Maine are pressing town clerks to shirk their duties by refusing to issue marriage licenses to same-sex couples.
"We want you to know that as the leaders in the Christian Civic League it's our responsibility to provoke you to consider what is that in your hand. What is that in your hand? Maybe the Lord's calling you to consider maybe not just retiring, not just quitting but maybe to be that one or those that stand up," Conley stated in the recent "Help for Clerks and Notaries" episode of CCLM's Faith Matters in Maine radio show.
"Provoke" is one way to put it. "Religious emotional blackmail" might be more accurate. Conley and Emrich really lay it on thick:
Emrich: "When you consider this as a Christian, from a Christian perspective, if there's any way that we are participating in a same-sex marriage kind of scenario, it's hard for me to understand how we could possibly go along with it no matter what the law may say. The Bible is very clear in the book of Ephesians. It tells us not to participate in the works of darkness but rather reprove them. It just seems that we have little choice here, if any. My conscience will not allow me to participate, will not allow me to do anything that would give approval or treat that as if it was right. [snip]
"I'm mindful of Peter and John in Acts, chapter 4. They were very respectful to the authorities, but they were very clear. They said, do what you have to do, we're willing to accept the penalty, but as for us, we must obey God rather than man. And when there is a conflict between what the laws of man — in this case the laws of the state of Maine — require of someone, and what God requires of them, there cannot be any question. There can't be any indecision about that. Christians must decide where does our loyalty lie, where is our priority. [snip]
Conley: "This is one area, Bob, you know really in many ways may be our coliseum of our day. [snip]
Emrich: "I don't think that obeying a law that asks you or forces you to violate your conscience before God, I don't think that we're obligated to follow that law. …The law did not provide Peter and John another option and it doesn't for us. I think obedience to God, obedience to his word has to be first, and that's what I would advise someone. [snip]
Emrich: "My concern is that we as believers need to understand that we are first citizens of Heaven, and then secondly we're citizens of this country and of this state. But we're first citizens of Heaven, and we have to act that way first. So that needs to be our priority. …Well now we're in a place in our society where many more people are going to be tested with that, that we have to make that decision whatever the consequences. And I think that's the key. Are you willing to accept the consequences? If a person acts within their conscience, if a person is seeking to be obedient and they sincerely believe they're being obedient to God — and by the way, that's got to be the basis. It's not because you dislike homosexuals or homosexuality. It's not a matter of like or dislike, so it's not discrimination in that sense. It is simply saying, no, God does not allow me to participate, therefore I will not. But I have to be willing to accept any possible consequences.
Despite repeating disclaimers like "We're not playing lawyers here on the radio…We're not trying to offer some kind of legal advice" to divest themselves of any legal responsibility, Conley and Emrich push Maine's town clerks to take advice from the anti-gay legal organization Alliance Defending Freedom.
"Now we aren't lawyers, but lawyers have given their opinions on this," said Conley. "And so the Alliance Defending Freedom, of course our legal national resource, sent out a memo last month. And we are going to be sending that to clerks…telling them that the Alliance Defending Freedom believes and interprets the law saying that if a town can deputize or authorize assistant clerks to handle the situation."
Though Conley concedes that "the Maine Municipal Association…[doesn't] believe that someone can do that," he goes on to assure listeners that he and Emrich "have a great amount of confidence in Alliance Defending Freedom. They've taken cases all the way to the Supreme Court. This is not some fly-by-night organization. We have a great amount of confidence in them."
While listening to the broadcast, I was struck by all the "we" statements Emrich and Conley made while laying out the "true Christian" guilt trip. Does this mean that these two brave men will walk into the metaphorical lion's den with dissenting town clerks and "accept the consequences" along with them? Not hardly. When the rubber meets the road, "we" suddenly becomes "you":
"I know we [Christian Civil League of Maine] are prepared to do everything we can to help anyone ease the consequences, to deal with the consequences, to help them find appropriate, good, solid legal counsel, legal help," said Emrich. "We will do that for people for sure. But in the end it has to be their decision and their willingness. What if they go to court and lose?"
"We want you to know that you can call us any time," Conley stated bluntly. "Reach out and leave a message if it's even after hours at the Christian Civic League. We would be happy to put you in touch with the legal resource because this can be a real landmine. And there could be really difficult consequences."
"God may be calling you to be the example for others," concluded Emrich. Easy to say when it's not your job, health insurance and pension on the line.