In the wake of Washington state voters approving the state's new civil marriage and religious freedom law, which allows same-sex couples to marry, Archbishop J. Peter Sartain has summarized archdiocesan policy regarding same-sex marriage.  From the latest Archdiocese of Seattle Policy Refresher:
ARCHDIOCESAN POLICY BASED ON CANON LAW
No priest or deacon or lay minister may officiate at a same-sex "marriage."
No church facility or school facility may be offered for such an event, even if it is to be witnessed by a non-Catholic minister or civil official.
No church facility or school facility may be used for a reception after such an event.
No church ministers, ordained or lay, may offer "wedding preparation" for such couples.
Appropriately, these prohibitions are based on canon law, which Sartain quotes at length to explain the policy.  But then Sartain goes on to cite numerous sections of Washington state civil law (Revised Code of Washington, or RCW) to assure archdiocese employees that civil law supports their right to follow these points of canon law. The RCW was heavily amended by the new marriage law to include the extensive religious freedom assurances that Sartain is taking comfort in.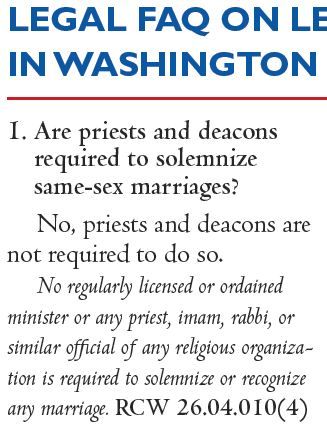 For example:
1. Are priests and deacons required to solemnize same-sex marriages?
No, priests and deacons are not required to do so.
No regularly licensed or ordained
minister or any priest, imam, rabbi, or
similar official of any religious organization
is required to solemnize or recognize
any marriage. RCW 26.04.010(4)
Time and again, as freedom to marry bills are debated, conservative religious leaders and campaign operatives claim that bill passage "endangers our religious liberty" and that "pastors, religious groups, and people of faith" who disagree with freedom to marry laws "face potential legal consequences". Some have even gone so far as to claim that "pastors can be jailed" for refusing to officiate at weddings for same-sex couples.
By citing the religious freedom sections of the RCW as amended by Washington's new marriage law, Archbishop Sartain is assuring the faithful that such claims are baseless.