What influences your decision on whether civil marriage for same-sex couples should be legal?
That was a question asked of the audience at a recent forum on Referendum 74, a measure on the Nov. 6 ballot asking Washington state voters to "Approve" or "Reject" the freedom to marry law passed earlier this year by the state Legislature and signed by Gov. Gregoire.
Twenty-three percent answered that their faith was an important influence on their position on same-sex marriage. When the forum host asked audience members to elaborate, Rev. Melvin Woodworth, a United Methodist minister, responded: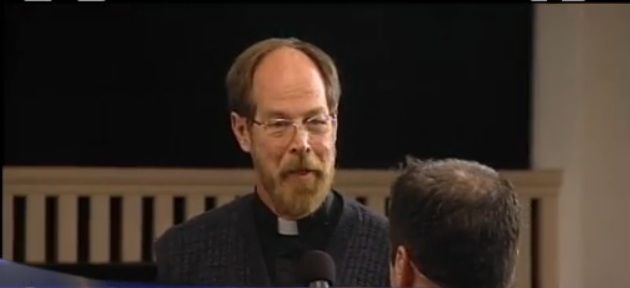 My faith has everything to do with my decision. My Lord tells me to love people, and in 40 years of ministry I've been involved in doing holy matrimony services for LGBT persons. I see that giving them the same support we give heterosexual couples is the loving thing to do, it's consistent with my reading of Scripture, it's consistent with my understanding of the church's theology of marriage, which I've studied extensively.

It offends me that others say that their freedom to practice their religion is impinged by this when every day my freedom to practice my faith is impinged by the status quo.
Rev. Woodworth's views were echoed by another forum participant who wanted to challenge "the idea that somehow people of faith have a particular perspective." That is, the assumption that people of faith automatically reject the freedom to marry for same-sex couples.
As an example she mentioned that Unitarian Universalists, "a community of faith since the founding of this nation, have been performing [holy] same-sex marriages for at least 20 years." But because state law only allows clergy to sign civil marriage licenses for different-sex but not same-sex couples, "that faith community is discriminated against.
"There is a deep policy need to rectify that discrimination, and to enable people of faith who happen to be Unitarian Universalists and other faith communities to actually live their values and their faith," she said.
Anti-gay forces would have us believe that people of faith and gays & their allies are mutually exclusive groups, but in truth the overlap is substantial. The result is that Washington's faith community is far from monolithic on this issue.
The overlap was clear at a recent gathering where "clergy from 15 different faith traditions and congregations spoke of their support for Referendum 74," Washington United for Marriage reports. "The leaders represent tens of thousands of parishioners, congregants and members from across Washington, many of whom are now volunteering for WUM on phone banks, collecting pledge cards, and talking to their family and friends about the need to approve R74."
Last week, "over 250 faith leaders and church goers marched more than a mile through the Greenwood and Phinney Ridge neighborhoods of Seattle in support of Referendum 74. The all-ages crowd waved signs and carried banners as passing motorists waved and honked in support of the marriage for all."
"The march was organized by Broadview United Church of Christ, St. John United Lutheran Church, St. Paul's United Church of Christ, and Woodland Park United Methodist Church."
"Dozens of people spontaneously joined in as the marchers walked from Woodland Park UMC down Greenwood and Phinney avenues to St. John United Lutheran across from Woodland Park Zoo."
In Washington state, faith is a powerful pro-equality motivator.