Update from Miami Herald: GOP delays convention business due to Isaac
Be careful what you pray for. Remember back in August, 2008 when Focus on the Family's Stuart Shepard asked people to pray that Barack Obama's Democratic nominee acceptance speech would get swamped by torrential rain?
Would it be wrong to ask people to pray? Would it be wrong if we asked people to pray for rain?

O.K., not just rain, abundant rain. Torrential rain. Urban and small stream flood advisory rain.

Would it be wrong if we prayed for rain on, say, a particular night at, say, a particular location? Ah, say the evening of August 28th, right here at Mile High Stadium here in Denver. During the prime time t.v. hour when a certain presumptive nominee is set to give a certain acceptance speech at a certain Democratic National Convention?

I'm talkin' umbrella ain't gonna help ya rain. Not flood people out of their houses rain, just good old swamp the intersections rain.

We're not asking for hail the size of canned hams, or lightening bolts to set the bunting on fire. Just rain. Beautiful rain. Network cameras can't see the podium rain. Attendees can't walk to the indoor arena without wishing for hip waders rain.

I know you might ask why would I pray for that. Well, I'm still pro-life and I'm still in favor of marriage being only between one man and one woman. And I'd like the next president, who'll select justices for the U. S. Supreme Court to agree.

So I'm praying for unexpected, unanticipated, unforecasted rain that starts two minutes before the speech is set to begin.

Would it be wrong to pray for rain?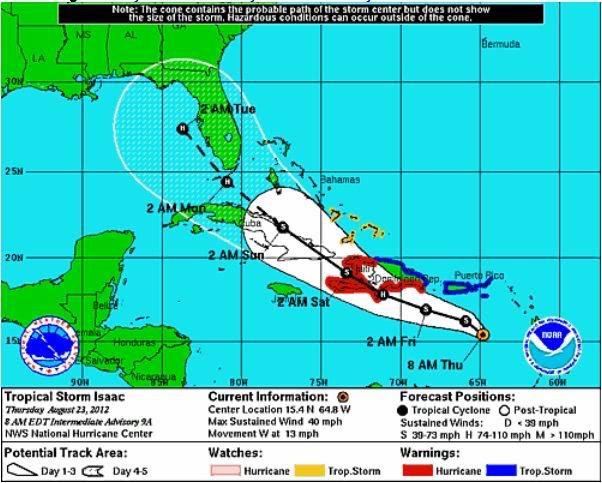 With tropical storm Isaac headed for Florida where the Republican National Convention will begin on Monday, I'd say God is giving Stuart Shepard and his mean spirited compatriots a refresher course in Matthew 7:12, the Golden Rule: "Do to others whatever you would like them to do to you. This is the essence of all that is taught in the law and the prophets."
I'd like to think they'll take the hint, but judging by the Republican Party's anti-woman, anti-LGBT 2012 platform, it doesn't look likely.