Washington voters are showing little interest in repealing the state's new marriage equality law, judging by the marginal number of Referendum 74-qualifying signatures gathered so far by marriage equality opponents.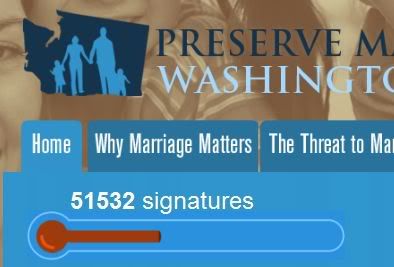 With less than 5 weeks remaining before the June 6 deadline, only a third of the estimated 150,000 raw signatures have been collected that are needed to net the qualifying threshold of 120,577 valid signatures.
The original goal of referendum sponsor Preserve Marriage Washington was to submit 200,000 signatures to the Secretary of State on May 6, one month before the deadline. "I want to shut up our opponents," Preserve Marriage Washington's campaign manager Christopher Plante told volunteers during a recent training session. "Our opponents need to be demoralized," he said. "On May 6th I'd love to put out a press release saying, the human part of me says 'na-na-na-na-na', we got the signatures."
Setting a goal like that indicates that Mr. Plante, who was supplied to Preserve Marriage Washington by the D.C.-based National Organization for Marriage, does not understand the Washington electorate.
In 2009, the Washington electorate became the first in the nation to affirm at the polls a relationship-recognition law for same-sex couples. The ballot measure was called Referendum 71. Since then, support for full marriage equality has become the majority opinion among Washingtonians as well as nationally.
To insure that Referendum 74 qualifies for the ballot, Preserve Marriage Washington will probably start hiring paid signature gatherers. That approach, however, has several down-sides for PMW.
First, it shines a spotlight on the lack of grassroots interest in repealing the Marriage Equality Act. Second, it is costly. And third, it will introduce doubt into voters' minds about the honesty of the referendum campaign since anti-equality campaigns have a long track record of using paid signature gatherers to dupe voters into signing petitions under false pretenses.
Protect Marriage Washington, an earlier incarnation of Preserve marriage Washington, apparently used that unethical method in 2009, enabling them to collect just 1,200 more signatures than the bare minimum needed to qualify Referendum 71 for the ballot (see video, right).
With the aid of paid signature gatherers, Referendum 74 will probably qualify for the November ballot. But indications are that if it does, like Referendum 71 it will do so by limping over the line rather than vigorously blasting past it.
The Marriage Equality Act passed with bipartisan majorities in the Washington state Legislature earlier this year. Gov. Gregoire signed it into law on February 13. Low voter interest in the Referendum 74 petition suggests that like the legislators they elected, the majority of Washington voters are fair-minded people who approve of the new law.