As if in answer to my observation that it's almost as if Washington's Bishops own Preserve Marriage Washington, Washington State Catholic Conference (WSCC), which represents the Catholic Bishops of the State of Washington on issues of public policy, has posted the following comment on their "Preserve Marriage Washington" (PMW) web page. PMW is the campaign trying to roll back Washington's new marriage equality law.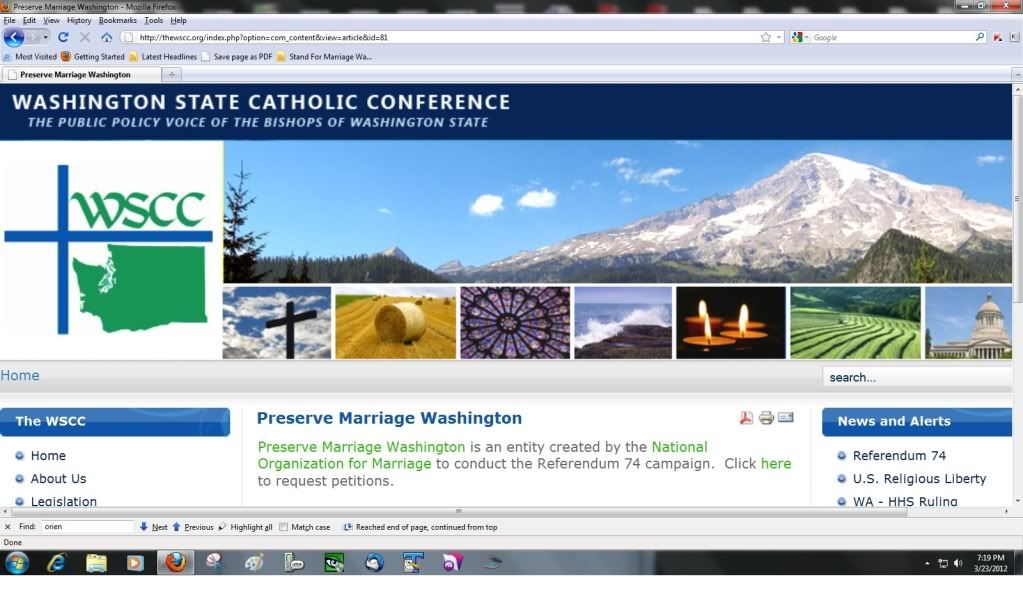 The statement is repeated in "Questions & Answers regarding Referendum 74″ (pdf) which the Bishop of Yakima, Joseph J. Tyson, linked to today in a blog post.
Q. Who is organizing the Referendum 74 campaign?
A. Preserve Marriage Washington, an entity created by the National Organization for Marriage (www.nationformarriage.org), will conduct the referendum campaign.
This may just be a game of semantics since National Organization for Marriage (NOM) is widely believed to be a shell organization for the Roman Catholic hierarchy. Either way, NOM is playing a highly conspicuous role in the campaign to ban same-sex couples in Washington from access to civil marriage licenses, even going so far as to call for a national boycott against Washington-based Starbucks because Starbucks supports Washington's marriage equality law.
A little something about the group that Washington's bishops are collaborating with so closely: In state after state NOM pulls the same trick of ignoring state campaign finance laws, presumably in order to hide the identities of its few donors. Indications are that NOM may already be pulling this stunt in Washington state.
One thing is certain, despite NOM hiring Washington local Joseph Backholm to be PMW's figurehead, PMW didn't grow organically as a Washington grassroots organization. It was thrust upon the state by Washington D.C.-based NOM. Washington's Roman Catholic bishops said so.