The battle to beat back Amendment One is heating up in NC, but the First Lady, the President, and the Obama 2012 campaign keep coming here — and have said nothing about it so far to help us defeat it. Will this silence continue as they keep pushing those NC voter ATM buttons for cash?
---
The President comes to NC (again) – will he say "vote against One?"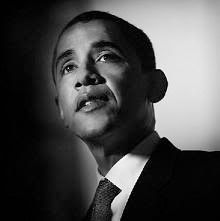 President Obama is traveling to the Charlotte, North Carolina area tomorrow (he or admin official seem to do a NC visit about once a month at this point – the First Lady was here last week). He'll be here on Wednesday to visit the Daimler Trucks North America Manufacturing Plant in Mt. Holly.
Will he tell North Carolinians that they should vote Amendment One — optimally on camera, or for god's sake, even for print? The administration has said it opposes such amendments in principle, so it's at no political cost to say it to voters in this state. I'm not holding my breath because during Michelle Obama's two stops here — Raleigh and Charlotte (transcripts here and here) — there was not one word about the anti-business, anti-family amendment, even though she made a point about discussing families, immigration (the DREAM Act) and the economy. She even broached LGBT issues by pumping up the administration's "success" in repealing "Don't Ask, Don't Tell" at the Raleigh stop:
And because my husband ended "don't ask, don't tell," our troops will never again have to lie about who they are to serve the country they love. That is what's at stake. (Applause.)
And the First Lady went on to say this:
Will we be a country where opportunity is limited to the few at the top? Who are we? Or will we be a place where if you work hard, you can get ahead, no matter who you are or how you started out? Who are we? Will we tell folks who've done everything right, but are still struggling to get by, are we going to tell them, "tough luck, you're on your own"? I mean, who are we?

Or will we honor that fundamental American belief that this country is strongest when we're all better off? (Applause.) Will we continue all the change that we've begun, all the progress we've made? Or will we allow everything we've fought for to just slip away? Because that is the choice we face. Those are the stakes.
Perfect opportunity to slip a reference to Amendment One, no? A major issue at the polls that will determine whether one group of NC residents will forever be restricted from the civil institution of marriage (or any legal recognition of their relationships)?
Crickets chirping. Nothing — at either stop.
More updates on the status of the Anti-Equal Marriage Amendment One in North Caroline are below the fold.
Daily Kos: Visualizing victory over North Carolina's anti-gay amendment
Over at "The Great Orange Satan", friend of the Blend Scott Wooledge outlines why this battle is important — and he was a skeptic about whether we could pull off a win here.
The voters are out there. They just are ignorant of what the amendment actually does (bans civil unions, domestic partnership or any other recognition). And in fact they are actively being deceived, opponents are already spreading the misinformation—call it what it is, a lie—that voting against the amendment is voting to help the gays "redefine marriage" (their favorite catchphrase). They depend on misinformation and ignorance to win.
I should confess to being among those who'd written off North Carolina as a fait accompli and unwinnable.
But on Monday, I spoke with organizers and their "Yes, we can!" attitude was truly contagious (remember that?).
But better than their enthusiasm, they seem to have a hatched out a strong pathway to success. At this point they have a staff of 30, 26 in seven field offices, and are making 20,000 voter calls a week. They have also looped in 117 groups into their Truth Squad that will participate in fact-checking the many lies that always emanate from the religious right opponents to LGBT equality.
These organizers are getting increasingly sophisticated and aggressive and learning from mistakes of the past. Protect ALL NC Families has a full-time faith outreach director working with 225 supportive congregations. North Carolina is also only the second time that a state-level NAACP office has engaged in such a battle, and they are doing so aggressively. They brought Chad Griffin onboard as a paid media consultant. Griffin is the driving force behind the successful constitutional challenge of Proposition 8, and founder of Americans Foundation for Equal Rights, and also the incoming President of Human Rights Campaign.
Yes, Chad Griffin believes we can win, he could have passed on the gig. Surely some high-profiled moneyed folks out there can believe as well — and chip in.
Charlotte Observer comes out strong against Amendment One
The Obamas and the campaign love parachuting into the state to extract money for 2012 and bring its message about the administration's accomplishments to North Carolina, but says nothing about the bigot amendment. Meanwhile the host city's major newspaper, the Charlotte Observer, drop-kicks the ballot initiative in its most recent editorial, "Marriage bill jeopardizes rights of more than gays."
A state constitutional amendments panel met this week to "prepare an official explanation of the proposed Marriage Amendment (Session Law 2011-409) to the North Carolina Constitution that will be put before voters in the upcoming May 8 election." But an explainer won't be able to justify this wasteful and misguided legislation that bans same-sex marriage – a ban already in place by state law.

By barring the state from recognizing as legal any domestic union other than heterosexual marriage, the amendment's "impact [goes] far beyond current N.C. law," the professors say. It puts at risk protections enjoyed by heterosexual couples – young couples who delay marriage, middle-aged couples who've decided not to marry and elderly couples who've been married before and see no need to remarry late in life. These groups are 88 percent of unmarried cohabitant N.C. households, according to the 2010 Census.

Among the possible impacts of this bill on them? It could:
Invalidate domestic violence protections for all unmarried partners
Undercut existing child custody and visitation law
Undermine protections for disposition of a deceased partner's remains, hospital visitations and emergency medical decision-making
Invalidate trusts and wills

…It's a shame this unwise and unnecessary amendment is even on the ballot. It wrongly writes discrimination into the state's constitution – and it jeopardizes protections for straights as well as gays. Voters should reject this legislation.
The prospect of a marriage equality plank in the Dem platform
Also,
the Observer noted
amendment's presence in NC politics cannot be ignored politically, given the recent push to add a marriage equality plank to the Democratic Party platform — and the convention is in Charlotte, raising the profile of any positions taken by the party or this President.
[P]utting a pro-gay marriage plank in the platform "has the potential to really make for an awkward roll into Charlotte," said Catawba College political scientist Michael Bitzer.

The reason: Delegates to the Charlotte convention in early September will vote on the platform just four months after North Carolina voters consider a proposed state constitutional amendment that, if passed, would reaffirm North Carolina's ban on same-sex marriage. It would also threaten civil unions of gay couples.

…Passing a pro-gay-marriage plank in Charlotte after state approval of an anti-gay marriage constitutional amendment "would be a delicate balancing act" for many N.C. Democrats – including the eventual candidate for governor, Bitzer said. "They'd have to say, 'My national party supports this, but my state doesn't.' "
This is the proposed addition to the party platform, submitted by Freedom To Marry:
"The Democratic Party supports the full inclusion of all families in the life of our nation, with equal respect, responsibility, and protection under the law, including the freedom to marry. Government has no business putting barriers in the path of people seeking to care for their family members, particularly in challenging economic times. We support the Respect for Marriage Act and the overturning of the federal so-called 'Defense of Marriage Act,' and oppose discriminatory constitutional amendments and other attempts to deny the freedom to marry to loving and committed same-sex couples."
The President and his party cannot continue to ignore this issue — people are watching to see whether NC is strictly a swing state to be used as an ATM, and political allies who will have to live under the discrimination of this amendment if it passes on May 8 should expect to receive nothing in return. We're not even fighting for marriage equality here in NC — just to stop discrimination from being permanently enshrined in our state constitution.
Below the fold, the Raleigh News & Observer publishes a great article on the potential harms of Amendment One in terms of domestic violence laws – with a comparison to what has occurred in Ohio, a state that passed an over-reaching marriage discrimination amendment in 2004.
The News & Observer covers the impact of the amendment on domestic violence laws
Here is the language of North Carolina's amendment vs. Ohio's:
North Carolina's proposed amendment:
"Marriage between one man and one woman is the only domestic legal union that shall be valid or recognized in this state. This section does not prohibit a private party from entering into contracts with another private party; nor does this section prohibit courts from adjudicating the rights of private parties pursuant to such contracts."
Ohio's amendment:
"Only a union between one man and one woman may be a marriage valid in or recognized by this state and its political subdivisions. This state and its political subdivisions shall not create or recognize a legal status for relationships of unmarried individuals that intends to approximate the design, qualities, significance or effect of marriage."
The problem with NC's language is the pesky phrase "
domestic legal union
," which appears in zero laws on the books, that means endless litigation about what that term will mean related to domestic violence laws, among other matters.
From the N&O
:
Ohio's amendment included a sentence prohibiting recognition of "a legal status for relationships of unmarried individuals that intends to approximate the design, qualities, significance or effect of marriage." Even before the bill made it out of the Legislature, Ohio State University law professor Marc Spindelman saw a problem.
"If the concern of the marriage amendment was unmarried couples not be treated under the law the same as married couples, then domestic violence laws – which started out protecting married women, then domestic partners more generally – those laws were susceptible to being attacked," he said in a recent interview.
Pro-amendment forces ridiculed that prediction.
"Proponents, when faced with those concerns, initially responded with a kind of sneering dismissal that anything like this would be likely to happen," Spindelman said.
But it did. Within about three months of the amendment passing, a public defender in Cuyahoga County representing a man accused of shoving his live-in girlfriend asked a judge to throw out the case. The attorney argued that since the new provision in the constitution prohibited recognition of a special legal status for unmarried people in a marriage-like relationship, that meant domestic violence laws couldn't apply to live-in boyfriends and girlfriends.
Proponents of Amendment One, who make specious arguments about "activist judges" — are basically handing over a hot mess of litigation over to judges because the broad language is so problematic. Dozens, perhaps hundreds of lawsuits over this will be filed if A1 passes. But this is how the pro-A1 forces see it:
Tami Fitzgerald, executive director of the N.C. Values Coalition, agrees. She is running the pro-amendment campaign, and is also a lawyer.

"It is unreasonable and without legal precedent to believe that protecting marriage in our state constitution as the legal union of one man and one woman 'might' suddenly deprive same-sex couples of domestic violence protections that they presently have under our statutes," she said. "That conclusion is based on nothing but supposition and legal fabrication."

Several law professors in North Carolina and Ohio disagree. They say that if judges interpret the amendment broadly, it could render unconstitutional the domestic violence law. That's because the amendment prohibits the state from recognizing any "domestic legal union" other than opposite-sex marriage – for any reason, they contend.
These people want to roll the legal dice against more than same-sex couples in this state. That's the bottom line. From the N.C. Administrative Office of the Courts and the U.S. Census, the real number of people affected by Amendment One when it comes to domestic violence laws:
223,000: estimated number of unmarried couples in North Carolina in 2010
12: the percentage of those 223,000 unmarried couples who were same-sex
34,000: number of domestic violence protection orders sought in North Carolina from mid-2010 to mid-2011