An astonishing 71.3% of college freshmen support marriage equality for gay and lesbian couples, according to UCLA's Freshman Survey, an annual national survey of first-year students entering four-year colleges and universities. Alana Klein Prisco of UCLA describes the results (emphasis added):
An unprecedented 71.3 percent of incoming college students indicated that same-sex couples should have the right to legal marital status, compared with 64.9 percent in 2009, a remarkable 6.4 percentage-point increase over a two-year period. While support for same-sex marriage is highest among female students and those who identify as liberal, a significant amount of conservative students (42.8 percent) and an increasing number of male students (64.1 percent in 2011 vs. 56.7 percent in 2009) expressed support for this issue.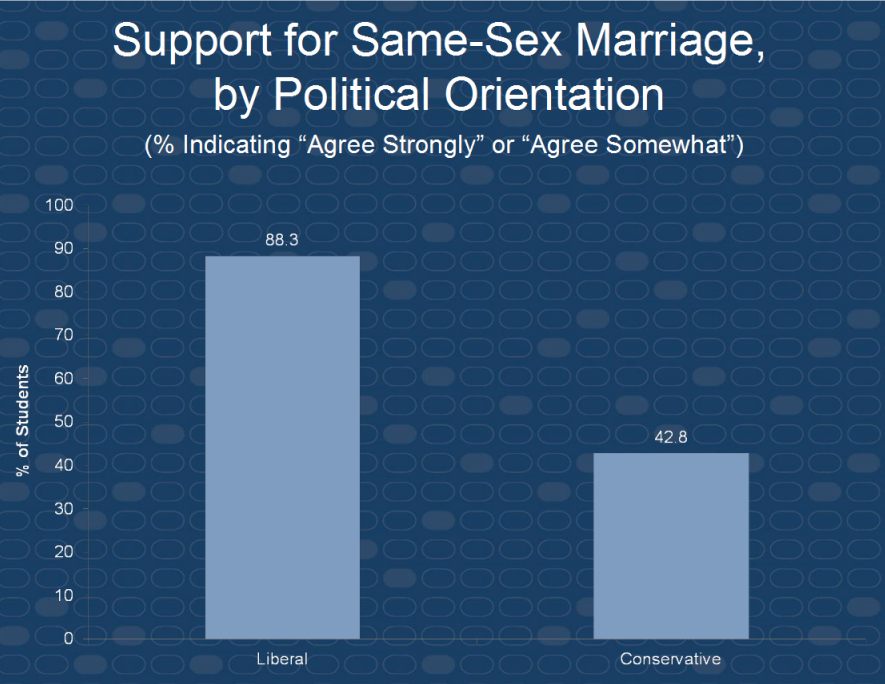 It is worth repeating the finding that party lines are crashing precipitously as a barrier to support for marriage equality among college students. The same trend is starting to be seen among legislative leaders.
"Among students entering college, we're seeing a more unified support for same-sex marriage that reaches across political party lines," said John H. Pryor, lead author of the report and director of CIRP. "Given the influence of young voters in the last presidential election, candidates may want to pay careful attention to the student perspective on these and other civil rights issues."
The survey also found that incoming freshmen are more supportive than their predecessors of a woman's right to choose abortion and of allowing undocumented students access to public education. At the same time, alcohol consumption by this cohort is at an all time low and time spent studying is on the increase.
The survey collected responses from 203,697 full-time freshmen students at 270 colleges and universities across the country.
Addendum
In the comments below, Zimbel raised the very reasonable question as to whether the numbers reported above are a blip. Far from being a blip, they are part of a long trend towards increasing support for marriage equality by college students. I've adapted the chart below from UCLA's report. The left-most red arrow points to the same-sex marriage trend line, which charts data collected through 2009. The right-most red arrow points to the students' 2011 response to the same-sex marriage question.