Many of your favorite sites on the Internet have gone dark today to protest legislation that could profoundly affect bloggers, social media mavens and those entities that believe in the free speech on the Web.
The U.S. House's Stop Online Piracy Act (SOPA) legislation and the Senate's Protect IP Act (PIPA) are the talk of the Internet primarily because both bills, in an attempt to address third-party copyright infringement and online piracy, are an overreach that threatens free speech and brings into question the scope of "fair use." A thumbnail sketch of the legislation by PC World's Jared Newman:
Originally, both bills provided two methods for fighting copyright infringement on foreign websites. In one method, the U.S. Department of Justice could seek court orders requiring Internet service providers to block the domain names of infringing sites. For example, Comcast could prevent its customers from accessing thepiratebay.org, although the underlying IP address would still be reachable. This ISP-blocking provision was a major concern among Internet security experts, and both SOPA and PIPA have dropped it.

The other tool would allow rights holders to seek court orders requiring payment providers, advertisers, and search engines to stop doing business with an infringing site. In other words, rights holders would be able to request that funding be cut off from an infringing site, and that search links to that site be removed. The site in question would have five days to appeal any action taken.

Although the House and Senate bills are similar, SOPA is the more extreme of the two. It defines a "foreign infringing site" as any site that is "committing or facilitating" copyright infringement, whereas PIPA is limited to sites with "no significant use other than" copyright infringement. More details on SOPA and PIPA are available through the Library of Congress website.
The real harm here is the legal silencing effect — cut from the cloth of the Righthaven slap suits — that will make it difficult, if not impossible, for small independent sites caught up in an infringement inquiry to afford extensive litigation whether or not they are actually guilty of using copyrighted content.
Of course Righthaven also overreached — the nearly defunct copytrolling outfit destroyed itself because of its legal incompetence (judgments showed that it didn't hold the actual right to sue, and cases were tossed out) — but it did force extort victims to settle for sums of money (the Blend included) that nearly bankrupted them or forced sites to go dark.  [read more]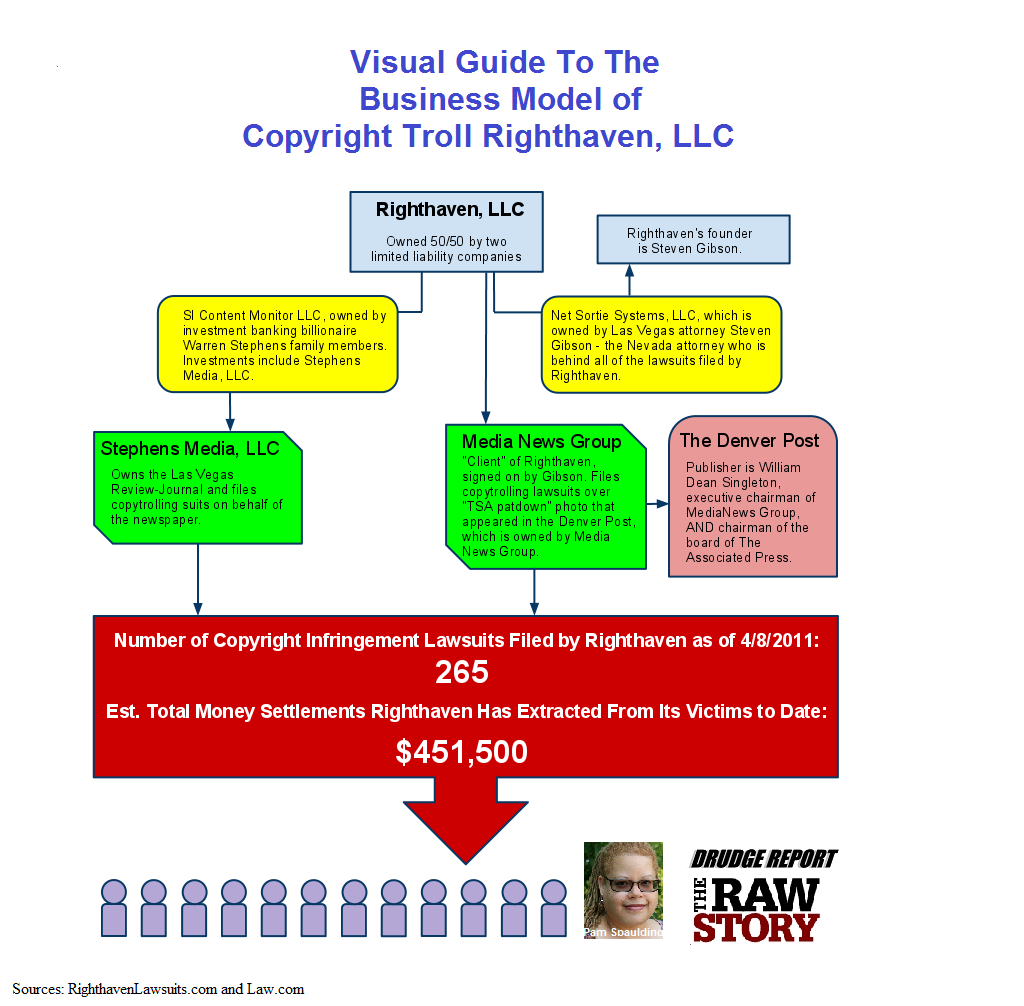 This is the prospect many could face under SOPA and PIPA for simply citing a few paragraphs of a content provider such as the Associated Press and providing a link back to the source. The AP, in fact, has launched its own version of Righthaven, NewsRight (my post here), that will give an alleged violator "grace" if it pays the undetermined licensing fee to avoid being slapped with a lawsuit. That's an improvement on the disgraced Righthaven, which sued first, and asked no questions as it asked victims to "pay up" thousands of dollars.
Did I mention that Steve Gibson, Righthaven's chief executive, along with two former Righthaven lawyers, are now being investigated by the Nevada State Bar?
Back to SOPA and PIPA — if the legislation passed and independent sites were to try to fight accusations of infringement, it would cost an enormous amount money, and I venture that many smaller sites would likely go under. It would also open the floodgates for additional private lawsuits. Given the trail of destruction left by Righthaven, with SOPA/PIPA intact and in place, the lawsuit abuse is incalculable. The fact is that this could lead to silenced independent voices because of fear of the slapsuit, even though the alleged targets of the bills are the small number of online pirates that are doing an enormous amount of wholesale IP theft from abroad of movies, music and other content.
What will the outcome be in the long run? Probably something of a win-win/lose-lose that will not satisfy either side. The money backing SOPA/PIPA means that ultimately some kind of modified legislation will pass. Will it ensure internet free speech as we know it now? Probably not — we're going to see battles in the courts, with the prospect of some blog casualties almost inevitable. And that chilling effect could be very real. Let's hope that I'm wrong.
***
I have not asked my co-bloggers to "go dark" — doing so is their personal decision. Aside from this post, I don't plan to publish any other linked content aside from the above.
At 11 AM ET, there will be a liveblog post here on PHB covering the launch of the statewide campaign by the Coalition To Protect All NC Families to defeat Amendment One at the polls on May 8.
Related:
* AP's content licensing venture NewsRight – another Righthaven threat in the wings?
* Here is a great primer at Reddit: "A technical examination of SOPA and PROTECT IP"
***
Call your members of Congress and tell them to vote no on SOPA and PIPA: 202-224-3121.