"There can be few greater thrills for a genuine dog lover than to take a homeless dog off of life's refuse pile, add love and care, and then see that dog, like the Phoenix rising from the ashes, become the great dog it was meant to be. Training such a rescued dog may require a little more time, a little more patience, and a little more skill, but the end result is a dog that has been given back its life. A dog owner can ask for no better companion." – Joe Stahlkuppe, Training Your Pit Bull
---
This post is an update to a pre-FDL post on the Blend. Regulars here at the coffeehouse know that I am a pit bull advocate, with a special interest in educating people about the breed, which has suffered mightily because of bad PR, bad owners, ignorance about the breed's actual lineage and history that makes them wonderful family pets. ' However, I also note that this is not the breed for the first-time dog owner. If you're not willing to put in the time and effort on basic obedience training, please don't adopt a pit. I've always had rescues, including a lab and three Rhodesian Ridgebacks, so I was well versed in bringing a canine into the family.
Pit bulls, aren't a 'breed' per se (American Staffordshire Terrier and American Pit Bull Terriers are most similar ' and the pits we see today in shelters are often mixes), thus there is a wide variation in color and size. Some are the beefy 100-lb balls of muscle; many are closer to the historical APBT size of 30-45 lbs, a medium size dog.
Kate and I adopted a 9-month-old, 45 lb. pit from the Wake County SPCA in 2008, one from a litter that was rescued from the side yard of a backyard breeder. She was one of two left (thankfully her sister was adopted some time later). We initially visited with a Golden Retriever prior to meeting Casey, and ironically that dog, a breed considered one of the gentlest family dogs, snapped at Kate. Casey bounded into the visiting room and immediately wanted to snuggle.
Casey is smart, friendly with dogs and people, and like many pit bulls, very sensitive to correction; they want to please their people, and that's why they are easy to train to fight. Positive training methods are essential to motivate and support the pit bull's bond with its family. Most pits are fairly high-energy and have a longer maturation/puppy phase. Casey, once she turned about two, settled into a couch potato dog;  she enjoys going out for the occasional walk (except when it rains!), but otherwise prefers the sofa, and, as as you can see at right, fleece blankets.
Pit owners will also tell you that they have a great need for affection and to participate in 'pack'/family activities. But the one thing a pit bull owner has to contend with is the fear and ignorance out there ' you do become an advocate out of necessity. Your dog becomes an ambassador to counteract the myths. If you aren't ready for the rejection, fear or angry looks from people on the street, get another breed.
For those who ask ' 'But what about all those reports of pit bulls attacking people/children/dogs?" Well, a lot of the time the reports don't confirm whether it was a 'pit bull' at all — sometimes it's a Rottweiler, Bull Terrier, a Boxer or other similar breed. Other times it is a pit mix; the hysteria around "pit bulls" is irrational.
Take a look at the statistics for more meaningful, reality-based information – CDC statistics. This shows breeds of dogs involved in human dog bite-related fatalities (DBRF) in the United States, by 2-year period, between 1979 an 1998. Death-based approach of counting most frequent purebreds and crossbreds involved in 7 or more human DBRF.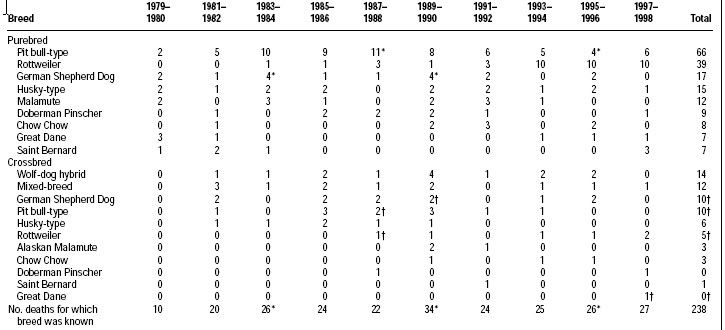 Going by this chart, yes, pit bulls are at the top of fatal dog bites, not all dog bites. What is true is that more attacks on humans that are fatal are due to pit bull and Rottweiler attacks (Rotties have more bite power because of their huge heads and size). No one calls for Rottweilers to be banned. And if you look at the mixed breeds, pit mixes pose no more significant threat than other mixes — should those all be banned as well; after all, visual appearance alone doesn't indicate behavior.
Also, the vast majority of biting dogs (77%) belong to the victim's family or a friend. Another study confirms the obvious to people with experience with dogs  – the dogs most likely to bite and kill (and this cuts across all breeds) are male, unneutered, and chained. That's also a dog that has not been socialized, trained and is a time bomb, not a family pet. Those are much better predictors of behavior than breed alone.
Chloe the Bichon, by the way, is the alpha dog in the house.
Related:
* The Healing Touch: What happened to Michael Vick's dogs??(December 29, 2008 issue of Sports Illustrated)
* The Pit Bull Placebo: The Media, Myths and Politics of Canine Aggression (Author Karen Delise compiled actual statistics of dog attacks)