Two events of significance are coming up in North Carolina's fight to beat back the discriminatory, job-killing marriage amendment that is going to go on the ballot next May.
---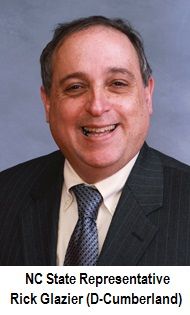 Tomorrow, Wednesday, September  21 at noon,  there will be a debate at the UNC School of Law in Chapel Hill between one of the proponents of this bigoted ballot initiative, State House Majority Leader Rep. Paul "Skip" Stam (R-Apex) and ally, House Minority Whip Rep. Rick Glazier (D-Cumberland). Glazier, who was the instrumental sponsor in ensuring passage of the state's inclusive School Violence Prevention Act, is a long-time proponent of equality for North Carolinians.
The UNC Center on the Law and Government's "The Constitution and Gay Marriage: A Debate with Representatives Paul Stam and Rick Glazier" will be held in classroom 5042; Professor Michael Gerhardt of the UNC School of Law will moderate the discussion. The event is open to the public, but law students, faculty, and staff have priority seating.
I hope that Stam is prepared for the utter humiliation he is about to experience; these bills passed without any public debate or testimony by legal experts ready to present data on the potential impact of a constitutional amendment on North Carolina. Stam will have to search for non-religion-based bigotry reasons to justify this amendment's existence. I smell flop-sweat in the air.
I amplify that because yesterday, one of Stam's legislative colleagues in bigotry, Rep. Dale Folwell, received a reality-based smackdown on-air by Alex Miller, Interim Executive Director at EqualityNC,. Stam will probably be equally unprepared for his views to withstand scrutiny. (Check out "Stam-Folwell Press Conference Raises Uncomfortable Questions for GOP").
There also will be an anti-amendment rally outside the venue at UNC-CH Law prior to the debate.
I am crossing fingers; hoping to cover it live.
---
The second event, "All of Us North Carolina: Moving our people to vote 'No!'  like we're building a justice movement" coincides with NC State Pride on September 24.  As you can imagine, with a number of polls showing the majority of North Carolinians oppose amending the state constitution (and would like to see same-sex couples receive relationship recognition), the problem with a May 2012 ballot initiative is that occurs when those most likely to vote against it have the least motivation to get out and vote. So grassroots efforts to bring many coalitions together to help educate and GOTV are sprouting up.
Sponsored by All of Us NC, Southerners On New Ground, Immigrants and Allies for Justice, NC Dream Team and Equality NC.

Saturday, September 24th. 5-8pm

First Presbyterian Church ♦ 305 East Main Street ♦ Durham, NC 27701

People of all ages welcome. Wheelchair-accessible. Spanish-English interpretation available. Free & meaningful childcare.

5-6pm Dinner by Vimala's Curryblossom Cafe, no charge, donations welcome.
6-8pm Participatory workshop (interested children welcome & childcare also available)
Contact allofusnc@gmail.com or call us at 919-618-0442

In a moment when North Carolinians are struggling for employment, education, housing, healthcare, violence-free communities, and clean water, self-interested legislators have decided to put a family discrimination constitutional amendment on the May 2012 ballot. Come, let's mourn the hurt, understand the issues at stake with the amendment, and practice using relational organizing as a tool to build a broad-based movement. If we unite, we can defeat the amendment, strengthen our skills, and also deepen our relationships for the long haul. When the right-wing tries to take away anyone's services or benefits, they'll have all of us to reckon with.

All of Us North Carolina believes in fighting to win, with our eyes on the prize beyond the prize, using grassroots popular education. Southerners On New Ground is a Southern regional home for LGBTQ liberation across all lines of race, class, abilities, age, culture, gender, and sexuality. Immigrants and Allies for Justice brings together immigrants, students, workers, and families for a stronger progressive movement. The NC DREAM Team is an organization of undocumented immigrant youth and allies fighting institutionalized discrimination and exploitation of immigrant communities through a sustainable, community-led movement.

Become a fan of All Of Us NC at www.facebook.com/AllOfUsNorthCarolina.

Thanks for spreading the word! We have room for 100 people, and we especially encourage youth, elders, people of color, poor and working people, LGBTQ people, immigrants and other marginalized people to consider participating.