It's interesting — and informative — that those responsible for the bible-based, anti-gay town hall last week are feeling the heat of controversy because of its inflammatory rhetoric. Did they think nothing would come about from literature instructing people to "vote the bible" was being handed out?
Words spoken by Sen. Forrester at the Sept. 8 town-hall meeting didn't set well with many constituents. He's a primary sponsor of the bill, which he has introduced for eight consecutive years.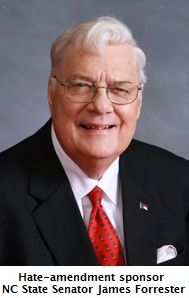 He referred to Asheville as a "cesspool of sin," prompting Gastonia Mayor Jennie Stultz to issue a formal apology to the Buncombe County city.
Forrester also referred to homosexuals when he told attendees that "we need to reach out to them and get them to change their lifestyle back to the one we accept."
Blender Robert Kellogg, who was there to listen to that drivel, challenged  the homophobes there.  He said in an email to PHB:
Pam, I was the only LGBT individual there. The hate coming from Forrester was so evident I wanted to get sick. I did stand up and challenge all 5 lawmakers to meet with the local LGBT community, but none said they would.
I'd debate this @sshat Forrester anytime. His junk-science and flat out lies can't withstand scrutiny.
"I think it's more of a religious and political group that wants to see the separation of church and state dissolved," Kellogg said. "It's very dangerous because that is the first step to becoming an extremist group… to use religious ideology that would bring in people that are totally unaware of what the political ramifications of this group are."
He says that someone who might be "easily influenced" could be "misguided" by Wake Up Church USA.
"I hate to see good, honest people who are Christian get involved in a group that they think produces Christian values that ends up being a platform for hate and bigotry," Kellogg said.