My FDL colleague Teddy Partridge has already blogged about this horrifying news, but I wanted to register my own level of despair (but not surprise) about the mistrial declared in the murder case of Brandon McInerney, who shot classmate 15-year-old Lawrence King in the back of the head at point-blank range with a .22-caliber gun.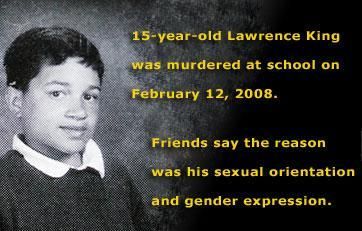 The defense's case rested on a naked claim of gay panic — that McInerney was somehow so traumatized by King's dressing in makeup and girl's boots and teasing him that McInerney had to resort to homicide to alleviate his discomfort.
Defense attorney Scott Wippert and co-counsel Robyn Bramson didn't dispute that McInerney killed King. But they argued he was pushed to an emotional breaking point by King's attentions toward him and the school's failure to rein in King's conduct.

They also appeared to reach out for jury sympathy by calling several of McInerney's relatives to the stand to testify to the abuse the young boy suffered at the hands of his drug-abuser father.
"Rein in King's conduct." Exactly what was the boy doing? Just think if every teen girl or woman who receives "unwanted attention" chose homicide as a way to solve the problem. Teen angst, an abusive home life, even getting teased or "hit on" as McInerney's lawyers allege doesn't excuse the premeditated act of bringing a deadly weapon to school and assassinating a schoolmate.
Teddy:
Our criminal justice system is entirely broken if the unsettling behavior of homicide victims is allowed as a justification for their murder, in middle school. This jury needs to do its job, not moan about how hard this decision is. It wasn't hard for Brandon McInerney to get a gun and kill Larry King.

It shouldn't be hard to convict him of that murder.
Score a win for gay panic. GLSEN, the Gay, Lesbian & Straight Education Network gave this response to the mistrial – Executive Director Eliza Byard:
The jury could not reach an agreement on whether to find McInerney guilty of first-degree murder, second-degree murder or manslaughter. The prosecution and defense could reach a plea deal, or the prosecution could pursue a new trial.

"The mistrial declared today is hardly a surprise. This was always destined to be a case with little resolution and no winners, whatever the verdict. The central facts remain the same: homophobia killed Larry King and destroyed Brandon McInerney's life, and adults failed both young men because of their own inability to deal forthrightly and compassionately with the multiple challenges they each faced. The jury's indecision is a sad reflection of our collective inability to find common ground and invest in a better future for all youth and a culture of respect for all."