Fred Phelps's Kansas-based Westboro Baptist Church (WBC) totally wimped out on the big picket they had planned during today's Seattle Pride Picnic.  WBC are the "God Hates Fags" people.  This is what they said on their picket schedule:
2nd Annual Pride Picnic in Seattle, WA …WBC will picket the filthy fags and their enablers, not the least of which is their sponsors, Amazon, Microsoft, YMCA, FUZE, and Seattle Gay News.  No doubt you have all heard that God Hates Fags and Fag Enablers, and both are worthy of death (hell).
That message didn't sit well with Ben Crowther (below, in red shirt), a local activist who organized a counter protest via Facebook, saying "Girl, please.  I'm just totally not feeling them being there, ya know?  This is Seattle, and we just don't stand for hatred or stupid signs here. I mean really, have you seen their color coordination? …Let's give them a warm and gay Seattle welcome!"

And a warm Seattle welcome it was awaiting the WBC.  The diverse group of locals ranged from Atheists to Christians, Frumps to Fabulous, PFLAG moms to Rat City Rollergirls.  The crowd of 150 could barely squeeze onto three of the four corners of the intersection.  But squeeze they did, politely keeping the fourth corner free for the WBC picketers who would never come.  I guess the WBC folks just can't face love, warmth and smiles.
Though the WBC wimped out on the Pride Picnic today, their empty promise to picket wasn't wasted.  WBC's picket schedule has been used in past as a fundraising tool by local LGBTQ organizations.  Today's picket was no exception, with Queer Youth Space and Equal Rights Washington making lemonade out of lemons.
Even though WBC members managed to show up for their early morning pickets of Mars Hill Church and Christian Faith Center, several of them seemed to only be going through the motions.  Most notable was Fred Phelps's granddaughter Jael Phelps who rarely lifted her eyes from her phone or her feet from their roots in the sidewalk, leading me to wonder whether God Hates WBC Picket Slackers.  Photos of slacker Jael, plus more Seattle fabulousness and some closing words from two loving Christians, below the fold.WBC Picket Slacker, Jael Phelps
Seattle Fabulousness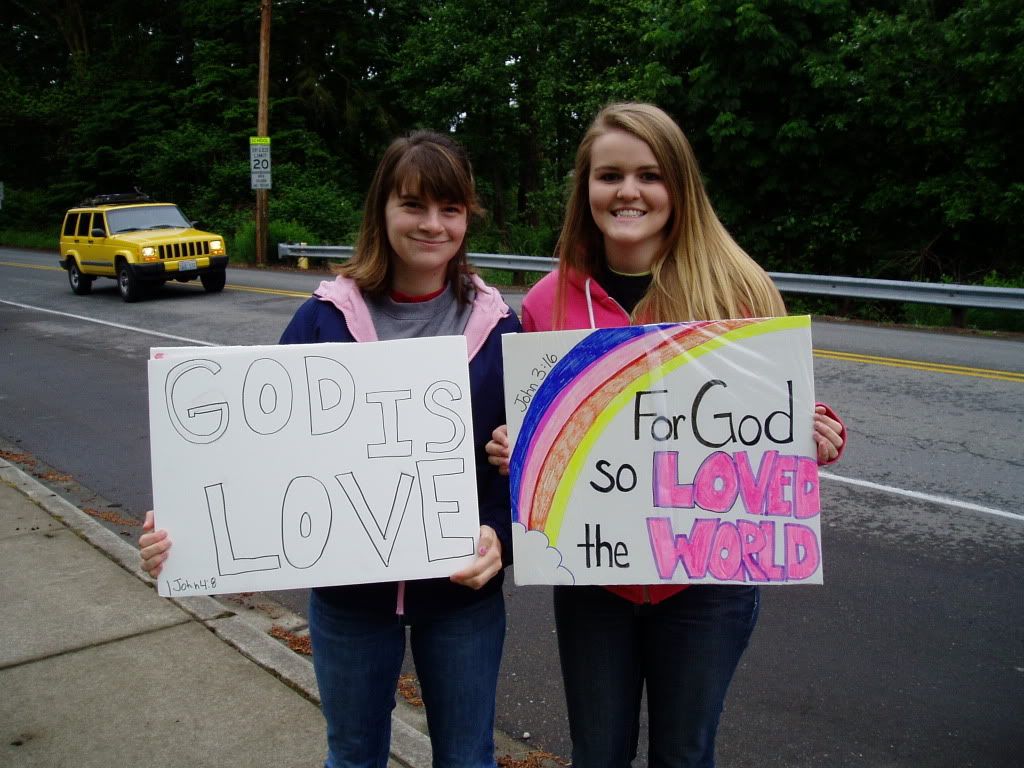 I met these two young Sammamish women at the first WBC picket of the day, located outside Mars Hill Church in Federal Way.  They planned to counter-protest all four of WBC's Seattle-area pickets today.  I asked them what motivated their decision to do so, and found their answer to be a perfect antidote to WBC's brand of hate:
We are Christians and we thought this is so bad telling people that God doesn't love them when He tells us in 1 John 4:8 that God is love, and whoever does not love is without God.  So unless you are truly loving people, you can't be a Christian.  And that's what we're all about, is love.

We're not against the [WBC] protesters themselves.  We're just here in support of what we believe to be true.  We know God loves them just as much as he loves us and loves everyone else.