UPDATE (8:30 PM ET: We have video courtesy of Andy Thayer of Gay Liberation Network, who is in Moscow with Dan. He said "A few hours ago we recorded this video of support for GayRussia."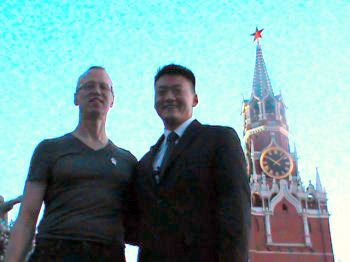 10:15 AM ET: I just spoke to Dan Choi, who is in Moscow for Gay Pride, scheduled for May 28, 2011. It would have been the first legal Pride, but Moscow city officials rejected an application for a gay pride parade, citing a risk of public disorder
The decision by Moscow's city council ignores a ruling by the European Court of Human Rights, which said that the city had illegally banned three pride events between 2006 and 2008.

Alexeyev told the Associated Press that this was the sixth time authorities had refused the request for a rally, and that activists would go ahead with a peaceful demonstration despite the ban.

"Of course it is illegal because the [European] court decision, which was clear in its interpretation of article 11 of the European convention, and which we are quoting as the basis for this. It doesn't even have any basis in Russian legislation," Alexeyev told The Moscow News.
Dan reports that he, along with about 20 activists from the U.S. and Europe attended Russia's version of Meet the Press. Russian LGBT rights activist, lawyer and journalist Nikolay Alexeyev debated their version of Maggie Gallagher, and the opposition (anti-gay) side was stacked with government officials and a "sexologist" demonizing LGBTs.
According to Dan, the first two segments were very contentious; at the end of the second segment it became so heated that Alexeyev stormed off of the set — actually damaging part of the set — and refused to come back for the third segment.
Instead, Alexeyev and all of the pro-LGBT attendees left the set and audience. This program aired live, so I'm sure clips will surface. Dan will have a report later; they are also planning direct action in protest of the cancellation of Pride by homophobic officials and it's likely there will be arrests.
Dan and these activists want to shed more light on the defiance of the European court by Moscow officials; I'll bring you more updates as I receive them.