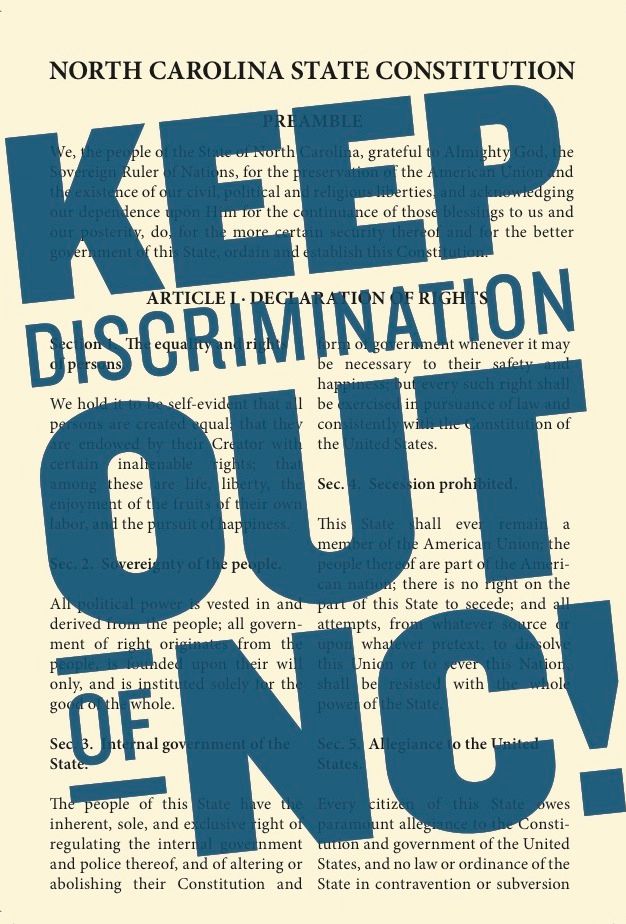 As you may know, North Carolina faces the prospect of a marriage amendment ballot initiative in 2012 due to the turnover of our General Assembly to the Republicans after the 2010 midterms. Bills have been filed in both the House and the Senate and will inevitably come up for a vote. The monstrous Senate version of the bill would deny same-sex partners benefits such as visitation rights in hospitals and health insurance.
A fundie rally featuring the Family Research Council's Tony Perkins was held on Wednesday, with speakers bleating about protecting marriage. Some of our elected officials in favor of this discriminatory amendent made an appearance.
"It's time. It's time, North Carolina, it's time," Tony Perkins, president of the Family Research Council, told a cheering crowd on the Halifax Mall. "

It's time to protect from those in Washington and those activist judges who are willing to aid those who want to redefine and ultimate destroy marriage

."

…About a dozen lawmakers were introduced at the rally, including two key House Republicans who said the question would be heard in the Legislature in 2011.

"It will get done this year," House Majority Leader Paul Stam, R-Wake, told the crowd.

…Amendment opponents could be helped by changing attitudes about homosexuality. Supporters point to surveys showing more than 70 percent like the amendment, but a 2009 Elon University Poll showed about half of North Carolina adults oppose one. And a February Elon poll showed more than half of North Carolina residents now support some form of legal recognition of same-sex couples.
And that is why Equality NC held a press conferences with faith leaders in the community to counter the madness. While lawmakers contiinue to talk about the amendment in moral and biblical terms, the fact of the matter is religion has no place in this discussion when it comes to civil equality. However, if they are going to play that game, they need to know that when it comes to faith, the right has no lock on morality. In fact, these pious perpetrators of discrimination are discriminating against members of the faith community that want to marry same-sex couples. And that's what one lawmaker pointed out.
Rep. Marcus Brandon, D-Guilford, the second openly gay lawmaker elected in North Carolina history, said he believes some churches can confuse the values of the Christian faith and Jesus. "Jesus was a compassionate person, and he would not have a rally outside right now," he said.
ENC Communications Director Jen Jones sent out this report:
Many people are talking about a certain anti-LGBT rally that happened on May 17.

But, I'm here to tell you about what really happened that day.

* At the same time as those who would use religion to justify their hate stood outside of the legislature, Equality NC stood with fair-minded faith leaders inside the General Assembly for their formal announcement against the anti-LGBT amendment–an event that drew statewide (and national) attention to the issue of LGBT equality in NC;

Right: Rev. Dr. T Anthony Spearman, pastor of the ?Clinton Tabernacle AME Zion Church in Hickory, NC, stands with other statewide clergy from all denominations at the North Carolina General Assembly in opposition of the state's proposed anti-LGBT amendment.

* as the anti-gay industry pieced together 2,000 anti-LGBT supporters on the legislative lawn, we counted the 2,000 anti-amendment postcards we had signed to give to legislators at OutRaleigh alone–an event, by the way, that drew 6,000 LGBT supporters in Raleigh just three days before;

* while those who wished to silence us yelled at the legislature from the outside, you joined our all-day "act in," adding to the thousands of postcards and thousands of e-mails and phone calls forwarded to local legislators, voicing your opposition to the anti-LGBT amendment; and

* as known hate groups used their bigoted bullhorns to call the LGBT community "unnatural," you pledged an unprecedented amount of support to help Equality NC fight against their bigotry in our BUCKS AGAINST BIGOTRY Challenge, surpassing our $10,000 goal to raise a record $14,016 online in the nine days leading up to our day "AGAINST BIGOTRY."

What really happened is that Equality NC's organizer Josh Wynne worked tirelessly to get your tens of thousands of messages to local legislators; ENC's Administrative Coordinator Shawn Long managed countless anti-amendment correspondence and local engagements, connecting you with what is possible with a little Equality; Rebecca Mann, ENC's Director of Organizing & Outreach, mobilized hundreds during our statewide EQUALITY IN ACTION tour, educating all on the harms of the anti-LGBT amendment; ENC Faith Organizer Ryan Rowe brought people of faith to the forefront of our Equality efforts; Andrew Porter, our Eastern NC organizer, expanded our pro-LGBT reach in the all-important eastern region; Jess Osborne, our Charlotte-based organizer on loan from HRC, identified new volunteers and activists; Director of Development Kay Flaminio put your pledges of support to good use in our ongoing fight "against bigotry;" and Ian Palmquist, ENC's Executive Director, brought them all together–creating the strongest LGBT advocacy team our state has ever seen.

And what did I do? I told you what really happened on May 17: that our supporters, our messengers, our allies, our friends, our volunteers, all spoke up and showed those hate group leaders and anti-LGBT speakers on the legislative lawn what a rally of support really looks like.

For Equality,

Jen Jones

Your ENC Communications Director