Mother's Day means different things to different people I guess. To anti-gay-for-pay Eugene Delgaudio, Mother's Day is a day to list build and fund raise. Check out this cynical email from the "Public Advocate of the United States". It starts with this sympathy-building set-up for the Martyr Behind the Man:

With Mother's Day fast approaching, I am constantly reminded how grateful I am that Sheila agreed to marry me.

You probably know this, but it deserves repeating. Sheila deserves most of the credit for my success in stopping the radical homosexuals.

You see, when I grew weary, Sheila stood strong, knowing how important our work is.

This Mother's Day, I want to ask you to help me do something special to thank Sheila for her courage over the past 29 years.

I want to be able to present her with a huge pile of Mother's Day Cards from all of Public Advocates' friends and supporters.
Sounds almost genuine. But soon enough Mr. Delgaudio gets down to the business of getting your data and picking your pocket.A bit further into the email, we get to the smoking gun.
Mother's Day is May 8. I would love to present her with a stack of Cards and donations to let her know just how much we all appreciate her strength. But that's not much time!

Your signed Card and most generous contribution will make this Mother's Day one Sheila won't forget.

Click Here to sign the Mother's Day card to my wife Sheila

Your Card will mean a lot to Sheila. I know her face will light up with joy and gratitude to you for remembering her on Mother's Day.

But to really put her fears to rest, please enclose a contribution as well.
That last line tells me all I need to know about how Mr. Delgaudio value$ mothers and motherhood.
When you click on the link, you get this screen (right) which asks for your name and email address and zip code. There is no need to capture your email address or zip code unless the organization is list building and wants to be able to contact you later to solicit donations or urge you to take action.
Most non-profits engage in list-building — there is nothing unusual about the exercise per se. But few are so cynical as to do so on the backs of our mothers or wives.
Once you fill out the initial form, you're taken to this donation solicitation page (left). Again, there is nothing unusual about a non-profit directing you to a donation page after taking some other action on-line. The difference here is that Mr. Delgaudio is trying to slip one past you in the guise of appreciation for his wife on Mother's Day.
If you fall for the ploy, you'll help fund Mr. Delgaudio's $1.3 million dollar anti-gay operation (FY 2008 numbers – the most recent available). His organization Public Advocate of the United States paid Mr. Delgaudio a "management" fee of almost $150,000 in 2008. Public Advocate of the United States shares an address with the company Eugene Delgaudio & Associates which also paid Mr. Delgaudio $86,909 in 2008, according to the most recent data available to the IRS.
Cozy.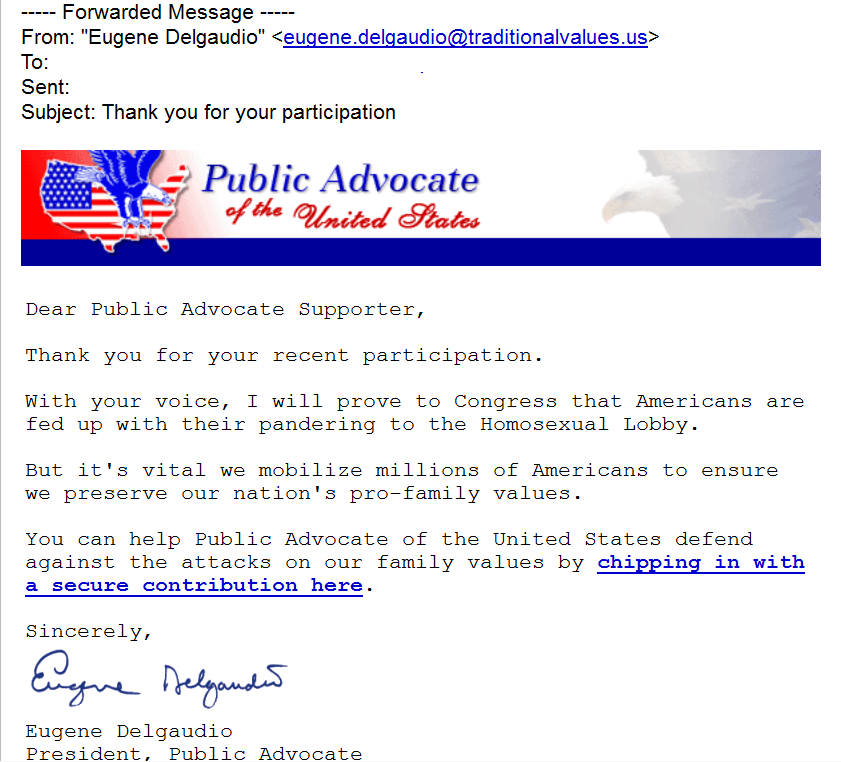 And as if we needed confirmation that Eugene Delgaudio is all about the greed and nothing but the greed, after signing the card this is the warm message you will receive in reply.

Dear Public Advocate Supporter,

Thank you for your recent participation.

With your voice, I will prove to Congress that Americans are fed up with their pandering to the Homosexual Lobby.

But it's vital we mobilize millions of Americans to ensure we preserve our nation's pro-family values.

You can help Public Advocate of the United States defend against the attacks on our family values by chipping in with a secure contribution here.

Sincerely,

Eugene Delgaudio

President, Public Advocate
Can you feel the Mother's Day sincerity?