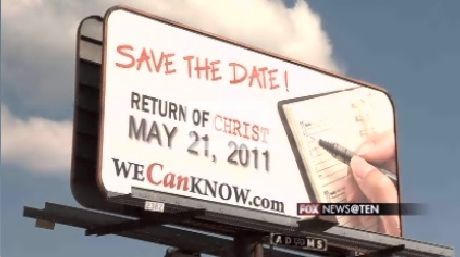 I'm ready for Jesus to come and take these pea-brained, anti-gay, racist, pitiful people and suck them up to ParadiseTM.
I see some of these fundie videos and have a clear understanding of the sad state of education in this country. No critical thinking skills, most of these Rapture-ready individuals just turn on Rush/Sean/Glenn or their local wingnut radio and take it as the gospel truth. And of course, most of them probably still think our President was born in Kenya.
Maybe we don't have to wait that long for Jesus to arrive — May 21st — if you believe the fundamentalists at WeCanKnow.com. This organization has billboards in NC (in this case the Charlotte area) and, by the way, they say the world itself will cease to exist on October 21st, 2011. Let me share some of the local reactions (Fox Charlotte):
East Charlotte resident Ashlie Spratt says, "I don't feel that nobody can determine when he's coming back, I think he'll come back on his own." And east Charlotte resident Travonta Spratt adds, "It really can be harmful because you can have people doing any type of things just because they think it's the end of the world."

But east Charlotte resident Gregory Frank, who didn't notice the billboard until we pointed it out, says he does believe it. FOX Charlotte's Morgan Fogarty asked him, "So will you be getting your affairs in order?" He replied, "I will, I've got my affairs in order." Fogarty asked, "OK, what do you think people should do if they don't have their affairs in order?" Frank replied, "Start repenting."
And there are other evangelical outfits running billboards around the country. Take a look at this article about billboards in San Diego sponsored by Family Radio Network, run by 89-year-old Harold Camping. Harold gives a more detailed description of the End Times…it's EXPLOSIVE:
Getting their message out on billboards around the country, he and his followers say believers will be taken to heaven while a massive earthquake will cripple the entire planet, which he says God will later destroy in a giant fireball on October 21.

"The underground is getting ready. Earth is burned up," he said.

…Others point out this isn't the first, or only, apocalyptic prediction out there. In fact, Harold Camping had inaccurately forecast that the world would come to an end back in 1994, 17 years ago. He later admitted those calculations were off, but believes this time he has it right.
Obviously, the Rapturees will leave a ton of stuff behind – cars, homes, etc. This will mean the largest yard sales ever around the country and unprecedented items going up for sale on eBay.
Also see:

* More Rapture-readiness: MN jeweler launches 50% off Second Coming Sale