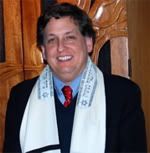 What a pleasure it was to sit down for an interview with Rabbi Jonathan Singer, Senior Rabbi at Seattle, Washington's Temple Beth Am. This uncompromising advocate for lesbian, gay, bisexual and transgender (LGBT) people brought a new perspective to the congregation when he arrived in 1995; while his predecessor was "pretty homophobic", Rabbi Singer actively welcomed LGBT Jews into the heart of the congregation and took his LGBT advocacy to the streets.

Pastor Craig Darling of Seattle First Baptist Church (l), Rabbi Jonathan Singer of Temple Beth Am (m) and Cantor David Serkin-Poole of Temple B'nai Torah (r) demonstrating in favor of an anti-discrimination bill. Photo credit: Joshua Trujillo / Seattle P-I
To give you an idea of the kind of man we're talking about, in the Spring of 2005 Rabbi Singer joined with representatives from other local synagogues and Jewish groups to form a campaign to urge certain legislators to vote for a statewide LGBT anti-discrimination law.

"We want to make clear to all Americans that people of faith do support justice and equality for all." ~~Rabbi Jonathan Singer
Later in that same year he and 30 other people of faith and clergy picketed the place where Rev. Ken Hutcherson's anti-gay church meets (right). Their goal was "to counter the very loud voices by a very few fundamentalist religious leaders". The anti-discrimination bill passed in early 2006.
Since that time, religious support for LGBT equality has grown even stronger in Washington state, and Rabbi Singer has remained in the thick of things. In 2009 he joined over 200 religious organizations and faith leaders to defend Washington's new Domestic Partnership Expansion Law against referendum repeal. "Our people, having experienced privation and oppression, know more than others what it means when a majority tries to take rights away from a minority," he said. On Election Day 2009 Washington voters became the first in the nation to ratify a same-sex relationship recognition law at the polls.
Please join me below the fold for a conversation with Rabbi Jonathan Singer.
Note: Temple Beth Am is a Jewish Reform congregation. Jewish Mosaic says that "Of the three major Jewish movements, the Reform Movement is the most fully inclusive of LGBT people in Jewish life with most Reform communities and synagogues embracing LGBT people." Details on the Reform Movement's positions on various LGBT issues are at the end of the post.
How is your LGBT advocacy informed by Judaism?

Rabbi Singer: We call the first part of the Bible the Torah. The stories there involve engaging with life to find holiness. To me, God is asking you to engage and wrestle with and try to make the world better. And to see the diversity of creation, that it's not one kind of creation, that there's this whole prism of color out there.
Our tradition teaches that God creates love, creates flowers, and also creates drives, everything. And those things are for the most part good. It's what we do with them that can be not good. It's the same thing when people think about religion. It's not religion that's bad, it's what people can do who want to have power or dominate, who use religions in that way. And I could say the same thing that no one should do math because math was used to create nuclear bombs. The worst thing ever created. Again it's not math itself that's bad, it's what we do with it.
So my religion calls me to seek justice, to love the stranger and to see the beauty in God's wonder. And when I grew up a little bit and realized how complex human sexuality is and that God made this thing called men loving men, women loving women and some people loving both – that's to me all part of what was brought into the world. And rather than belittle, see the wonder and the beauty in that. And that to me religion can be used in any part of the human experience to bring a framework of holiness and wonder to that experience.
The idea that we argue that one of the best ways of being is to be in a committed, loving relationship in which people ask God in to sanctify their relationship to say 'this is beautiful' is what I see marriage as. And the notion that one would deny that to anybody who is gay or lesbian seems absurd – that one would attack that religiously when in fact you can use religion to sanctify relationships.
I see it as a religious drive that I'm required to do weddings, and that the state should not impose its particular view in a free country upon me as a rabbinic clergy. My Movement has voted, we've all worked hard to embrace the right to perform same-sex marriages. Not being allowed to is to me an anti-religious imposition by the state, and infringement embracing one perspective at the expense of others. I think the state should get out of that business and let us do what we think is religiously meaningful.
Where is the cutting edge for Reform Jewish congregations like yours when it comes to LGBT issues?

Rabbi Singer: We're working on being welcoming congregation. We've been a welcoming congregation. I think in my 3rd year here I made it a requirement of my being willing to continue that I would be able to perform same-sex marriages with or without the consent of the state. The Board would have to accept that I would be doing that.
We had the test case of two women who asked me to do their wedding and then they invited the whole congregation. And boy people just poured out and they came and it was a huge event. People just cried afterwords. It was beautiful, and that really opened the door and I think brought a lot of change to the congregation.
We worked hard to try to be welcoming and are now joining a national group that's asked us to be a test congregation to say well, beyond the fact that you're doing these very basic things, how do you really work on making sure that you're a welcoming synagogue, that you really are treating people equally and that people feel safe here? That's something that my colleague Rabbi Beth Singer and our program director Alisa Rosen are working on with the Welcoming Synagogues Project.

The WSP's overall goal is to develop a process, tools and resources that will guide synagogues in becoming open, inclusive and welcoming to all Jews, regardless of sexual orientation or gender identity.
Does every Reform congregation decide for itself where it will be on LGBT issues?

Rabbi Singer: Rabbis and synagogues in our movement are independent. The Reform Movement can act as a cover to give you permission to do certain things, but we weren't waiting for any kind of a national statement saying it's kosher to do this or not. But the movement did come along that way anyway.
So synagogues act independently up to a point, and rabbis are hired and fired by the synagogue board.
How about gender identity in the congregation or in the Reform Movement?

Rabbi Singer: The language used by the LGBT community has been adopted by most communities that have advocated for equal rights, so it's brought into the same sense of advocacy.
I'm not sure we're talking about the same thing when it comes to homosexuality and transgender stuff. It's a different issue. But in the end, the desire that we are respectful of people's personal choices, and that people are also respectful of what the community's comfortable with. Somebody can't come walking through our sanctuary wearing a bikini. Even though you can say that's the most important thing to me to find my connection to God, that I'm going to wear a bikini on Yom Kippur? No, that doesn't work for our community.
But if somebody says I'm going through a gender transformation because this is the real me, then that's something that's considered to be someone's private business and we want to make that person feel welcome. I've done weddings of transgender folks, but again ultimately I want to get beyond gender and deal with the person.
I think it's important for your readers to know that we started, there was a gathering here about 10 years ago, that was just using our meeting space – people trying to work on gay and lesbian rights. And there was a mix of clergy who were here. And I went in and said you know we shouldn't just be here gathering and talking amongst ourselves, but as the anti-gay rights clergy were out there publicly bashing, that we should be out there publicly marching. There should be a march that would show that there are people from across the religious spectrum who want the right to do gay marriage, who believe from a religious view that they should be welcoming, that there's not a monolithic religious perspective. There's a huge religious perspective that embraces equal rights and wants people to be members to our communities.
And it was out of that meeting that we had the first march downtown (news stories here and here), and it grew into Equal Rights Washington. That's how it got started.
I was so moved by how many people joined us. It was a huge group that marched downtown, and it got important coverage. We were carrying our chuppah, our wedding canopy and our Beth Am sign saying this is what we promote and advocate.
So I think it's very important that people – to me everyone has a religious drive. Some people connect with it, other don't. But you should not see that your gender or your sexual orientation blocking you from connecting to a spiritual community. But like anything else, you have to find the right community.
Was this in answer to Rev. Ken Hutcherson's anti-equality Mayday for Marriage?

Rabbi Singer: It was around the same time, saying he is not speaking for me, that there is a silent, maybe not majority, but that disagrees and sees its religious connection in a different way. And wants to sanctify these relationships and be welcoming.
You're part of the Religious Coalition for Equality. I wonder if you've seen that grow from a minority to something larger?

Rabbi Singer: Yeah. We've gone and participated in Equality Days down in Olympia, and I do believe that people are starting to get it, and that having religious leaders speak out is very important because it gave and showed a different ethical perspective, and that the next generation is starting to make that change.
I think my predecessor was pretty homophobic. It's an interesting change for our community to have a rabbi come and take a very different perspective.
What was that process like with your congregation?

Rabbi Singer: I think it went against all of the value systems that were a part of his life. It was this one sticking point that I attribute to his age.
But to me Judaism is radically egalitarian. It's ironic that you'll meet Orthodox Jews who don't believe women and men have the same responsibilities, but in their system they argue they're the same. But I think the call for justice and for women and men to be able to participate in carry Torah together is really powerful. The idea that we as a Jewish people who have experienced oppression should be on the front lines speaking up for equal rights is really also a religious imperative.
Because you had such a different viewpoint than your predecessor on these issues, did there need to be a structured process you needed to take your congregation through?

Rabbi Singer: Change cannot be structured. I had to just, this is a stand, that's it. That's it. This is the way it's going to be going forward. That couple getting married is when people actually saw it.
Reinhold Niebuhr argued in his book Moral Man, Immoral Society — Jews cancan learn from Protestants too — that when you start to see the person and not just the concept, you change.
Seeing these two women, so beautiful, under this chuppah in our sanctuary changed a lot of people. Who in all other respects were for equal rights and yet had this sticking point, where it makes no sense.
When I started doing Equal Rights Washington I called the — you know people make assumptions — I called an African American church in town, a well-know church, and I got the clergy secretary. I said, hi this is Rabbi Jonathan Singer, I want to talk to this person about the marriage rights issues going on. She said, oh yes! The clergy isn't here but I know he'll want to talk and meet with you. And I said, I want to be clear that I'm pushing for equal rights for gays and lesbians. And she said, oh, that's not his perspective at all. She hung up! So you know, people make assumptions about religion on both sides.
And yet, people change. We can use the good in these systems that call for change. That'll bring about change.
Parting thoughts?

Rabbi Singer: When Jews celebrate being part of America, there's a document we turn to where George Washington replies to a letter from the [Jewish] congregation from Newport, RI. He writes that we will not just tolerate you, but you are our equal here in America, and America needs to be a place where we will give bigotry no sanction.
The Citizens of the United States of America

have a right to applaud themselves for giving to Mankind examples of an enlarged and liberal policy: a policy worthy of imitation. All possess alike liberty of conscience and immunities of citizenship. It is now no more that toleration is spoken of, as if it was by the indulgence of one class of people that another enjoyed the exercise of their inherent natural rights. For happily the Government of the United States, which gives to bigotry no sanction, to persecution no assistance, requires only that they who live under its protection, should demean themselves as good citizens.
I think that gays, lesbians, transgenders cannot just try to approach the religious community to be tolerated, but see its equal role in the spiritual life of the community. And not give up on this great gift that's spirituality because of the bigotry of the few. But to either form our own congregations or join congregations and influence them.
This is a tremendous spiritual gift to have in one's life, and to the religious traditions to say that they cannot give bigotry any kind of sanction, that's really imperative. Our congregation is lifted up by anybody who helps carry Torah – it's the bible for us — and we have wonderful singles and couples who are here who are very very engaged in being the leaders of our community. And we're a better community because of it.
And one should not seek tolerance in the state, one should seek equal rights. So I think that's why Jews especially should be part of this journey.
*
Related Posts:

* Maryland faith leaders stand up for transgender equality

* Leadership through listening: Rev. Dr.Melvin Woodworth, First United Methodist Church of Tacoma, WA

* Conversation with a straight Presbyterian ally

* Orthodox Jewish Rabbi Steven Burg says "There's no place for bullying in God's world"

* Dutch Christian schools start teaching respect and empathy for gays

* Pro-equality clergy greatly outnumber the anti-gay variety in Washington, D.C.
The Jewish Reform Movement's stance on LGBT issues

Temple Beth Am is a Reform congregation. Jewish Mosaic says that "Of the three major Jewish movements, the Reform Movement is the most fully inclusive of LGBT people in Jewish life with most Reform communities and synagogues embracing LGBT people." The following is an excerpt of the article "The Reform Movement on LGBT Issues" published by Jewish Mosaic.


The Reform Movement has a long tradition of supporting LGBT people. In 1977, the

Central Conference of American Rabbis

(or CCAR, the movement's rabbinical organization) passed a resolution calling for the decriminalization of homosexual acts between consenting adults and an end to discrimination against gays and lesbians. Since then, the movement has continually supported the rights of LGBT people, both in civil and Jewish society. The earliest resolution on homosexuality issued by the Reform Movement was resolved at the 25th Biennial Assembly in 1965 by the Women of Reform Judaism National Federation of Temple Sisterhoods. The statement read, in part: "We…deplore the tendency on the part of community authorities to harass homosexuals. We associate ourselves with those religious leaders and legal experts who urge revision in the criminal code as it relates to homosexuality, especially when it exists between consenting adults." At the

1987 Biennial

, the Union of American Hebrew Congregations (or UAHC, now known as the

Union for Reform Judaism

, it is the movement's national body) firmly stated its commitment to welcoming LGBT Jews into Jewish communal life in the movement. In 1993, UAHC passed

a resolution

recognizing gay and lesbian partnerships.

Rabbinate

In 1990, the CCAR endorsed a report by its Ad Hoc Committee on Homosexuality and the Rabbinate, which formally endorsed the equality of all Jews and the acceptance of gay and lesbian Jews into Hebrew Union College (the movement's seminary, with campuses in New York City, Los Angeles, Cincinnati, and Jerusalem) and the rabbinate, although a number of gay and lesbian rabbis received ordination prior to this 1990 decision, or came out as gay after ordination. Rabbi Eric Weiss was the first openly gay man to be accepted to the Reform Movement's rabbinical school. He was accepted to Hebrew Union College in 1983.

Congregations and Leadership

In 1987, UAHC passed a resolution stating that gay and lesbian Jews should be granted full inclusion in synagogue life. It urged congregations to " encourage lesbian and gay Jews to share and participate in the worship, leadership, and general congregational life of all synagogues." In the same resolution, UAHC also encouraged Reform congregation to, "continue to develop educational programs in the synagogue and community which promote understanding and respect for lesbians and gays, [and to] employ people without regard to sexual orientation." The Reform Movement is also home to a number of LGBT-outreach synagogues whose specific mission it is to be welcoming to the LGBT Jewish community. The world's first LGBT-outreach synagogue, Beth Chayim Chadashim, located in Los Angeles and founded in 1972, is affiliated with the Reform Movement.

Same-Sex Marriage

Since 1996, the Reform Movement has become progressively more accepting of same-sex marriage. In that year, the CCAR passed a resolution supporting the rights of gay and lesbian couples "to share fully and equally in the rights of civil marriage". In 1998, the CCAR's Ad Hoc Committee on Human Sexuality reported that, "kedushah [holiness/sanctity] may be present in committed same gender relationships between two Jews and that these relationships can serve as the foundation of stable Jewish families, thus adding strength to the Jewish Community." Finally, in March 2000, CCAR passed a resolution allowing Reform rabbis to officiate at same-sex commitment ceremonies. However, the resolution leaves the decision of whether or not to officiate up to each individual rabbi, out of recognition of the diverse opinions on the issue. The resolution also leaves it up to each rabbi to consider a same-sex union kiddushin or not, thus allowing for some diversity within the movement on treating same-sex unions as equal to male-female marriage, or as a separate category of union.

Today, most, but not all, Reform clergy officiate at same-sex unions. The Reform Movement, however, universally supports civil unions for same-sex couples. In 1997, the Union of American Hebrew Congregations passed a resolution in support of "secular efforts to promote legislation which would provide through civil marriage equal opportunity for gay men and lesbians," while, at the same time, resolved to "encourage its constituent congregations to honor monogamous domestic relationships formed by gay men or lesbians." The Reform Movement has also strongly opposed the Federal Marriage Amendment, as well as state amendments that aim to ban same-sex marriage. In 2006, the president of the Union for Reform Judaism, Eric Yoffie, stated, "Gay Americans pose no threat to their friends, neighbors, or co-workers, and when two people make a lifelong commitment to each other, we believe it is wrong to deny them the legal guarantees that protect them and their children and benefit the broader society."

Transgender

In a 1978 CCAR Responsa, approval was given for a rabbi to officiate at the marriage of two Jews, one of whom has undergone sex reassignment surgery. In 2003, Hebrew Union College accepted its first openly transgender rabbinical student, Reuben Zellman.

AIDS

The Reform movement has been strongly supportive of people with HIV/AIDS since the early days of the epidemic. In the early 1980s, Reform leaders denounced the ostracization of people living with AIDS, along with their families and friends. Notably, during the 1980s and early 1990s, when the gay community in the United States was devastated by the epidemic, Reform-affiliated LGBT-outreach synagogues, such as San Francisco's Congregation Sha'ar Zahav, took very proactive roles in supporting people with AIDS at a time when so many people turned their backs. In 1989, the Union of American Hebrew Congregations created a commemorative poster, the image on it was of a tallit symbolizing the Jewish commitment to fighting AIDS. The poster was distributed to Reform congregations nationwide.