The level of volatility at the gas pump is fascinating, if frustrating to watch. It seems to go up and down on some days for no reason at all, at other times you flip on the news, see that bombs are dropping on Libya and you figure the speculation about oil will make it pop up 10 cents.
Brace yourselves, Wolf Blitzer is speculating, so expect prices to tick up some more: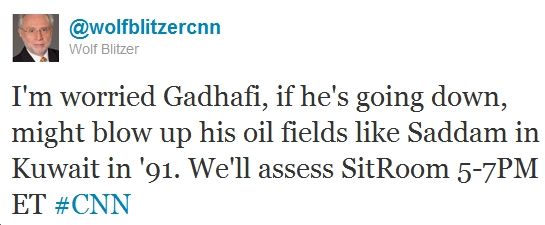 When I filled up at a Shell station this AM it was $3.53/gallon. I only have a 9-mile commute, so a tank lasts a while. Kate, on the other hand, works in Raleigh/Cary and has to drive for her job (~20 mi one way), so the jumps hurt more.
What is it going for in your area?