Last night the Washington state House passed
HB 1649
by a vote of
58 to 39
. If signed into law, this bill would
recognize as a valid domestic partnership in Washington state a legal union of two persons, including a marriage, that was validly formed in another jurisdiction and that is substantially equivalent to a Washington state-registered domestic partnership.
With Rep. Glenn Anderson (R-Fall City) and Rep. Maureen Walsh (R-Walla Walla) breaking ranks with the Republican caucus to vote in favor of the bill along with the entire Democratic delegation, the bill passed handily. But not before some sad attempts by anti-gay Republicans to stop the bill. You can watch the 15-minute debate in the TVW video to the right. A full transcript with commentary is below. It's really too amusing.The first order of business on any bill is to entertain any amendments that may have been filed. As expected, Rep. Matt Shea (R-Spokane) filed an amendment intended to gut the bill.
SHEA: Once again we are in the middle of the night talking about a bill like this, Mr. Speaker, instead of the light of day. And I urge adoption of this amendment quite simply because this is going to remove the reciprocity portion of this bill which forces us to recognize same-sex marriage from other states.

We passed the "defense of marriage" act from this body with overwhelming support. And by putting this reciprocity clause in there it undermines our current law in this state, and will serve I think as the final thing to undermine our "defense of marriage act" in the State of Washington. And therefore and for that reason alone I would urge its adoption. Thank you.
What Rep. Shea neglected to acknowledge about the proposed reciprocity clause is that it would function only to downgrade real marriages to domestic partnerships for gay and lesbian couples who were married elsewhere when those couples are within the borders of Washington state. That sounds like fully respecting Rep. Shea's so-called "defense of marriage act" to me.
Does anyone know whether Rep. Shea creates a fuss over every bill debated in the evening, or just bills that seek to treat gay and lesbian Americans with decency? Late night debates aren't unusual. Any non-fiscal bill not passed from one chamber to the other by March 7th dies in the house of origin, so the Legislature is pulling some late nighters to consider as many bills as possible. This particular bill has seen a lot of daylight starting with its first reading on January 28th and including a public hearing held in the House Committee on the Judiciary at 8:00 am on January 16th. The committee's executive session was held the following day at 10:00 am. Rep. Shea knows this because he is a member of the committee. As I noted earlier, not a single person signed up to speak in opposition to the bill during the public hearing.
Rep. Jamie Pedersen (D-Seattle) offered this clear-eyed reply, explaining the state's need for this technical fix to the underlying domestic partnership laws.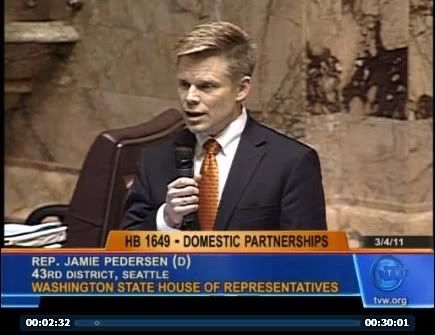 PEDERSEN: I'm going to ask for a "no" on the amendment. Three years ago when we adopted this reciprocity provision in the underlying domestic partner law, there were a number of jurisdictions that had civil unions, reciprocal beneficiaries or domestic partnership relationships for same-sex couples. There was only one jurisdiction in our country that had marriages for same-sex couples.

A lot has changed in the 3 years that has elapsed. We have a growing number of states that allow same-sex couples to marry. We also have had voter confirmation of the work that we did over 3 years in establishing and building our domestic partner registry.

And so now we have the rather perverse situation where a couple married in California comes to Washington and has absolutely no recognition, but a couple with a domestic partnership comes to Washington from California and has the full benefit of our domestic partner law.

I suggest that that is unjust and that this is a relatively small correction that we need to make to the law, and therefore urge your rejection of the amendment.
Rep. Shea's amendment failed on a voice vote. No other amendments were offered, so Mr. Speaker opened debate on the bill itself. Rep. Laurie Jinkins (D-Tacoma) began the debate by illustrating why this technical fix is so important to real families.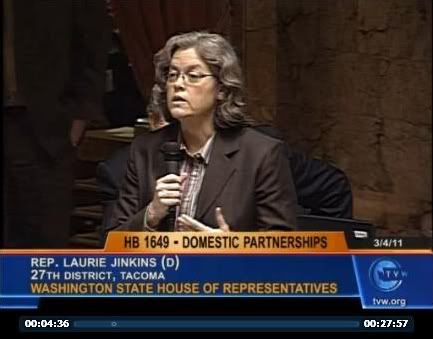 JINKINS: Mr. Speaker this bill is about fairness for

all

families. Right now there is a hole in the law. And by passing Referndum 71 Washington decided that they wanted all families to be able to protect themselves under Washington state law.

The problem is that couples who've decided to use the laws of their states lose those same protections when they come here to Washington. If they were in their own state, they'd be protected. If they were citizens of our state, they'd be protected. It's a flaw in the law. It's a hole we need to fill.

I want to tell you why it matters so much. Janice Langbehn and Lisa Pond, who were from right here in Lacey, were in Miami for a family cruise with their three children when Lisa suddenly collapsed. She had a massive stroke.

Even though Janice held Lisa's Durable Power of Attorney and her Health Care Directive, the hospital refused to accept it. They wouldn't even accept any information about her medical history to help save her life.

The doctor finally spoke with Janice. He told her there was no chance of Lisa's recovery. And despite the doctor's acknowledgment that there was no medical reason that would prevent visitation, neither Janice nor their children were allowed to see Lisa as she lay dying.

Her children were right outside. Her partner was right there. She couldn't see them. They couldn't see her. She died alone.

Soon after Lisa's death, Janice tried to get her death certificate in order to get life insurance and Social Security benefits for their children, and she was denied.

Now you might say that this wouldn't happen here in Washington. Because voters passed Referendum 71 it won't happen to our citizens while they're here in our state. But if we want other states to honor our laws to protect our citizens when they travel outside of our borders, then we need to do the right thing by them when they're in our borders. We should be good hosts. We should treat them with fairness and kindness even when they're here just to sightsee or to kayak or to taste wine.

We should also treat them with kindness and respect if the worst possible thing imaginable happens to them or to their loved ones. Because that's how each of us would want to be treated, because it's the right to do and because what happened to Janice and Lisa and their children should not happen here in Washington state to any family from any state.

Please vote "yes" on this bill.
Not unexpectedly, Rep. Matt Shea stood next to speak against the bill he'd just failed to undermine with his rejected amendment.
SHEA: This obviously is an emotionally charged subject, but I would respectfully disagree with the previous speaker because that's not what this bill does. Line 7 of this bill takes out the words "other than marriage". This is about recognizing same-sex marriage in the state of Washington.

The scenario that was talked about by the previous speaker has already been taken care of by the many different versions that we have passed of domestic partnership law Mr. Speaker. That's not what this bill's about. It's about recognizing same-sex marriage in the state of Washington, which clearly is contradicting the "defense of marriage act" in this state, and is undermining that as well.

And for that reason Mr. Speaker again, I don't think we need to be debating this at 11 o'clock at night. We need to do this in the light of day. Have the folks of Washington state take the matter to them, let them decide, not do this in the middle of the night. Because this is about marriage, not about domestic partnerships.

And Mr. Speaker, I would once again respectfully urge you to vote no. Thank you.
So basically more of same from Rep. Shea, garnished with a hint of "let the people vote" near the end. Perhaps Rep. Shea is unaware that any Washington voter, himself included, may file a referendum "any time after the Legislature has passed the act that the sponsor wants referred to the ballot". The instructions are all here. Rep. Shea has no one to complain to but himself if nobody refers this bill to the voters.
But Rep. Shea won't go anywhere near a referendum on this bill. The reason is that since the voters approved the domestic partnership law in 2009 via Referendum 71, he knows that a referendum challenging this technical fix to that law is a waste of paper. In other words, Rep. Shea was wasting the Legislature's time with political grandstanding.
Next up was Rep. Jim McCune (R-Graham). He apparently opposes this bill because his copy of the Washington State Constitution was torched in order to light the pages of his Bible, which includes the chapter "How to Worship Our Founding Fathers" where Matthew 22 is normally found.
MCCUNE: I had the privilege a few years ago, about 13 years ago to sit in this body and vote for the "defense of marriage act". And since then we've been chippin' away at that quite successfully, and it saddens me.

But I want first to say I'm speaking for myself and not my caucus. And I have love for every member in the House. And there's no greater joy than love member (?), lay your life down for your brother.

But Speaker, I have to speak the truth. God has given me a filter that I use as the Word of God. And I use that Word to filter most of these issues out. And as I filter that out on truth, in His Word He says, God created the institution of marriage between only a man and a woman. And I cannot change that. And that is not my words, those are His words. That's His institution, as Christ is the image of the church. He created these words. They're pretty simple and in the Scripture.

And as we set up this great nation and our founders were all basically Christians. They wanted to keep the nation that way as well. They believed in marriage in this nation as well and they wanted to keep it that way Mr. Speaker.

And Mr. Speaker I'll go back 230 years ago as George Washington was being sworn into office. He had his hand not just on the Bible, he had his hand on the open Bible, on Deuteronomy 28. Very important verse because that verse actually says on the laws of God how you can keep your nation from falling away. And on the other side of the Scripture there in Deuteronomy 28 it says how you lose your nation. And it's really clear, on those Scriptures how we're moving to lose our nation.

Today this saddens my heart. I give you a warning that George Washington gave, and also he gave that warning in his Farewell Address, what we could do to keep our nation. He gave 7 strict warnings. Today we're violating I think, what I believe is the Word of God. And I believe God created all human beings, and He created this earth.

So with that my heart is saddened. We're really moving towards I think breaking our nation down and I'm asking you to please vote "no". Thank you Mr. Speaker.
Rep. Jamie Pedersen (D-Seattle) respectfully brought the conversation back to the legal realities of today.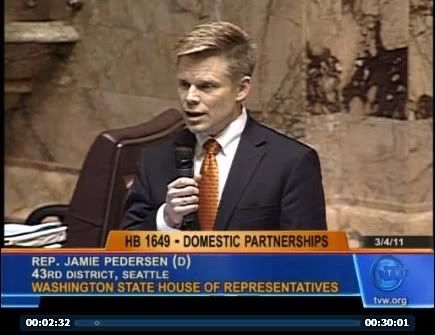 PEDERSEN: I do appreciate that there are people of good faith who have very different views on this subject, but from my perspective this is really a technical correction to a law that the voters of our state have in their wisdom approved.

Our voters have already decided that same-sex couples who register under the domestic partner law ought to have all of the rights an obligations that are associated with civil marriage in our state. Our voters have already confirmed that we ought to provide reciprocal recognition to the relationships of couples from other states who provide recognition to those relationships.

And the very small hole that we fill here is the hole presented by families of states where what they call that is not domestic partnership or civil union status, but instead marriage.

This leads to some very illogical results. At the time that we passed the reciprocity law, most of New England — Connecticut, New Hampshire, Vermont — had civil union laws. Those laws have since been replaced with marriage laws. So civil unions that would have been recognized at the time that we passed this law automatically became unrecognized as they matured into marriages in their own states.

No change of the people involved, no change in their states of residence, but suddenly our state is saying that if Janice Langbehn had been from New Hampshire and had come instead to Seattle for an Alaska cruise with her family, that she would not have enjoyed any of the protections of Washington law. I suggest that that is unfair and that it is a small injustice that we can correct.

I urge your support of the bill. Thank you.
Last up was Rep. Jay Rodne (R-North Bend) with an angrier rehash of Rep. Shea's speeches.
RODNE: I appreciate that the deep-held views of the folks on all sides of this issue. I this think that — I take a little I guess offense that it's a Friday night at 11:15 pm and we're debating this bill tonight that really is the last step towards the repeal of DOMA. I mean let's just be honest.

And let's not shy away from that debate. I would really hate it if I fervently believed in something so much, and yet I had to debate it on a Friday night at 11:15 pm. Stand up for your convictions! If same-sex marriage is something you believe in and you're in the majority, let's bring that debate on. Let's bring a bill, let's do it in the daylight, let's do it when these galleries are full, let's take our votes based on our conscience and let's go home and face our constituents. Let's face it! Let's face that debate. Let's not shy away from it, and let's stop the surreptitious repeal of DOMA.

Fortunately this is the last step that the proponents of this issue can take. There's nothing else left. So next year we're going to have a bill that will be the marriage bill. We're gonna have that debate. I guess I just wanna get there and have that debate. And I would think that you all on the other side of this issue would want to have that debate too. But not at Friday at 11:15 pm, but on like a Monday at noon or Tuesday at 10 am. That's my challenge to you all next session. Thank you Mr. Speaker.
Like Rep. Shea calling for a referendum that he himself seems unwilling to file, Rep. Rodne wants to debate a marriage equality bill that he could well have filed himself if he'd so chosen. He didn't. Such weak and whiny arguments like this don't serve his constituency, but at least he had a good 2-minute catharsis and then the House passed the bill by a huge margin. Win-win.
Related:

* Visiting Washington state while married: a tragedy waiting to happen

* All of Washington state is moving towards equality