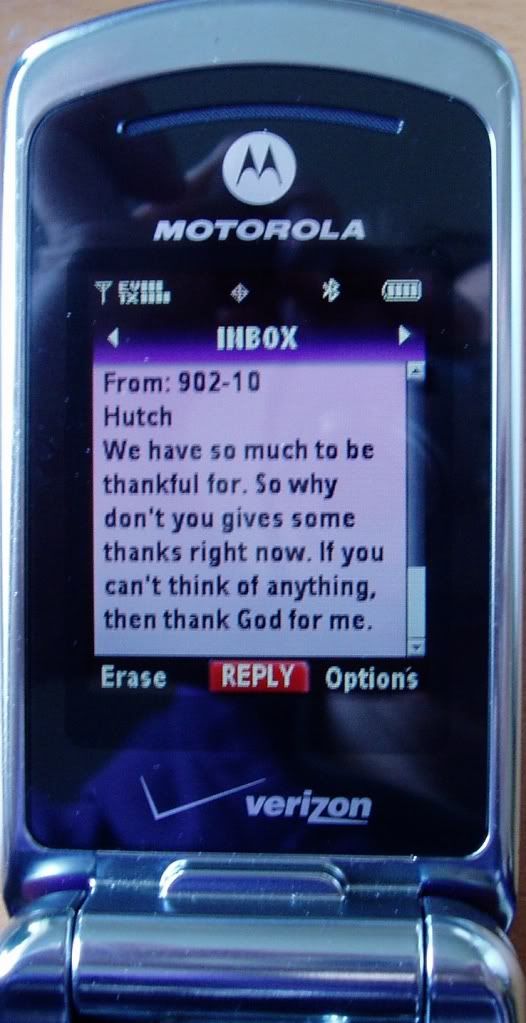 'Tis the season to share your narcissism! A few days ago Ken Hutcherson set up a text message service "so you can be quickly informed of important information and prayer requests."
"Dr." Hutcherson, arch-homophobe and pastor of Antioch Bible Church in suburban Seattle is perhaps best known for demonstrating what anti-gay bullying looks like by lifting a bullhorn and disrupting learning at a local high school in order to protest Day of Silence. Hutcherson was a primary endorser of the referendum effort in 2009 to repeal Washington's domestic partnership law. He also has a little problem with humility.
Hutch

We have so much to be thankful for. So why don't you gives some thanks right now. If you can't think of anything, then thank God for me.
One week before Christmas Eve, shouldn't the pastor be asking his flock to contemplate the gift of light, Jesus? Or how about the gift of hospitality as we welcome family and friends into our homes or are welcomed into theirs while remembering that Mary was relegated to giving birth in a livestock barn? Since medical science has made it possible for Hutcherson to live for years with prostate cancer, maybe the pastor could ask folks to thank God for the scientists who devised the treatments keeping him and their own loved ones alive? Guess not.
So remember folks, this Christmas the reason for the season is Humble Hutch. If you believe in God, you might consider thanking her for bringing us so much amusement with the gift that keeps on giving, Ken Hutcherson. And if you sign up for Hutcherson's text message service, you can re-gift him!