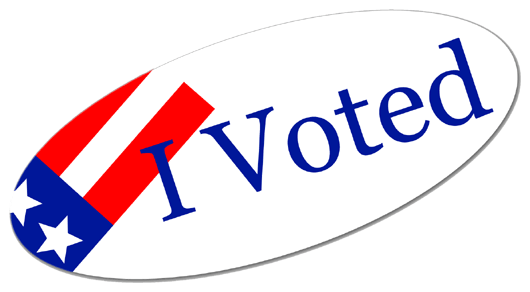 Just in case Blenders have been wondering…I've not been pretty much out of commission so far this week as my health is sucktastic at the moment due to my ghastly f'd up uterus going through its machinations for what will be the last month and I spent most of the day in a fetal position on my sofa unconscious.
Surgery on Nov. 22 cannot come soon enough.
That said, even in that condition, I went to VOTE earlier in the day. Kate had to drive me to our new polling station at brand-news Durham County Public Library – Southern Regional branch. I registered on the optical scanning machine as the #718th voter. WRAL-TV was there and was filming the light lunchtime traffic there. Kate's name, for whatever reason, was not in the book, so she had to go stand in an "exceptions" line to get a provisional ballot. When we were about to leave a van from a local retirement community pulled up with seasoned citizens, quite a few with wheelchairs and oxygen tanks, who were there to cast their ballots.
If they can do it, folks have no excuse to sit it out.
***
Some tidbits I did notice before passing out – click over to read these:
* NC: The GOP operative behind B.J. Lawson's fake Morgan Freeman campaign ad against David Price. Outrageous.
* More outrage: Tea Party Activists Intimidate Black College Students in SC.
* Extreme outrage: Robo-Call Tells Kansas Voters That They Need Proof Of Home Ownership To Vote 'On Wednesday'.
All I have to say about the above is that whoever is behind this bullsh*te — clearly your side's ideas are so bankrupt that you cannot sell them to the voters straight-up. Why should we turn the country over to you?
* ABC drop-kicks Andrew Breitbart. This kiss-off letter is epic:
The following letter was sent from ABC and received by Mr. Breitbart:

Dear Mr. Breitbart,

We have spent the past several days trying to make clear to you your limited role as a participant in our digital town hall to be streamed on ABCNews.com and Facebook. The post on your blog last Friday created a widespread impression that you would be analyzing the election on ABC News. We made it as clear as possible as quickly as possible that you had been invited along with numerous others to participate in our digital town hall. Instead of clarifying your role, you posted a blog on Sunday evening in which you continued to claim a bigger role in our coverage. As we are still unable to agree on your role, we feel it best for you not to participate.

Sincerely,

Andrew Morse
***
Now back to the fetal position. I doubt I'll be reporting on returns tonight unless my BG crashes.