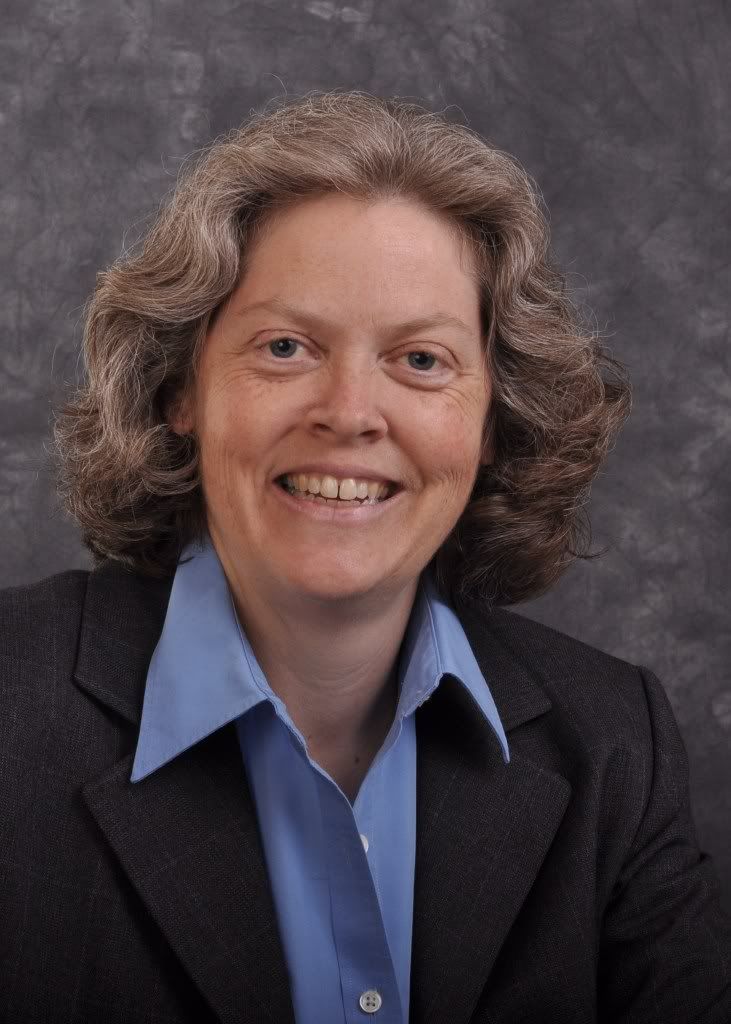 Laurie Jinkins, a public health administrator, attorney, domestic partner and mom, finished first in the 5-way primary for Washington State House legislative district 27, position 1 (Tacoma). This means that Laurie is poised to be the first open lesbian to serve in the Washington state Legislature.
This past Wednesday, though it was 8 o'clock at night and she'd had a full day on the campaign trail, Laurie was still going strong — a real dynamo. I'd just finished my second evening of phone banking for her, but before I zipped home to Seattle we sat down for a brief interview.
Breaking the Lesbian Barrier

Laurie and volunteers have knocked on over 20,000 doors in the district. How many of those voters have broached the subject? Remember, Washington voters spent much of 2009 debating whether a new comprehensive domestic partnership law should be ratified at the polls. Laurie, an out lesbian, was the very public co-chair of the campaign that successfully preserved the law (a national first!).
"I haven't been asked a question about it once at the door. I talk about my family pretty openly at the door when it's appropriate. Talk about our son and that my partner has been the PTA president, and sometimes kiddingly say that I couldn't run for an office that's that political, which is PTA, which I consider to be the height of political challenge. [laughter] PTA can be tough. So it hasn't been a big factor in that way.
"It has been a huge factor in terms of my volunteer base, and I think probably to a large extent my donor base – the fact that I'm going to be breaking a barrier is a big deal. I've spent 20 years working on LGBT issues statewide and locally, so I feel really honored by the support the LGBT community has given me. And especially locally on the volunteer side of things.
But breaking the barrier isn't the primary reason Laurie is running.
"I would say that with the budget and all the other difficult choices that are going to have to happen in Olympia in the next few years, you know just breaking that barrier, that would not have been enough to make me want to run. It's going to be a really tough environment in Olympia – it's going to call on me to use all the skills and the resources that I've got, and probably have to learn a lot more skills. So it's a great thing to be able to challenge that barrier and hopefully break it, but it's not enough in this environment.
"I'm proud of the work I've done in the Community, and I'm proud of this legislative district. You know a big part of this legislative district voted for [the 2009 domestic partnership law] at the same rate as [Seattle's Gayborhood] Capitol Hill. And you know it wasn't every part of the district, but as a general rule Tacoma has been incredibly supportive of making sure that everybody has the same ability to protect their families. I'm really proud to be running here.Doorbelling

Doorbelling has been an important part of Laurie's campaign if her Facebook page is anything to go by. I was curious to hear about her one-on-ones with voters and whether they've changed her perspective.
"We've knocked on over 20,000 doors. I don't think my values have changed at all but my understanding of the world that we're living in, and my perspectives I think are much broader than when I started."
The number of unemployed she's met has been an eye-opener. "There are a lot of people who are not just early or midway in their career, people who are late in their career who have been laid off, who have been working in one kind of area for their entire career and who are looking at losing their house, they've lost their health insurance."
"I always try and focus with folks on what it is that I can do to try and help even if I'm just running as a candidate now. I'm on the Tacoma Community College Board of trustees and we do great worker retraining so, you know I try and get people linked up there. I started carrying around cards that have the worker retraining email address and phone number and I've given out hundreds of those."
While doorbelling she's been plied with homemade spaghetti sauce, compared favorably to Susan Sarandon, and introduced to kids and pets and elderly folks with a lifetime of stories to tell about Tacoma. "So that's been amazing. There's a lot of folks at home taking care of elderly parents, children or relatives with some kind of disability, providing home care for a family member every day. So it's been really interesting to learn from them. I guess I feel like I have a much broader set of examples of the reasons why I decided to run."
And her reasons for running? The state budget, for one. "I think that the thing that gets you through tough times is being very clear about what's most important. I think our state budget looks kind of random to people, and we're not clearly able to articulate what's most important. And then I tell people at the door, to me what's most important are education, jobs, health. And the vast majority of people say 'I think those are the right priorities'. So I feel quite a bit more committed on that stuff than even when I started, that we're on the right track."
"I talk to people about this too, that education and health are the two biggest parts of the state's budget. And so figuring out how we're going to handle those, how we're going to make what's efficient and what's effective in those big parts of our budget, making sure that we're funding those things I think is really important to people.
"I think education is a huge issue for people. People being priced out of higher ed., and folks wanting their kids to have opportunities and not feeling like they can help them have them because they can't afford to send their kids to college. Even if they do have jobs, the tuition at our higher education institutions is just astronomical.
"And I think people understand our K-12 education system is not working like it probably should, so I hear a lot about that at the door. And its been very interesting to hear a lot about it from teachers, from parents, from everybody. Teachers feel quite blamed about it which is sad, because we obviously want to have top-notch teachers I think we need to spend a little bit more time figuring out what the problems and solutions are rather than spending so much time trying to point fingers at each other. That's not really helping kids.
The Top-Two Primary

In Washington's top-two primary system, the top two vote-getters go on to compete in the general election regardless of party affiliation. Consequently, Laurie is running against another democrat.
"We're both good, strong democrats. I think we have very different strengths. In my mind one of the things that distinguished us is the depth and diversity of experience on topics that I think are of highest importance to voters.
"When I worked for the State Department of Health and Gary Locke was governor, he started something called Priorities of Government which was his budgeting process. It was during a recessionary time that wasn't as bad as this. I was on his health team that helped develop his health budget. He really required us to use analytical tools and be able to say what are the most important health things we're spending on, prioritize these — you know here's how much money you have and you only have this much — so there's a realization that we'd be letting things go. I think having had that experience then having brought that to the health department here in town is a pretty strong and direct budget experience that nobody else in the race has.
"Then I think the other areas where I have the most experience — in job creation, in education and health — are really important to the voters of this district and I think to the future of the state.
"I suppose I would feel better about making those distinctions if I were running against a republican. Because you know it's hard. My opponent is a good guy, he's done good work, he's a good democrat, so that's a challenge.
Entering the final stretch…

"I'm just in a great mood over everything everyone has done. One of the things I learned in the late 90s when I ran a statewide gay rights initiative that lost — but I gave everything I could, my partner and I did, including a lot of personal money on our credit card. And we never regretted doing that because I ended that campaign feeling like I didn't have any regrets.
"There were certainly decisions that in retrospect, I'm like ugh, but in terms of personally did I give everything I could? I felt really good about that.
"And that's one of the lessons that I've learned from that loss, and every campaign I've been involved with since then, including my own, is to make sure I do everything that I can and be proud of the decisions that I've made. I think we will be able to be proud – I feel like we've worked really hard and tons of other people have worked really hard. And I think the other thing I'm really proud of is running a really positive grassroots campaign, not done or said anything negative, and I'm proud of that.
Volunteer for Laurie!

Laurie still needs folks dialing those phones! The campaign can use whatever time you can spare during these hours:

SAT 10A – 6P

SUN 2P – 8P

MON 10A – 8P

TUE 10A – 8P*
*Laurie says, "Tuesday we will go until we have no more people to call, or until 8 pm. We've got a great plan to do some poll watching to make sure that all of our poll voters are getting out to vote, and even a little bit of doorbelling."
To sign up, call (253) 365-9000, and keep an eye on Laurie's Facebook page for late-breaking updates.
Related:

* Meet Laurie Jinkins, Out and Proud Candidate for Washington's LD-27