There's nothing like a first-hand account of an event like the Courage Awards, but it's particularly wonderful that one of its honorees joins us here at the Blend to share his report. Many thanks to Steven Thrasher, staff writer at the Village Voice, for doing this, as well as sharing video, photos, and his speech (in a separate post). — Pam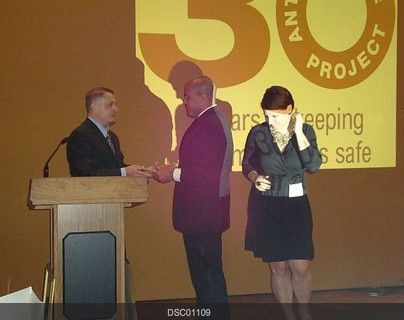 Right: Robert Pinter and AVP Executive Director Sharon Stapel present the 2010 Courage Award to StevenThrasher.
***
The New York Anti-Violence Project 2010 Courage Awards took place this week in Manhattan. It was nice, but also slightly odd, to take a momentary break from all the anti-gay violence that has been occurring in the city lately, particularly as AVP had just announced a couple of hours before the event began that there had been an attack at the historic Julius Bar (which even pre-dates Stonewall in its historical significance).
But the mood in the Prince George Ballroom was celebratory, as AVP looked back upon 30 years of combating LGBT violence and prepared to honor the 2010 Courage Award winners – the Paul Rapoport Foundation, Gay City News' Duncan Osborne, and me.
New York Governor David Paterson, who has been involved with the group since his freshman days as a state legislator, addressed the VIP pre-reception. He started with somber words of encouragement for AVP, the Rapoport Foundation, and Osborne.
Then Governor Paterson did something I never thought I'd ever hear any governor do – he said my last story for the Voice, "White America Has Lost Its Mind," was one of the "funniest stories" he had read in years (Pam: see Steven's Blend livechat here). Given all the controversy that story has generated (as readers of the Blend might know from the liveblog Pam and I did on it last week), I was pretty shocked to hear a sitting politician publicly praise it. But if my jaw hit the floor when he personally told me the story was "the bomb," I flat fell out like one of Bishop Long's church ladies when Paterson started giving me suggestions for how I could rewrite it like an episode of "Curb Your Enthusiasm."
Photo – Sharron Thrasher, BD Wong, Steven Thrasher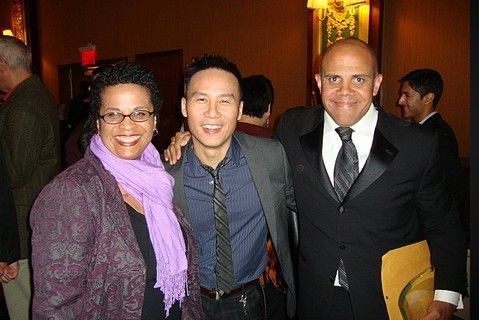 My sister, Dr. Sharron Thrasher, is a big fan of B.D. Wong, who was rocking it as M.C. and looked pretty stunning for being 50 years old (as he publicly acknowledged recently turning). We treated him to a Thrasher Sandwich.
B.D. infamously "stole" hosting the Courage Awards away from Sam Champion, and made a point to use his iphone during his remarks to show that he could M.C. a benefit AND report on the weather at the same time.
AVP executive director Sharon Stapel was joined by all of her predecessors, including David Wertheimer, Matthew Foreman, Richard Haymes, Clarence Patton, and New York City Council Speaker Christine Quinn.
Jessie Estrella, a speaker from the AVP Speakers Bureau, gave some awe-inspiring remarks about surviving hate violence. In 1999, Estrella shared, "I was viciously attacked by three men in Brooklyn. The reason, I am lesbian. While I was being attacked, a group of men cheered them on. I suffered five broken teeth, a broken nose and most of all a broken spirit." Despite being attacked again in 2008, Estrella miraculously shared that "Because of this I have become a stronger person, a prouder person and after all this, I still have no hatred in my heart."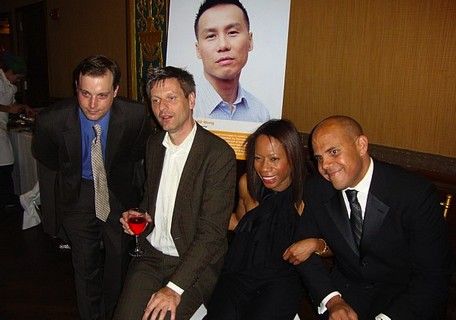 Left: Nickelodeon producer Jason Pattan, architecture professor Andre Bideau, fashion designer Ericka Mays, Village Voice writer Steven Thrasher; Right: B.D. Wong and Sharon Stapel present the Courage Awards, along with Executive Directors of the past 30 years.
The first Courage Award went to the Paul Rapoport Foundation, which has supported AVP's work for 22 years. Videos of award recipients are below the fold.
Robert Pinter, a community activist who was subjected to a false arrest for prostitution by the NYPD, delivered the Courage Award to journalist Duncan Osborne:
Osborne, who has written extensively about Pinter's fight against the NYPD, gave an acceptance speech that was a bold and inspirational call to action for civil rights, in the long tradition of the Mattichine Society, Ghandi, and Martin Luther King:
Pinter gave an incredibly touching introduction to me, as well, saying the kinds of things as a writer you always dream someone will say about your work:
Video and full text of my speech, "What I think About When I Think About

Courage," can be seen here.