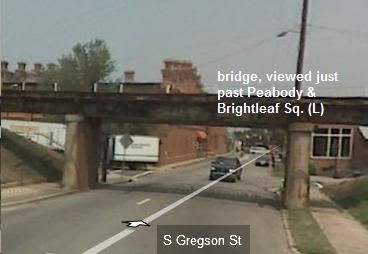 Jürgen Henn's http://11foot8.com, is a popular site that shows truck decapitations at a railroad overpass right outside of my office.
The videos are really entertaining for folks working at Duke University Press at Brightleaf Square here in downtown Durham. I blogged about the crashes last year, and wrote a piece for The Durham News about it.
I've actually only seen it happen live a couple of times, but I can clearly hear it from my office since I have a window and face that direction. The last time I recall it happening I was getting a cup of tea across the street at Alivia's and was talking to the person behind the counter and we heard the familiar "BOOM!" We turned around and kept on talking, lol.

The scary part is that up until a few years ago, the trucks slammed directly into the bridge/overpass. Since this surely placed the trains at risk, they set up steel beams just before the bridge so the dumbasses could slam into that. And what is ridiculous is that there is a big height sign on the beam (11′ 8″) and not long ago they added flashing lights — and these drivers still keep crashing into it.
Jurgen Henn's videos are up at YouTube (yovo68) and here is the latest truck bum rush to decapitation:
Today, yet another boxtruck performed a classic canopener at the Gregson St trestle. The truck was just a couple inches too tall, and the top peeled off very neatly and rolled back like a sardine can. Nice work. BTW – this is crash no.5 in the last 5 weeks!