There was already plenty of bad blood between Pastor Joe Fuiten, a long-time adversary of choice and LGBT equality, and other fixtures of Washington state's radical-right. Last year, Fuiten calculated (correctly) that the Washington electorate would approve Washington's Domestic Partnership Expansion Bill of 2009 by approving Referendum 71 at the polls. Fuiten stated as much in a public flourish, a betrayal so bitter that backers of the Reject R-71 campaign like Gary Randall and Ken Hutcherson weren't above getting catty about it in public, even during the R-71 campaign (more here and here and here).
Washington state Senator Val Sevens was among those betrayed by Fuiten's public undermining of the Reject R-71 effort. Although she remained quiet about his dump on the radical-right's anti-equality plank, today she's gone public with a scathing rebuke of Fuiten for his betrayal of the other plank in the radical-right platform: anti-choice.
The dust-up started a few weeks ago when Fuiten endorsed perpetual candidate Dino Rossi, a republican challenging U.S. Senator Patty Murray. But Val Stevens supports the Sarah Palin-approved teabagger Clint Didier. Didier has also been endorsed by major Reject R-71 backers like Washington state Rep Matt Shea and Washington Eagle Forum, and the anti-choice Human Life PAC. In other words, turf war.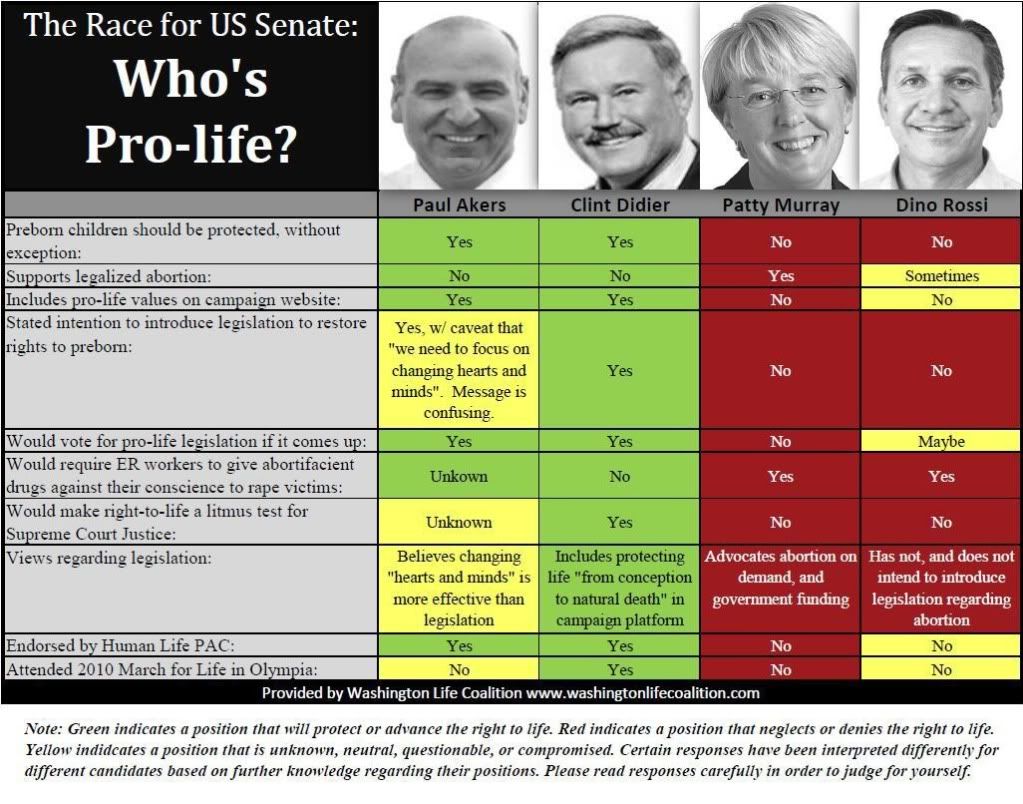 Washington Life Coalition's ad
Some anti-choicers allege that Rossi isn't pro-life, and the Washington Life Coalition (WLC) posted an ad (right) to that effect (right-click to see full size). WLC also recently posted an article questioning the quality of Joe Fuiten's other candidate endorsements ("Pastor's Picks") because Fuiten has also endorsed Steve Litzow's run for the Washington state Legislature. Litzow is not only pro-choice, but on the PAC committee for NARAL Pro-Choice Washington. It is Fuiten's ensuing defence of Rossi's anti-choice bona fides that has driven Val Stevens to her tirade. Read her screed below the fold.
All the actors in this drama profess to be morally upright Judeo-Christians, yet many accusations of "error where the truth is concerned" are flying. Who among the godly is lying?
A final note: This is all the more intriguing considering Fuiten's relationship to Family Policy Institute of Washington, a local affiliate of Focus on the Family. Fuiten used to be on FPIW's Board of Directors (still claims to be). FPIW talked up the Reject R-71 campaign but never really invested in it. Although FPIW's mother ship Focus on the Family did independently drop some very last-minute money for Reject 71 radio ads, FPIW itself seems to have only gotten involved in R-71 as an excuse to join National Organization for Marriage, or "NOM" in challenging Washington's public disclosure laws (see: Family PAC v. Reed). Interesting that FPIW would purge Fuiten over his pro-choice endorsements but not over his anti-referendum jihad. An indication of where priorities lie? Whatever the reason, FPIW seems as embarrassed about their past association with Fuiten as are some of the candidates he endorses, like Steve O'Ban.
Update: This blogger's report that Fuiten has since withdrawn his endorsement from Steve Litzow seems to be true. At Pastor's Picks, the King County endorsement list is marked "updated August 14th" and no longer endorses anyone for that position (LD-41 Senate). According to an August 6 post at Frankly Fuiten, Fuiten also withdrew a previous endorsement for Doug Cloud for the 6th Congressional District and switched his endorsement to Jesse Young because, Fuiten says, "Jesse's platform is more in line with Pastor Joe's socially conservative biblical Christian values." One wonders if the anti-choicers in CD-6 were on Fuiten's case before Sen. Val Stevens was.

BLOCKBUSTER! Sen. Val Stevens' open letter to the Pro-life community

August 15, 2010 by Doug Parris

Please re-distribute this everywhere

8/15/10

Val Stevens

Val Stevens

from Senator Val Stevens …

Recently, the Clint Didier U.S. Senate campaign released a radio commercial on several Christian radio stations throughout Washington State comparing Clint Didier's views on abortion with that of Dino Rossi and challenging Dino's claim that he is pro-life. This ad has created a firestorm within the Christian community, which, until now, has been mostly unaware of these facts.

The main contention in the present argument has come down to a vote Dino Rossi took in the 2002 session in favor of SB-6537. This statute now forces hospitals to promote emergency contraception to rape victims and provide it upon request within 72 hours of sexual contact.

Emergency contraception, also known as "the morning after pill", causes an abortion if the woman is pregnant. The bill passed and is now the law in Washington State. Physicians, nurses and healthcare workers in hospital emergency rooms are forced to act against their conscience, which is formed by their professional training as well as their moral, ethical and religious views.

For those and other reasons, groups such as the Association of American Physicians and Surgeons (AAPS) oppose these mandates. The Family Research Council joined AAPS in legal action to stop distribution of the "morning after" pill, in litigation led by Phyllis Schlafly's son, Andrew.

I would have felt no need to join the fray on this matter until an email came to my attention from Pastor Joe Fuiten of Cedar Park Assembly. I was shocked, even insulted by some of his remarks, which in many cases I know to be wrong. I was there – in the Senate Republican caucus during the debates and discussions – and I was on the floor to take the final vote. I know what happened, contrary to the picture Pastor Fuiten is trying to paint in stating that he was so involved.

Let's take his remarks (in BLUE) point-by-point, with my notes (in RED):



Dear Friends,

I have been seeing a lot of commentary questioning, no stating, that Dino Rossi is not prolife. When I first saw it, I said, "What is this?" Looking a little closer, it seems to be coming mostly from the Clint Didier camp in order to create separation between the two candidates and to breathe life into the Didier campaign … Ya gotta love politics!!!

I particularly was amazed with the charge that Dino supported pro-abortion legislation in Olympia when he was a Senator there. I called Bob Higley to make sure my recollections were correct. Bob Higley was the first President of Washington Evangelicals for Responsible Government (WERG) when it was formed with the help of Ellen Craswell and Skeeter Ellis.

MY NOTE:

WERG was the creation of my good friend and political advisor Doug Simpson (also Clint Didier's advisor). Doug met with Skeeter Ellis in the winter of 1993 and that meeting was responsible for the start of WERG – long before Pastor Fuiten ever got involved. Doug was also the first lobbyist for WERG. I was there encouraging this effort.

WERG paid for a lobbyist in Olympia to represent Biblical causes. Bob led it for a number of years and then became the lobbyist when I became the President of WERG. We worked together on issues like abortion for almost 20 years. We were in on every battle relating to abortion over all that time. I asked him if Dino was always with us on the pro-life issues. Bob answered quickly that Dino Rossi was always to be counted on in the pro-life concerns.

MY NOTE:

Bob Higley was there. But he was there lobbying AGAINST the bill. The remark Pastor Fuiten makes about Dino "was always to be counted on in the pro-life concerns" could not have anything to do with this particular bill. Bob Higley was in my office many times during that session as we worked together to KILL this bill.

This charge that Rossi voted to violate the conscience of medical providers and support abortion during his time in Olympia seems strange. I thought Dan Kennedy at Human Life of Washington did a good job in pointing out the actual facts in the case. (I have a high regard for Dan Kennedy who has been one of the most vigorous and outstanding pro-life forces in Washington State for a very long time). Here is some of what they said:



"This bill was specifically approved by the three Catholic bishops and their lobbyist, Sr. Sharon Park, indicating it did not promote abortion. It offered contraception options to women who were raped. Pro-life legislators were quite concerned and asked for the analysis. The WSCC signed off on the bill because they stated that conception would not occur in the time period provided in the bill. Assured by WSCC that the drugs in the legislation act as a contraceptive, not an abortifacient, and "hospitals" not ER workers are required to provide, they were further assured no separate "conscience protection" in the bill was necessary".

MY NOTE:

I don't know what pro-life legislators Dan Kennedy is talking about. Among the pro-life legislators in my caucus, (all who were "NO" votes from the start) there was never a moment of confusion. We understood clearly that this bill was everything opposite of what Dan Kennedy says above. Pastor Fuiten has insulted the faithful pro-life legislators-who were endorsed by Human Life PAC and who stood firmly against this form of abortion.

We never believed that contraception could be given to prevent conception after a rape to prevent pregnancy. That does not even meet the straight face test. And why were so many conscientious doctors and nurses opposed to the bill?

Here's the proof as seen in the final floor vote on the bill:

Voting Yea: Senators Brown, Carlson, Costa, Deccio, Eide, Fairley, Finkbeiner, Franklin, Fraser, Gardner, Hale, Haugen, Hewitt, Horn, Jacobsen, Johnson, Kastama, Keiser, Kline, Kohl-Welles, Long, McAuliffe, McCaslin, McDonald, Parlette, Poulsen, Prentice, Rasmussen, Regala, Rossi, Sheldon, B., Sheldon, T., Snyder, Spanel, Thibaudeau, and Winsley

Voting Nay: Senators Benton, Hargrove, Hochstatter, Honeyford, Morton, Oke, Roach, Sheahan, Shin, Stevens, Swecker, West, and Zarelli

Please note that of those legislators voting "Nay" (against the bill) every one of them has received the pro-life endorsement from Human Life PAC and we are proud to wear that distinction with honor. The criterion for that endorsement is simple: you must agree NOT to support abortion under any circumstance.

(Also note that the charges Pastor Fuiten is referring to here were never leveled by the Didier campaign, but from some other source.)

The charge that the bill which Rossi supported is "against Catholic, Christian, and pro-life values" is refuted by the support the Catholic Bishops gave to the bill. The language of the bill is clear enough that it is not about abortion. The law says it deals with "… health care treatment approved by the food and drug administration that prevents pregnancy, including but not limited to administering two increased doses of certain oral contraceptive pills within seventy-two hours of sexual contact." Maybe the point is too fine for some, but abortion, which terminates a pregnancy, is not the same as "preventing pregnancy".

MY NOTE:

Once again, thirteen Senators have been insulted by someone who claims to understand the legislative process. Pastor Fuiten can't possibly believe that conception wasn't a strong possibility before the drug was administered. The point wasn't "too fine" enough to cause all Human Life PAC supported legislators to vote "Nay."

I am appreciative of the tremendous effort the Catholic Church has put into the pro-life issue. I appreciate people like Clint Didier and I think we need his activism in this state. I am not appreciative of the politically self-serving effort to misrepresent Rossi's record in Olympia.

MY NOTE:

After interviewing Clint Didier, I know that he understands the value of life and he knows the Author of life. (Read Clint's statement, following my letter)

> Rossi was with us in Olympia. So, did Pastor Fuiten lobby him to vote for SB 6537?

> I was there. So was I pastor – but I don't remember seeing you there. Were you working in favor of the bill?

> Bob Higley was there. He is my faithful friend who weekly comes to support my stand against abortion, and would never ask me to support SB-6537.

> Dan Kennedy was there. He never came to my office and I never saw him. He did not ask me to vote yes to support his Catholic Bishops position. Was he supporting the bill?

Maybe I shouldn't note, but I will, who wasn't there.

> I never saw these would-be politicians who criticize Dino there. I was there and my opposition to this pro-abortion bill is a matter of public record. It is not a criticism of anyone. My pro-life record is well documented and no one will ever need to defend it on my behalf.

Dino has apparently not been willing to make abortion the centerpiece of his campaign. I do not understand pro-lifers who criticize the man saying he is not really pro-life. I thought Paul Aker made sense when he affirmed that what we really need to do is change hearts and minds. We have been making progress, slowly but surely, in the pro-life movement. Until we achieve greater success in the general population with our message there will not be a lot of legislative success. In the meantime, we have work to do but the work is not to treat solid conservative pro-lifers like Rossi as if they were Patty Murray.

MY NOTE:

"Changing hearts and minds" is the way to end abortion. I could not agree more. However, compromising the Christian principle that killing the unborn child – under any circumstance – is always wrong.

Manipulating the facts to fit your agenda is never a path to that change. It does not matter how many bishops you find to agree with your position.

I think successful armies fire at their opponents not their friends. Dino Rossi is a friend to us in the pro-life community. Help set the record straight. Forward to a friend!

fuitenj@msn.com

IN CLOSING:

The "pastor's picks" this year recommends a man in the 41st legislative district who is also NOT pro-life. In fact, he sits on the board of NARAL, (National Abortion Rights League) an organization we pro-life legislators know to be pro-abortion.

I recommend that Pastor Fuiten "set the record straight" and further I would ask that he apologize to those of us legislators that he has insulted. We take our pro-life stance against abortion very seriously because we know the Author of life.

Respectfully submitted,

Sen. Val Stevens

August 15, 2010

—————–

8/12/10

STATEMENT FROM Clint Didier on Abortion, and His Endorsement

"I am extremely gratified that Human Life PAC of WA has carefully followed its own rules for endorsing only 100% pro-life candidates.

And I am proud to say that I am one of those candidates.

There has been some discussion in the community about what this means.

Let me say it plainly:

You are either pro-life or you are not.

Abortion is still abortion no matter under what circumstances.

Some have asked about the radio ads my campaign is running.

Again, let me say it plainly:

The ads simply point out the difference between one of my opponents and me.

I am 100% against abortion, and he is not.

That is not an attack, but a statement of fact.

I am pro-life, from conception to natural death.

And I thank Human Life PAC of WA and the Catholic Families for America for supporting me."