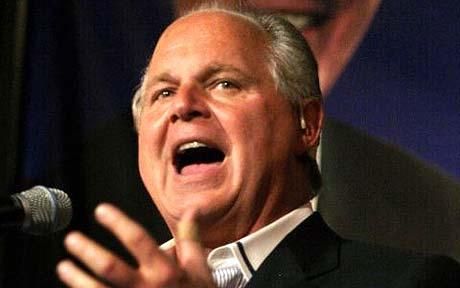 That headline at Huff Post almost made me fall out of my chair laughing. It suggests that the radio blowhard must be popping the Oxy again to come up with that deranged revisionist history.
Rush Limbaugh said on his July 2 radio show that he believes Obama tanked the economy on purpose,

both as "payback" for 230 years of racial oppression and because Obama simply doesn't like America

.

He railed: "Who is Obama? Why is he doing this? Why? Why is he doing it? Is he stupid? Is it an accident? Is he doing it on purpose or what have you? … I think we face something we've never faced before in the country — and that is, we're now governed by people who do not like the country, who do not have the same reverence for it that we do. Our greatest threat (and this is saying something) is internal."
So where was Rush for the last 8 years prior to this President taking office when a person named George W. Bush stole the election took office and proceeded to run the economy into the sh*tter and then hand the keys to the WH to Obama, smile, wave and get aboard the helicopter and fly off to the sweet sounds of "na na na na hey hey hey goodbye?"
Never mind that Obama is biracial; in Rush's feeble mind this is surely Barack Obama's black side at war with his white side when he stepped into the DeLorean and turned back the clock to change history and take on the recession.
El Rushbo must have that Oxy cut with some angel dust.