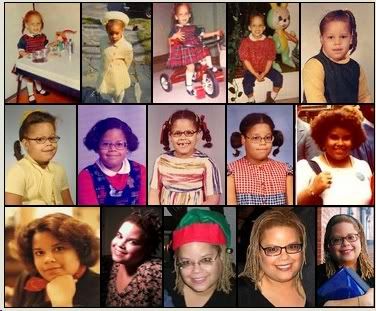 Happy birthday to me, the aging blogmistress. As always, I roll out the stats…
My uncle Charles in Bed-Stuy…
Marty Feldman born on July 8, 1933

Jeffrey Tambor born on July 8, 1944

Anjelica Huston born on July 8, 1951

Kevin Bacon born on July 8, 1958

Toby Keith born on July 8, 1961

Joan Osborne born on July 8, 1962

Lee Tergesen born on July 8, 1965

Billy Crudup born on July 8, 1968

Michael Weatherly born on July 8, 1968

Beck Hansen born on July 8, 1970

Nelson A. Rockefeller born on July 8, 1908

John D. Dingell born on July 8, 1926

Phil Gramm born on July 8, 1942
The infamous Roswell incident was covered in the July 8, 1947 edition of the Roswell Daily Record.
***
So this year, since I have no problem making fun of myself, I am following through with what I said in my "Q of the day – for flashback fashionistas" post a couple of weeks ago.
Then I pulled out the 80s flashback skirt.


The roars of laughter from [my wife Kate] were, needless to say, enough to scare the dogs. Now I started laughing (I definitely had to have been listening to Journey when I placed the order). Since this was a fire sale, there were only limited sizes available so I ordered it in the size smaller than I thought I could wear, thinking later on maybe be able to get into it. When Kate zipped me up – holy hell, it fit!


Anyway, so now I have this retro skirt I bought on a lark I can't figure out where I would wear it (save Halloween, or an 80s party?). Is this a fashion mistake? Am I having mid-life fashion crisis issues? LOLOLOL. Well, I turn 47 on July 8, so maybe so. Oh hell, it's summer, I should just wear it on my birthday.
Yes, I am wearing this to the office on Thursday; perhaps I will allow a photo to be taken. I have to see how ridiculous I look before any cameras are allowed to be broken. What a way to enjoy 47 – winding back the clock to the 80s for the hell of it.