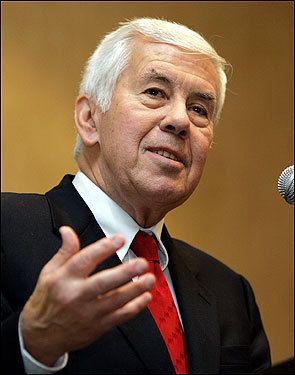 Some good news, if you believe that the compromise DADT repeal language was the best option that we could have achieved at this point in time. (WashBlade):

U.S.

Sen. Richard Lugar

(R-Ind.) told the Blade last week that he isn't concerned about the "Don't Ask, Don't Tell" repeal language in the fiscal year 2011 defense authorization bill and wouldn't support an effort to rid the legislation of the provision.

Asked whether he would support a substitute amendment or a motion to strike, Lugar replied, "No. I would just leave it as it is."

…Often regarded on Capitol Hill as a centrist Republican, Lugar voted in favor of hate crimes protections legislation after twice backing the Federal Marriage Amendment.

Aubrey Sarvis, executive director of the Servicemembers Legal Defense Network, said Lugar's comments on "Don't Ask, Don't Tell" are "good news." "That is consistent with what we have been hearing from his staff," Sarvis said. "My view is that Sen. Lugar's response is very encouraging."

…Sarvis also said the most "immediate challenge" advocates face with the defense authorization bill is finding time for floor discussion. Like Levin, Sarvis noted that he's hopeful the bill will come up for discussion this month. "But the floor calendar is very crowded, so I'm not sure we're going to get on in July," Sarvis said.
There's a lot more in Chris Johnson's report, so surf over for the rest.