For years I've heard my friend Josh Friedes, now the executive director at Equal Rights Washington, say that voter persuasion on marriage equality must happen during the quiet times between political campaigns. Once a ballot campaign is under way, it's too late to sway hearts and minds.
Josh's wisdom has been confirmed by a new study by Dr. Patrick Egan from the Department of Politics at NYU. Dr. Eagen looked at 167 voter surveys conducted in the six months prior to an election where a ballot measure regarding the legal status of same-sex couples was placed before voters. Since 1998, such measures have appeared on the ballot in 33 states.
Dr. Egan sought to answer two fundamental questions: To what extent did voter intention change over the course of these campaigns, and how well did polls predict ultimate election results? The study found that:
Voters attitudes on marriage equality remain steady over the course of an election campaign (see Figure 1 below).

Pre-election polls consistently underestimate opposition to marriage equality.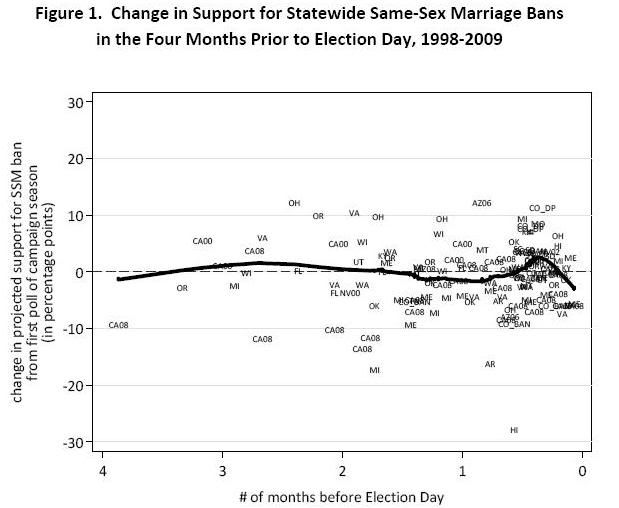 LGBT allies and advocates like us really need to take heed of that first finding: Since voters attitudes on marriage equality remain steady over the course of an election campaign, we must do the educational and persuasion work typically done during a campaign before the campaign begins. This makes sense if you think about it; voters will be more open to your ideas and concerns when they're in a relaxed frame of mind. Solidifying voters' hearts and minds well in advance of any campaign is sort of like getting your flu shot well before flu season. Friedes expanded on this in and interview, saying: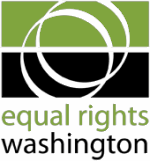 I believe this is more pronounced on the subject of marriage equality than most issues for a number of reasons including the importance people place on the subject of marriage and family and the fact that people think they are experts on the subject so they are not particularly interested in hearing what experts or opinion leaders think.
Once an electoral campaign is in full swing, focus and resources should shift away from voter persuasion towards getting out our supportive vote and holding our soft base. Although the study didn't address the question, campaign spending on messaging is still probably very important since we need to hold our base and turn out voters. On this, Friedes says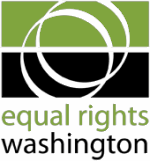 Campaign advertising should focus more on these two goals than voter persuasion. However, prior to the traditional campaign season an educational campaign of the magnitude traditionally associated with a ballot campaign must be undertaken. If this report does anything, I hope it changes the way we fund our marriage equality work. Money must be given and spent earlier than it traditionally has been.
This strategy certainly has worked for us here in Washington. For years the focus of Equal Rights Washington during the between-campaign times has been on basic LGBT advocacy and voter persuasion. But when a domestic partnership referendum made it to the ballot last year, the Approve 71 campaign (our side) shifted gears and pressed a very intensive and strategic gotv campaign while delivering effective messaging to the public. The result you know very well by now – with 53% of the vote, the Washington electorate became the first in the nation to ratify a domestic partnership law at the polls.
Perhaps it's no coincidence that the study also shows that Washington leads the country in voters' opposition to marriage equality bans! Says Friedes: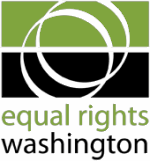 This should come as little surprise since Washington has been engaged in a prolonged yet largely civil conversation about how to protect Washington state's LGBT families. For three years, from 2007-2009, the Washington public was engaged in our conversation about domestic partnerships and a key part of that conversation was explaining why domestic partnerships could not be a substitute for marriage equality.
The take-home message of the study is this: talk to your friends, family and co-workers now, and don't assume that everyone who's generally ok with The ElGeeBeeTee is fully aware of our legal concerns. Think of the impact we could have if each of us spoke honestly to one new person each day about how institutionalized discrimination is affecting us here, now. If talking to people you don't know is easier to contemplate, join your local LGBT advocacy organization's volunteer field campaign.