Today and tomorrow (M, Tu), the documentary 8: The Mormon Proposition will be screening at the Seattle International Film Festival. From the SIFF page:

When California voters narrowly approved Proposition 8, the constitutional amendment banning gay marriage, people from across the country questioned how this could have happened. While the public was aware that the Church of Jesus Christ of Latter Day Saints was a huge supporter of the measure, 8: The Mormon Proposition reveals how the Mormon Church spent decades orchestrating a political movement to stop gay rights. Mormon leaders rallied their congregations to contribute huge sums of money, influence, and personal time to sway public opinion and policy, much of this through secret memos and cover organizations.
The Mormon church (Church of Jesus Christ of Latter Day Saints, or "LDS") didn't appear to play an active roll last year in Washington's Referendum 71 battle for the preservation of the Domestic Partnership Expansion Law of 2009. National Organization for Marriage, widely believed to be an LDS front group, only donated $5,000 to the anti-DP campaign. This is peanuts compared to the mountains of cash they spend in anti-marriage campaigns. Josh Friedes, Executive Director of Equal Rights Washington has a theory about that: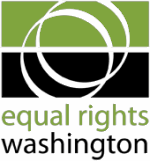 The Mormon Church was not a player in Referendum 71. The Mormon church appears to have drawn the the line in the sand at marriage. In Washington State as we move toward full marriage equality we must be prepared for increased opposition from the organized Mormon Church while recognizing that many Mormons support LGBT civil rights and have been active with the gay rights movement.
Trailer below the fold.