Just as anti-gay Oregonian Gary Randall is gearing up for another round of meddling in Washington politics, the Washington State Commission on Judicial Conduct is giving the most severe censure possible to one of Randall's recent judicial recommendations to Washington voters, Michael Hecht (emphasis mine).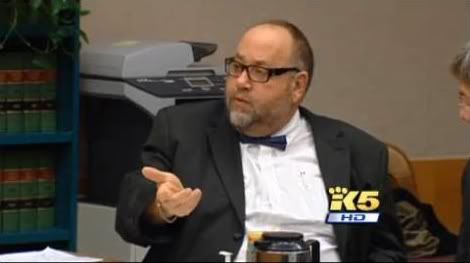 Gary Randall's judicial recommendation: Convicted felon Michael Hecht
Saying Michael Hecht brought "great dishonor" to the state's judiciary, the Washington Commission on Judicial Conduct levied its most severe penalty Friday against the former Pierce County Superior Court judge.

Members of the commission, which regulates the conduct of the state's judges, censured Hecht and will recommend to the Washington State Supreme Court that he be disqualified from ever again seeking a judicial office in Washington.

Hecht, who was elected to the bench in 2008, resigned his seat late last year after being convicted of felony harassment and patronizing a prostitute.

A Pierce County jury found him guilty of threatening to kill a man who claimed he sold sex to Hecht and of buying sex from another young man.
Click on In re the Honorable Michael Hecht CJC No. 5863-F-142 for the official paper trail.

In 2008 Randall lobbied Washingtonians to vote for his slate of candidates for almost 30 court positions. His judicial picks were listed in Faith & Freedom PAC 2008 Washington State Judicial Recommendations, since wiped from the Faith & Freedom online archives. To the right is a copy of Randall's recommendation for Pierce County Superior Court Position 9: Michael Hecht. Hecht won the election.Based on what Randall wrote at the time, he had the hubris to recommend judicial candidates to his trusting followers despite an apparent shallow knowledge of the candidates and law.

[B]ecause of the volume of requests we have received, I have personally set aside time over the past couple of days and researched several resources on the judicial races.
Gary Randall is not a lawyer. Gary Randall is a preacher. Yet he felt qualified to "set aside time" to select judges for a neighboring state? No surprise then that he promoted a felon. Here is a sample of the sort of in-depth legal analysis Randall provided in his 2008 voter guide:

Les Ponomarchuk is the current court commissioner. We do not know a lot about him or his judicial philosophy but it appears he is taking a more conservative approach in seeking endorsements.

Rob Lawrence-Berry appears to be well qualified and has a mainstream church background. However, David Elofson appears to be a little more conservative.
This would be hilarious if we weren't talking about something so vital as the justice system and Randall's abuse of the trust of his followers.
Related:

* Gary Randall's judicial pick convicted of felony

* Oregonian Gary Randall's History of Manipulating Washington State Voters