It's no secret that we lesbian, gay, bisexual and transgender (LGBT) folk rely greatly on our straight allies for their friendship and support. What is less obvious, however, is that LGBT people also function as allies to other communities.
I reckon that LGBT people haven't yet created many formal organizations such as "LGBTs for [fill in cause]" because we have had to spend so much time and energy defending our right to learn, live and love legally. But that doesn't mean that LGBT people haven't always participated as individuals in every cause under the sun. We've just done it invisibly, and our contributions as LGBT people have gone unrecognized as such.
But that is changing. Each positive gain that LGBT people make in civil rights protections and social acceptance relieves us of an old burden and allows us to turn at least some of our attention from our own troubles and serve as allies to others – LGBT allies to communities and interests that are largely comprised of straight, cis-gendered folks.
My belief is that the more we LGBT people organize and become visible allies to communities not primarily focused on LGBT issues, the more those communities will recognizing us as the decent people we really are and not some fear-mongered phantom enemy.
Below are a few examples of LGBT groups and organizations that are allies to non-LGBT-centric communities.
PFLAG. I'm going to start close to home and mention first the Bellevue, Washington chapter of PFLAG (Parents, Famailies and Friends of Lesbians and Gays). Although PFLAG is primarily a support, advocacy and education organization populated by straight allies current and future, the Bellevue chapter has numerous LGBT people in its active membership (me included). In 2009 the Bellevue chapter participated in Turkey Trot, a fundraising event for HopeLink.

Since 1971, Hopelink has served homeless and low income families, children, seniors and people with disabilities. Hopelink's mission is to promote self-sufficiency for all members of our community; we help people make lasting change.
Signage at the HopeLink food bank illustrates that it is consistently utilized by, among others, members of the Latino and Russian/Slavic immigrant communities. Members of the Russian/Slavic community in particular have been potent organizers of anti-LGBT actions in Washington. They perhaps more than any local ethnic community need the opportunity to knowingly receive humanitarian assistance from LGBT people and LGBT allies, and in so doing be given the opportunity to reassess hurtful stereotypes.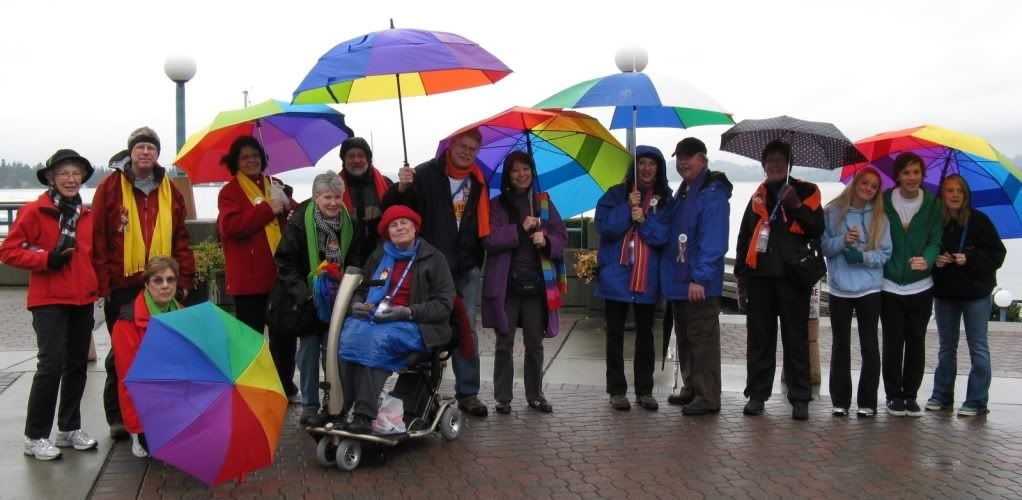 OUT for Sustainability. This past Sunday, over 80 LGBT people (up from 8 last year) from the Seattle area joined our straight brothers and sisters in coordinated Earth Day work projects. (You can read my EARTH GAY post here.)

OUT for Sustainability

engages and mobilizes the LGBTQ community to advance social and environmental sustainability.

We believe the LGBTQ community can be a leader in creating a thriving ecosystem for us all. Through events and education, we engage members of our community to become change-makers on social and environmental issues.

Through various programs, consulting and advocacy, we move our community to integrate social and environmental values into our individual lives, our local communities and our shared world.
Projects included habitat restoration in Pigeon Point Park (above) and habitat restoration and clean-up of Duwamish Waterway Park (below).
Rainbow World Fund. Although it's been in existence for 10 years, I only became aware of RWF through its recent earthquake relief work in Haiti. Come to find out that RWF has been partnered with CARE for several years in ongoing child health and urban garden projects there, as well as earlier disaster relief. Other ongoing projects RWF is engaged in include safe water in Honduras, land mine removal in Cambodia and HIV prevention and case work in South Africa.

Rainbow World Fund

(RWF) is an all-volunteer international humanitarian service agency based in the gay, lesbian, bisexual, transgender (LGBT) and friends community. RWF's mission is to promote LGBT philanthropy in the area of world humanitarian relief.

Founded in 2000 by members of the San Francisco LGBT community, RWF works to help people who suffer from hunger, poverty, disease, oppression and war by raising awareness and funds to support relief efforts around the world. RWF works in the LGBT and friends community educating people about world need. Along with raising our community's consciousness, RWF raises funds to support humanitarian relief projects. RWF provides a united voice, a visible presence, and a structure to deliver charitable assistance from the LGBT community to the larger world community.