"I refuse to stay silent!" That was Ken Hutcherson last year. This year, not a peep. Maybe Hutcherson finally recognizes that Washington is moving beyond his message of bigotry towards gay, lesbian, bisexual and transgender (LGBT) people. After all, in 2009 Washington voters became the first in the nation to ratify a comprehensive domestic partnership law, and LGBT people have been added to the state's anti-discrimination and hate crimes laws with the blessing of the electorate.In 2008, Hutcherson disrupted lessons at Mount Si High School in Snoqualmie, WA by calling for 1,000 of his "Prayer Warriors" to protest in front of the school on National Day of Silence.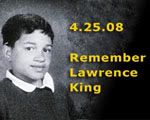 On the National Day of Silence hundreds of thousands of students nationwide take a vow of silence to bring attention to anti-LGBT name-calling, bullying and harassment in their schools.
In years past, some kids reportedly stayed home rather than face the angry tension the Hutcherson's presence created in the school. But Hutcherson's ability to bully and intimidate school children is on the wane. The SnoValley Star quotes Mount Si Principal Randy Taylor saying "(Absences) seem to be trending downward." Indeed, look at the stats for Mount Si HS's National Day of Silence. About 9% are absent on an average day.
| | |
| --- | --- |
| Year | Pecent Absent |
| 2008 | 34 |
| 2009 | 23 |
| 2010 | 17 |
Morgan Myers, an officer of the school's Gay Straight Alliance who participated in the day, had this assessment of the absenteeism, which has the ring of truth to it:

A lot of his friends decided not to come to school April 16, "which is a frustrating thing," Myers said. While students do choose to skip school because of their opposition to the Day of Silence, Myers said there were probably some that "are using to get out of school. The vast majority just wants to skip."
Ken Hutcherson reduced to a lame excuse to skip school. Lo, how the mighty have fallen!