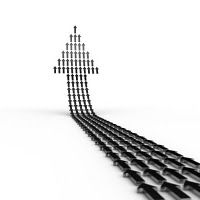 As I mentioned back in March, Michelangelo Signorile and the crew at Sirius XM are hosting a offline and online Town Hall in Washington DC on Thursday, April 22, from 2 PM ET until 4 PM ET called "The Path Forward: An LGBT Leadership Town Hall. That's next week, Blenders, so it will be interesting to look at the path traveled by our movement and what the path ahead looks like.
The panel will include: National Gay & Lesbian Task Force executive director

Rea Carey

; National Center for Transgender Equality executive director

Mara Keisling

; Human Rights Campaign president

Joe Solmonese

; Servicemembers Legal Defense Network executive director

Aubrey Sarvis

; former Clinton White House advisor on gay rights

Richard Socarides

and blogger and activist Pam Spaulding of

Pam's House Blend

.

The event will include a studio audience, from which I'll also take questions for the panel. It will be streamed live online (no 7-day trial of Sirius XM will be necessary to listen online and the event will be open to all) and I'll be taking questions on the phones from people across the country as well.

Location: XM Satellite Radio, 1500 Eckington Place NE, Washington, DC 20002.
I seem like the odd one out the panel, huh? Let's see, how is one of these not like the others…
* I represent a slice of the Netroots.

* I don't live inside-the-Beltway.

* I live in a state without any rights on the books for its LGBT taxpaying citizens.

* I am a person of color.

* I've never held a paid position in an LGBT organization or in the WH.
That list may mean a little or a lot; I don't have a good sense of it. However, it is at least some measure of difference that may help drive the discussion in a direction other than a traditional bull session among organizations. I'll do my best to represent; I'm sure there will be virtual tomatoes thrown (hopefully no real world rotten ones).
We're at a critical crossroads as a movement; there is a great deal of tension between the grassroots activists and the groups that are on the rolodexes of the WH, Congress and the MSM. It's an identity crisis of sorts, at once invited into the sphere of influence, allowed to peek into the tent, but certainly not feared by those in charge of policy — lest the invitation be retracted. What's the next step when promises aren't kept by those in charge? It will be interesting to find out what some of the points of view are.
For tix to the DC LGBT Leadership Town Hall you can enter a drawing here. The deadline is April 16, so do it now: Send an email to rsvp@Siriusxm.com with "Signorile" in the subject line (must say that in the subject in order to qualify). Include your name, e-mail and cell phone number in the email. All the rules and more information are here, so please be sure to go there and read all before entering.
Related:

* Barney Frank: lobby like the NRA; President's already nixed 2010 DADT repeal

* HRC's Cuc Vu: Why we need to build a cadre of LGBT organizers and leaders of color

* DADT Repeal: The 11 Crucial Senators

* HRC says there will be political consequences for Obama/Dems if ENDA, DADT not passed/repealed – no mention of DOMA

* HRC's Solmonese: dinner attendees 'more politically aware', have 'better sense of what's at stake'

* In high risk gamble, HRC promises DADT will be repealed this year, and disagrees with WH spokesman – says repeal must happen before Nov. elections