With the U.S. Senate Dem majority hanging by a thread, each and every race in 2010 is critical for all of us to pay attention to. In North Carolina, the sleazy conservative Republican Richard "Bank Run" Burr is up for re-election, and on the Dem side we have three viable candidates who have declared public support for LGBT issues in various ways, something that was almost completely missing in action from Kay Hagan's campaign in 2008.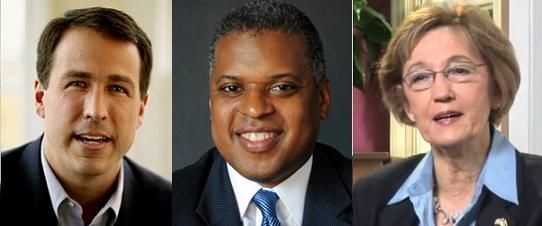 On Monday, Durham for Obama is holding a candidate forum (along with an endorsement straw poll), featuring these Democratic Senatorial Candidates from North Carolina: Lexington native and former State Senator and Captain in the U.S. Army Reserves, Cal Cunningham, Durham Attorney Ken Lewis, and Secretary of State Elaine Marshall. Currently Marshall has a healthy polling lead over Lewis and Cunningham, but it's still early and the big media push hasn't hit the airwaves. That's when the rubber hits the road.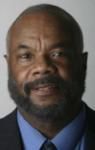 Also at the event, and behind the better-known pack of three, is Lumberton attorney Marcus W. Williams, a perennial candidate for office, always with a campaign on a shoestring.

He has previously run unsuccessfully against Jim Hunt in the 1992 gubernatorial primary, against U.S. Rep. Mike McIntyre in the 1996 primary and for the N.C. Court of Appeals twice. He is currently running in the Democratic primary to challenge Republican U.S. Sen. Elizabeth Dole.
At his web site, there isn't much to peruse on the issues related to LGBT matters. His interest is ensuring representation of the economically disadvantaged and the working poor.
In case you're wondering, out of the top three, so far only Lewis has given an interview to the Blend. That was back in December. I did meet up with Cal Cunningham while I was covering the HRC Carolinas dinner a couple of weekends ago, and he was eager to connect with Blenders, in a live blog. The Blend has also been contacted by the Marshall campaign (not the candidate directly, and there's been expressed interest in an interview or liveblog). I'll definitely hold both of them to that, given the importance of the LGBT community both here in NC and around the country in learning just where they stand — and how they would vote, on legislation that is likely to be before them if elected.
The candidates all filled out a questionnaire in advance of this forum. You'll definitely see a gap between the candidates when called upon to give a response in under 100 words to the question:

The Democratic Party has historically placed a high priority on achieving equality among races, gender, sexual orientation, socioeconomic class, and age. Please identify from your personal life and work experience what you have done to further equality amongst any of these groups.
You can review the answers here.
When it comes to the candidate web sites regarding LGBT equality issues, there's also a gap. Take a look below the fold.Remember, Kay Hagan studiously avoided speaking to LGBT media, never committed to anything other than saying she didn't believe in discrimination of any kind. You never saw anything about LGBTs on her web site, yet she bellied up to the gAyTM, and in fact, headlined the HRC Carolinas dinner then. Now in office, she hasn't stepped up to co-sponsor anything in the hopper and is a question mark.
This time around, we have all three top Dems willing to discuss our issues and take positions, but there is definitely not consistency if you're looking for positions online.
As far as the web sites of Cunningham, Lewis and Marshall go, only Ken Lewis, who recently received the endorsement of ally Congressman Mel Watt, explicitly states his position, and you'll like what he says in his "Justice" issues section.

I am opposed to discrimination in any form. That includes discrimination against persons who are lesbian, gay, bisexual, and transgendered. In addition, I support full and equal legal rights for same-sex couples — all the same rights afforded married heterosexual couples today. That includes full recognition of the rights of same-sex couples across state lines, and full enforcement of federal benefits for same-sex couples.

As a lawyer, I feel strongly that upholding the full rights of same-sex couples is simple justice. I'm also a bit of a traditionalist, and I believe the word "marriage" best applies with its traditional definition. I believe governments should fully and fairly enforce the civil rights of all persons, while religious denominations and churches should serve their members as church leaders and members themselves decide.

I support President Obama's call for an end to the "Don't Ask, Don't Tell" policy prohibiting lesbians and gay men from serving openly in the military. I think Chairman of the Joint Chiefs of Staff Adm. Mike Mullen was right when he testified recently before Congress, "No matter how I look at the issue, I cannot escape being troubled by the fact that we have in place a policy which forces young men and women to lie about who they are in order to defend their fellow citizens."

In the civilian workforce, as in the case of employment discrimination against women I oppose discrimination based on sexual orientation and gender identity.

Hate crimes — criminal acts in which the victim is chosen because of the person's actual or perceived race, color, religion, national origin, gender, sexual orientation, gender identity, or disability — are particularly destructive, because their effects go beyond the individual victim and victimize an entire community. If I had been in the US Senate, I would have voted for the Hate Crimes Prevention Act that was signed into law by President Obama in October of 2009.
I surfed over to Marshall's site, and these were the only categories listed under "Issues": Economic Recovery; Health Insurance Reform; Financial Services Reform; Our War In Afghanistan; On Public Education; National Security. Nothing else.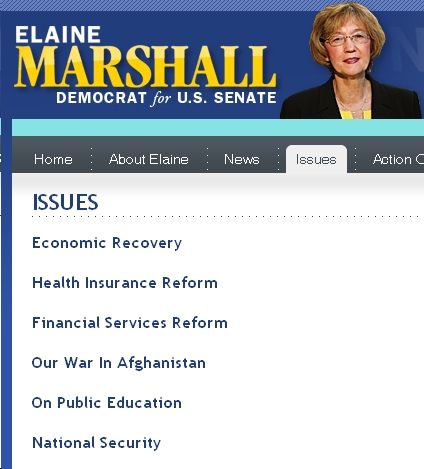 What I can tell you is that Blender Jake Gellar-Goad asked Marshall, during a BlueNC liveblog, what her positions are, and she said this:

Jake asked about equality issues. I oppose discrimination, support abolishing DADT (if people will serve, we should honor them. Period), oppose DOMA because I don't believe this is the duty of the Federal government and believe it puts the Full Faith and Credit concept in jeopardy, and support the concept of ENDA as described by Jake.
Clearly she needs to bone up on the details of ENDA…
Over at Cunningham's site, there's still nothing about LGBT issues (I did bring that to the campaign's attention a while back when the site was still being implemented. I was assured a section would be added…(will…keep…waiting…and…looking). As I said, he was there at the HRC Carolinas Dinner (Reps. David Price and Brad Miller were also there), and does want to engage with the community on the issues, but for people surfing to compare, to get in the game, you need to have this up on your site — even in NC.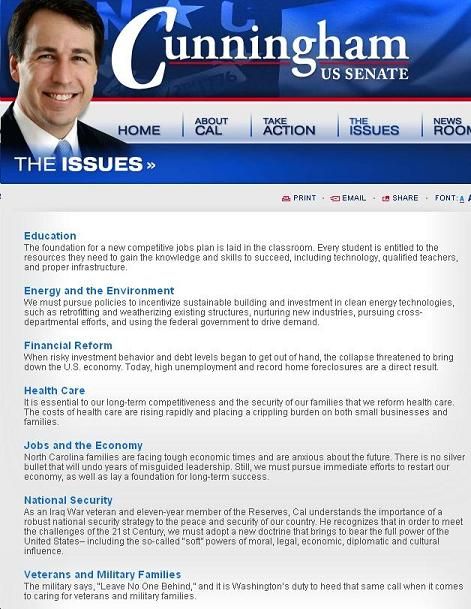 The candidate forum will be held right here in the heart of Durham on Monday, so it will be a great opportunity to see how each candidate presents themselves in an open forum and see how well versed they really are on our issues. Your blogmistress will be juggling the gear for sure. I'll probably Tweet it or do a one-way Cover It Live.
The basic info:

Time: Monday, March 15 from 6:30 PM – 8:30 PM

Host: Faulkner Fox

Location:

St. Joseph's AME Church (Durham, NC)

2521 Fayetteville Street

Durham, NC 27712

Immediately following the Candidate Forum, there will be Endorsement voting. All residents of Durham of legal age (18) who are registered to vote as Democrats or Unaffiliated, or unregistered to vote, are eligible to vote in this Durham for Obama endorsement proceeding.
If you have any questions in particular that you want to the candidates to address (check the questionnaire to see if they answered them), make note in the comments.
Related:

* NC: pro-equality U.S. Senate candidate Kenneth Lewis – The Blend interview

* On the Record…2010 NC Democratic Senate Candidates