If you surf over to HRC Back Story, you can see videos from today's press conference on the Hill featuring lawmakers and service members, including U.S. Marine Corps Veteran Eric Alva) US Army Veteran Kayla Williams; and US Army Veteran, HRC DADT Repeal Advocate Jarrod Chlapowski, and HRC's Joe Solmonese. Here is Rep. Patrick Murphy (D-PA).

U.S. Rep. Patrick Murphy (D-PA), alongside lesbian, gay and straight veterans of the Iraq and Afghanistan wars, held a press conference today in coordination with a swell of average Americans fighting for repeal of "Don't Ask, Don't Tell" (DADT). The event is timed with HRC's annual spring Lobby Day where more than 300 members and supporters are expected to participate.

"One of the worst things that you can hear when you are lobbying is that 'no one in my district is gay and no one in my district wants me to vote for this.' We know that's not true of any district but we have to prove it," said Human Rights Campaign President Joe Solmonese, while speaking to more than 300 average American's demanding repeal today on the Hill. "We come with the most powerful message of all: I am your constituent, and your constituents, like the rest of America, have had enough of 'Don't Ask, Don't Tell.'"

This week, U.S. Senator Joseph Lieberman (I-CT) introduced the Military Readiness Enhancement Act of 2010 in the U.S. Senate. The bill would repeal the military's DADT law, which prohibits lesbians and gays from serving openly in the U.S. Armed Forces. Rep. Patrick Murphy, an Iraq War veteran and a former paratrooper in the U.S. Army's elite 82nd Airborne Division, is the lead sponsor of similar legislation in the U.S House of Representatives….HRC is also asking members and supporters to sign up and to join the growing network of supporters to repeal DADT. To learn more visit: www.hrc.org/RepealDADT.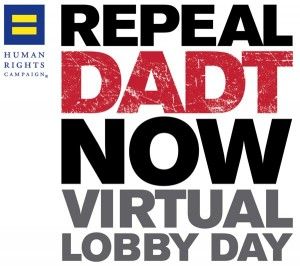 Today also happens to be HRC's Virtual Lobby Day, a way to make a difference even if you're not marching up to meet with your legislators on Capitol Hill.

· First, go to our special action page where you can email your elected officials.

· Follow-up with a phone call. The Capitol switchboard is 202-224-3121. Tell them where you live, and they'll connect you to any of your lawmakers' offices. Tell your lawmakers that you're calling to urge Congress to repeal "Don't Ask, Don't Tell" this year.

· RSVP to the event on Facebook and invite your friends.

· Use Twitter to spread the word. Our volunteer lobbyists will be tweeting from the Capitol using the #DADT hashtag. Once you take action, tweet about the experience and join the conversation.

· Learn more at www.hrc.org/RepealDADT
UPDATE: Today and tomorrow HRC's board meets. With the increasing cloud of doom of backtracking we're hearing (and what Kerry Eleveld is reporting), I hope the board is arming themselves with information to say we need a hard push on the President and members of Congress to make Joe Solmonese's promise at the HRC Carolinas dinner to be realized. As things stand now, it will take more than you calls to Congress to intercede to repeal in 2010.

DADT Review First, Repeal Later?

As the House Armed Services Subcommittee on Military Personnel questioned the three witnesses responsible for conducting a yearlong review on repeal of "don't ask, don't tell," one thing became perfectly clear: The Pentagon favors completing the review before Congress acts legislatively.

"I would think that members of Congress would like to be informed by our work," said Gen. Carter Ham, cochair of the three-member working group appointed by Secretary of Defense Robert Gates to study implementation. "I think it's very important that we understand the impacts of repeal before it occurs."

Ham appeared alongside Jeh Johnson, Department of Defense general counsel and fellow cochair, and Clifford Stanley, a retired Army general and Defense undersecretary for personnel and readiness.

Rep. Patrick Murphy of Pennsylvania, chief sponsor of the House's repeal bill, sought to clarify the goal of the working group.

"It's not to discuss if we're going to repeal 'don't ask, don't tell' – the discussion today is how the services will implement repeal to ensure there's no disruption of our forces," Murphy said.

It sounds like we're in serious trouble on DADT.