In just a few short hours, the 30-day Congressional review period will be over and marriage equality will be a legal reality in Washington, D.C.. Lesbian and gay couples can start applying for marriage licenses Wednesday morning, and the first marriages begin March 9th. Read how-to info here.
I had the honor of being on a phone interview today with a few of the couples waiting excitedly to marry. I thought that something one couple said perfectly crystallized the state of law and love from the perspective of a contemporary gay couple.
Question: Are you registered anywhere?

Angelisa Young and Sinjolya Townsend: We have a domestic partnership… Oh! [laughter] We're not registered anywhere. The gift for us is to have our families as witnesses.
Angelisa and Sinjolya went on to explain that their entire families witnessed and celebrated their domestic partnership ceremony with them in 2005. Everyone was able to attend because they had the time and leisure to plan carefully in advance. This time not everyone will be able to celebrate with them on short notice, but the brides aren't waiting to tie the knot because "this is history!". Everyone not able to be present is wanting to see the video, pictures and texts asap. But this is the reality for lesbian and gay couples wishing to marry – seize the opportunity, because it may not be there tomorrow. And know that the most meaningful wedding gift is having family around you who respect and value your commitment.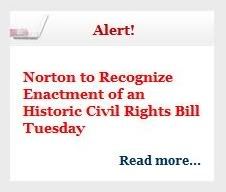 Kicking off festivities this evening is one of DC's steadfast guardians of equality, Representative Eleanor Holmes Norton. I adore any legislator who features a notice like this on their congressional web page, front and center:
"I'm asking the Gay Men's Chorus to sing to the Hill Tops," Norton said. "We will celebrate in the District's tradition and proud history of respect for equal rights for all." Details here:

Norton to Recognize End of Congressional Countdown and Beginning of Marriage Equality

WASHINGTON, DC – When the District's Religious Freedom and Civil Marriage Equality Amendment Act is enacted tomorrow, Congresswoman Eleanor Holmes Norton (D-DC) will host an event on Capitol Hill, "Recognizing an Historic Civil Rights Bill," on Tuesday, March 2, 6-8 p.m., Rayburn House Office Building, room 2167. D.C. Council Chair Vincent Gray, bill sponsor David Catania, and Committee Chair Phil Mendelson will join Norton for a few words at the event. Entertainment will be provided by the Gay Men's Chorus. Invited organizations include: Gertrude Stein, the Human Rights Campaign, All DC Families for Marriage, Us Helping Us, and several other gay activist organizations.
Join me below the fold to meet just a few of the loving couples getting ready to line up at the D.C. Superior Court Marriage Bureau tomorrow morning.

| | |
| --- | --- |
| | Angelisa Young and Sinjolya Townsend will be married at HRC Equality Forum on March 9th in the presence of family and friends. Angelisa and Sinjolya have been together for 13 years and have two children in their 20s. They both work for DC government and are long-time residents of the District. Angelisa and Sinjolya identify as African-American women. |
| | Cuc Vu and Gwen Migita will be married in a non-denominational ceremony. Cuc and Gwen have been together since October 2008 and are long-time residents of the District. Cuc identifies as an Asian Pacific American woman and and Gwen identifies as an Asian Pacific Islander woman. |
| | Aisha C. Mills and Danielle A. Moodie will be applying for their license on March 3rd and will be married in August at an interfaith ceremony on Long Island. The couple, who live in Columbia Heights, have been together for 6 years. Aisha is, who identifies as an African American woman, is president of the Campaign for All D.C. Families. Her fiancé Danielle identifies as a Jamaican American woman and who works for Mayor Bloomberg of New York's Washington, D.C. Office of Federal Affairs. |
| | Reginald (Reggie) Stanley and Rocky Galloway are long time residents of the district and have two children, Malena and Zoe Stanley-Galloway, that are each 15 months old. They will be married at HRC Equality Forum on March 9th. Participating in the ceremony will be their two children, Jim Cullion (the best man) and Cherrie McCoy (the best woman). Reggie and Rocky both identify as African-American men. |
| | Rick A. Imirowicz and Terrance Heath are long-time District residents, have been together for 10 years and have two children. Rick is a doctor and practices Catholicism, while Terrance practices Buddhism. Rick identifies as a Caucasian man, and Terrance identifies as an African-American man. |