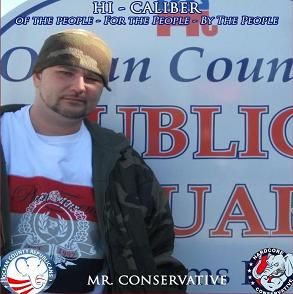 As Amanda Marcotte said over at Pandagon…
Someone needs to take the time to really honor what is absolute worst piece of "music" ever recorded.
Well, I'm really not sure, since just the other day I posted the video of gay-eliminationist teabagger Molotov Mitchell's hot tip "O.T.P" (One Term President). But she might be right, since our old friend Hi-Caliber (right) made a splash entertaining the teabagging set during the Glenn Beck 9/12 extravaganza in D.C. with his birther rap. This "entertainer" cites Michael Savage as an inspiration, btw, and in this video, "Patriot People," it is really challenging to believe this man is paid 2 cents by anyone to belch out this to a beat:
Give credit to Amanda for actually making an attempt to break this down.
Our MC, Hi-Caliber—as his name suggests—sees threats to his penile integrity from all corners. He removes all doubts about the phallic issues behind his gun nuttery by following a complaint about gun control with anger at legal abortion and gay marriage. The theme tying these things together is, of course, "Perceived Threats To My Tenuous Grasp On Manhood". But while comical in itself, what makes this a major error in basic lyric-writing is this—Hi-Caliber declares gun control, abortion, and gay marriage as collective signs that shit has gone all crazy. He makes this claim while not understanding that nothing he calls "crazy" could hold a candle up to the fucked-up-ness that is his belief that he can rap. Believing that the stars are made of twinkle berries and that babies come from catnip chowder looks like sober-minded brilliance compared to Hi-Caliber's belief that he should have even attempted to perform that "rap" thing you hear so much about.

…He disses Kanye West. (Insert joke about letting him finish.) Now, I don't think anyone really thinks Kanye West is some great rapper or anything, but nonetheless, if I were Hi-Caliber, I would not invite the comparisons. Calling Kanye a "jackass"—even through the snotty method of using Barack Obama to do so—doesn't have the effect that Hi-Caliber seems to think. What it does is call to mind a bunch of questions that, if considered at all, do not help Hi-Caliber's already-weak claims at being a rapper. Questions like the first one to pop into my head, which is, "Did Hi-Caliber know who Kanye West was before he interrupted Taylor Swift's acceptance speech?" My guess is that the answer is, "Probably not."