Tennessee carpetbagger Possible U.S. Senate candidate Harold Ford, Jr. took his sorry *ss to the Lesbian, Gay, Bisexual and Transgender Community Center and received the reception the gay rights flip-flopper deserved. (Gay City News):
"For me, the jump from civil unions to supporting marriage equality was not a big one," Ford said at the February 24 event that was produced by the Stonewall Democrats of New York City, a gay political club.

Ford announced in January that he might seek the US Senate seat currently occupied by Democrat Kirsten Gillibrand. Since then, nascent opposition has arisen in the gay community, with some activists being particularly incensed that Ford now says he supports gay marriage.

Ford, once a Tennessee Democrat, racked up a record in his five terms in Congress starting in 1997 that included two votes in favor of an amendment to the US Constitution that would have defined marriage as "only the union of a man and a woman" and have effectively barred any state or federal constitutional claim to marriage for same-sex couples.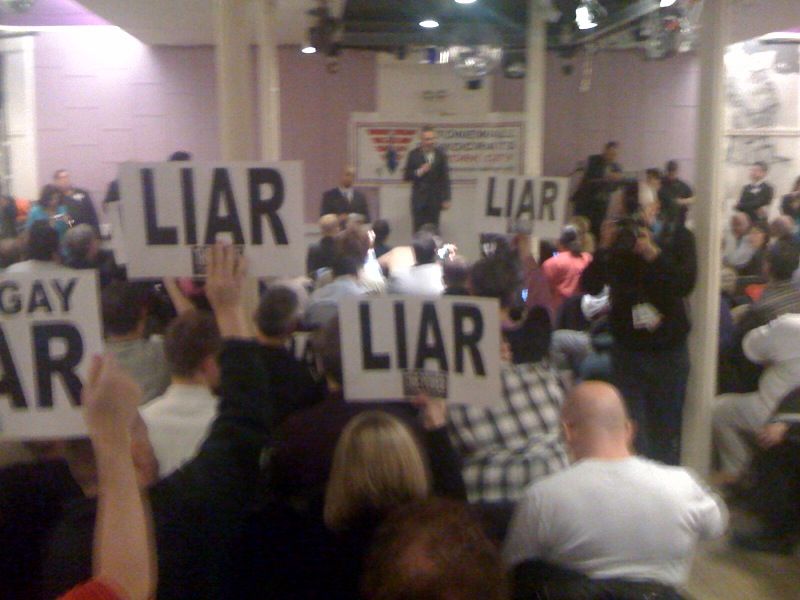 Friend of the Blend Scott Wooledge (aka Clarknt67) was there and captured a photo of the action. He emailed us with this commentary:
Did not go well for Harold. If he had supporters, it was not evident. Many people held picket signs, with words like "Anti-gay liar," "Liar," and "Snakeoil Harold." If not for the efforts of organizers, it would have devolved into a real scene.

The loudest applause came when Lt. Dan Choi expressed support for incumbent Senator Kirsten Gillibrand. He told Ford he seemed to be asking our community to "fire her" to reward her for her fierce advocacy.

Ford didn't do himself any favors by asking a questioner to clarify what "Lawrence v. Texas" was. Ladies will be glad to hear the room was equally activated when Ford tried to distance himself from his pro-life past.

The session was brief, lasting just 20 minutes. It appeared to be cut short when the room burst out in chants of:

"Anti-choice, anti-gay

Snakeoil Harold, go away."
Jeremy at GoodAsYou has video of the free-for-all. Below is one snippet:
HOW'D IT ALL GO DOWN: Well, it was sometimes nutty, sometimes loud, sometimes over-the top, sometimes firm-but-fair, and sometimes embarrassingly uninformed (like when Ford was completely clueless about Lawrence v. Texas, a ruling that happened when he was in Congress). Here, have a look for yourself…